It's that time of the year again when you have to think of the best Diwali gifts for your family and friends. There are so many options in the market now that it's really tough to make the right choice. You'd like your gift to stand out and to be memorable and useful for the recipient. Don't worry, we're here for you with the most unique Diwali gift ideas for friends and family.
From unique Diwali gift ideas for friends, the best gifts for family to corporate Diwali gift ideas, you will find something for everyone here.
1. To Be Healthy
This is the perfect gift for those who love eating healthy and staying fit. It's great for those who don't lead a particularly healthy life also. A gift hamper from To Be Healthy is the best way to show your loved ones that you care about their well-being. And it's a welcome addition to any Diwali party.
Click here to shop.
2. Indus People
Image Source
Perfect for those who like modern, minimalist designs in their homes, this brand prides itself on being inspired by India in all its products. A unique blend of tradition and modern design, Indus People's Varanasi Kulhar Chai set, accompanied by 2 Ganga Kulhars, is the best gift for a tea lover.
Click here to shop.
3. Suite No. 8
Image Source
If you know someone who lives alone, and can't go home for Diwali, all you need to do is bring some festive cheer for them. Like this gorgeous tea set for one from Suite No. 8. They will feel like royalty while they sip their tea from this elegant tea set and relax.
Click here to shop.
4. Sangeeta Boochra
Image Source
Add a bit of bling and colour to Diwali with festive jewellery. Silver jewellery will always remain timeless and is a great way to show your appreciation for the most important women in your life. And a necklace as pretty as this makes for a beautiful Diwali gift for her.
Click here to shop.
5. Tye Tye India
Sourced from across the world, the products from Tye Tye India are perfect for those who want an artisanal touch in their home decor. Check out these Turkish cups and plates, ice cream servers and decorative trays, pictured above.
Click here to shop.
6. Bigsmall
Image Source
If you're looking for the perfect Diwali gift for a special guy in your life, these opulent playing cards are perfect. These blingy playing cards are a great gift for him which he can show off at the next Diwali party.
Click here to shop.
7. Niana
These scented soy candles from Niana will enhance the vibe of a Diwali party instantly. You can also give these to your loved ones for Diwali and other occasions to make for one truly memorable gift.
Click here to shop.
8. Makaan.51
The handwoven, organic cotton and hand block printed bedspreads from Makaan.51's Bagh collection are a great gift for a festive home decor vibe. Throw in the printed cushions for a bright touch.
Click here to shop.
9. Studio Kiklee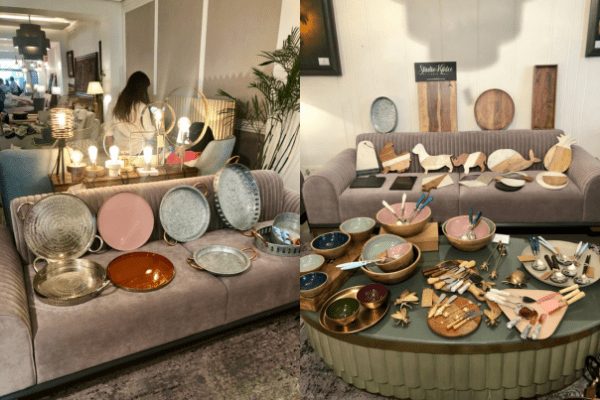 At Studio Kiklee, you will find a wide variety of gifting and home decor options. From lamps to cheese boards and napkin rings, there is something for every kind of aesthetic here.
Click here to shop.
10. Idam
These festive cushion covers and zari bedcovers from Idam will instantly bring a glorious Diwali feel to anyone's home. Products from Idam make for perfect gifts for those who take sustainable design seriously and believe in using organic products.
Click here to shop.
11. Xaka Cutlery
Image Source
Xaka Cutlery's bespoke cutlery sets make for an elegant gift for a newlywed couple or for someone who has just moved in to a new house. You can also use Diwali as an excuse to replace your cutlery with their exquisite collection.
Click here to shop.
12. Quilt Avenue
Who doesn't love a beautiful planter? These wicker baskets from Quilt Avenue can be used as planters and as beautiful packing for Diwali sweets and goodies. You can even include a note with your gifts to tell your loved ones how they can use these wicker baskets and avoid wastage. This is one of the most unique Diwali gift ideas for 2019.
Click here to shop.
13. Hestia
Hestia's leather and faux leather trays and coasters will make any living and dining room look gorgeous. You can also get products customised if you'd like to give personalised Diwali gifts.
Click here to shop.
14. Satya Paul
One of the most legendary names in Indian fashion, Satya Paul is a coveted brand, especially for festive and wedding wear. Apart from their clothes, Satya Paul's accessories too make for beautiful Diwali gifts.
Click here to shop.
15. The Body Shop
With a wide range of skincare, haircare, beauty and bath products for both men and women, The Body Shop has something for everyone. Their Diwali gift hampers are carefully curated to provide a wholesome experience for anyone who uses them.
Click here to shop.
16. Vaitaanika
Who doesn't love statement jewellery, right? All you need is one outstanding piece to bring your entire look together and make quite an impression at any gathering. Check out Vaitaanika's festive collection Bhava to find the perfect gift for that special someone.
Click here to know more.
17. Titan Raga
Perfect for the modern Indian woman, Titan Raga's latest collection, Facets, is a combination of contemporary design and exquisite craftsmanship. With Swarovski crystals, Mother of Pearl, rose gold and geometric shapes, these watches pair well with Indian and western wear.
Click here to shop.
18. Kohinoor Jewellers Agra
An ode to the Himalayas, Kohinoor Jewellers' latest collection includes some stunning silhouettes and patterns. The stones used in this particular collection will remind you of the pristine landscape of the Himalayas. A piece from this collection is one of the most unique Diwali gifts you can give this year.
Click here to shop.
19. Zariin x Confluence by Swarovski Professional
Ideal for those who love delicate jewellery, this collection is all about intricate work and filigree motifs. Along with a generous dose of Swarovski crystals, pieces from this collection are perfect for someone who has a wedding coming up.
Click here to shop.
20. Bare Anatomy
A personalised hair care hamper is one of the most unique Diwali gifts this festive season. Bare Anatomy creates customised products based on one's personal information like lifestyle, diet, age, hair problems and more. You can also pick a colour and fragrance and have your loved ones' names on the jars.
Click here to shop.
21. MyGlamm
From creamy matte lipsticks to long-lasting liquid highlighters, a Diwali hamper from MyGlamm will brighten up any girl's day. The colours here range from bright pinks to darker browns so going from a day to a night look is super easy.
Click here to shop.
22. One Life
What's better than the gift of health this Diwali? One Life's wellness hampers ensure that you can gift health and happiness to your entire family, from kids to the eldest members. They can enjoy luxury baths with One Life's handcrafted, cold-pressed bathing bars or refreshing coffees and teas with their herbal mixes. These hampers can also be customised to suit specific needs.
Click here to shop.
23. Needledust x Rani Pink Gifts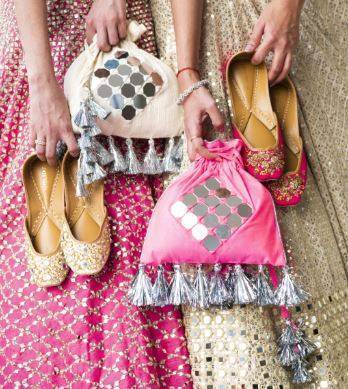 Perfectly paired potlis and juttis make for a beautiful Diwali gift, especially when the two brands in this mix are fast becoming legends. Needledust and Rani Pink have come together for a special festive edit. The potlis with mirrorwork and tassles go perfectly with a pair of juttis from Needledust.
Click here to shop.
24. Anavila
A beautiful saree will always be timeless. That's why a saree from Anavila is the ideal Diwali gift for someone who appreciates art rather than trends. These sarees can be worn for festive occasions or weddings. They're also a great addition for a bridal trousseau.
25. Clove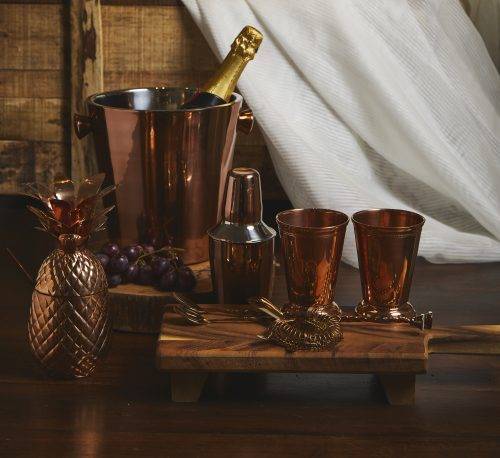 Attending a Diwali cards party? Gift your hosts barware from Clove that is both decorative and functional. The traditional look of this barware also makes it perfect for Diwali and the wedding season.
Have you chosen your favourite Diwali gift yet? If yes, we also have the perfect gift packing ideas for you. Check out these amazing ideas from Paper It below.
If you need unique Diwali gift ideas for a newlywed couple, click here for our comprehensive guide.
Happy shopping!