If there's one thing that everybody loves about Durga Puja, it is the exchange of gifts that brings an instant smile to everyone's face. Durga Puja is a time when family and friends get together, eat good food, exchange gifts, and have a great time. While fun and food are almost always taken care of, it is the gifting trend that puts us in a fix, especially when it comes to buying gifts for kids. Shopping for kids can be a big task. They are choosy and quite particular about what they want, and pleasing them can be fairly difficult. So, if you're on the lookout for some interesting Durga Puja gifts for kids, here are some ideas to help you out.
1. A playful dress
Image Source
If there's something that kids absolutely love, it's frills! This dress can be a sweet purchase for a little girl and it can also help you make a contribution to society. Proceeds from every product sold at The Story Brand contribute towards educating children from low income homes in Mumbai.
You can find more designs on The Story Brand website.
2. Bedsheet sets
Image Source
While growing up, I remember there was nothing as exciting as having a designer bedsheet that was only for me! It may surprise you but a bedsheet set makes for a great gift for kids. Having interesting bedsheets in a kid's room also helps parents as it makes adhering to bedtime schedules a lot easier.
You can find more designs on the Nigh Nigh website.
3. Muslin romper
Image Source
Babies have really sensitive skin. So, if you're looking for gifts for the little one, there's a lot of thought that needs to go into it. This muslin romper is adorable and it will also be soothing on a baby's skin.
You can find more designs on Masilo.in's Instagram.
Related: 20+ Brands For Beautiful Handmade Gifts That Will Always Stand Out
4. Unicorn sandals
Image Source
Who doesn't love unicorns? When you've got feet that tiny, the options you get in the footwear section are pretty limited. So, a pair of unicorn sandals as a Durga Puja gift is sure to bring a smile on the little one's face.
You can find more designs on the Aria + Nica website.
5. Healthy snack hampers
Image Source
Kids and snacks go hand in hand, but that's a big headache for parents keeping in mind the health aspects of snacking mindlessly. This is why healthy snacks will always be welcomed by parents as Durga Puja gifts for kids.
You can find more options on the Mumum Co website.
6. Super slime
Image Source
Yes, slime can be a nightmare for parents. But if you present it as an educational tool, who could say no to that? DIY slime experiments can be an interesting way to introduce kids to the world of science and chemistry.
You can find more options on the PodSquad website.
7. Dhoti set with matching mask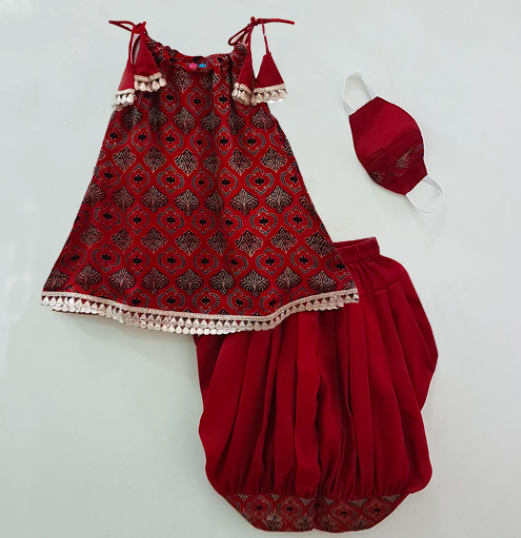 Image Source
While you're matching the fanciest masks to go with your ethnic outfits, why forget about the young ones? Let's admit it, matching masks are going to be an added accessory for a long time to come. So, it's time we prepare for it now.
You can find more designs on the Stylemylo website.
8. Watch
Image Source
Gifting a watch to kids is often seen as a rite of passage for them to transition into becoming responsible kids. Picking Durga Puja as the occasion to mark that event is quite perfect, and it will become a memory worth holding on to!
You can find more designs on the Titan website.