Your Valentine deserves all the love and pampering from you and a perfect gift can really work its charm. If you're done with the cliched chocolates, stuffed toys, and flowers trio, you're in the right place. We have some really interesting options for your boo based on their zodiac. So, stop killing your brain cells and check out this guide for Valentine's Day gifts in 2023 that will get you way more than an aww in return.
1. Aries: Just Brew Coffee Cup Warmer
There's nothing that an Aries loves more than some piping hot tea or coffee. And these busy bees love their share of caffeine but hate the hassle of brewing a fresh cup every single time. So, a coffee cup warmer that keeps their beverages at the right temperature would make for a lovely Valentine's Day gift for your Aries boo.
2. Taurus: Ray-Ban Sunglasses
If it ain't luxurious or stylish, it ain't for Taurus. Yes, it is hard to find gifts for this earth sign because they are very particular about things. But don't worry, because a pair of chic sunglasses will definitely make them shower their love on you. And this pair from Ray-Ban is classic, effortless, and perfect for gifting.
3. Gemini: Decor Circle Wine Glasses
Looking for the perfect Valentine's Day gift for Geminis? Well, look no further because these gorgeous Grand Amber Wine Glasses from Decor Circle are just what you need for the sophisticated air sign. They are minimal and make the perfect addition to anyone's glassware collection.
4. Cancer: Keventers Hot Chocolate
Is there a better gift than a warming cup of hot chocolate after a long day of hard work? Well, your Cancer babies work their asses off and deserve some extra TLC this V-Day. So, how about getting them some delicious treats from Keventers and pampering their sweet tooth? Trust us, they'll show how thankful they are quite creatively after this amazing gift.
5. Leo: Marks & Spencer Socks
A Leo loves dressing up and you can see the effort by the attention to detail in their outfits. And since they love a little flair, a pair of socks would make for a lovely gift for them. You can pick some creative designs as well because they are all about adding fun elements to their looks.
6. Virgo: Riitek Mini Pocket Printer
Do you know what's a great Valentine's Day Gift in 2023 for a Virgo? A mini pocket printer! This earth sign is one of the most efficient signs of the zodiac and loves sensible and practical gifts. With a pocket printer, they can print anything from lists to labels and a lot more. You're welcome!
7. Libra: Home Centre Glass and Wood Decanter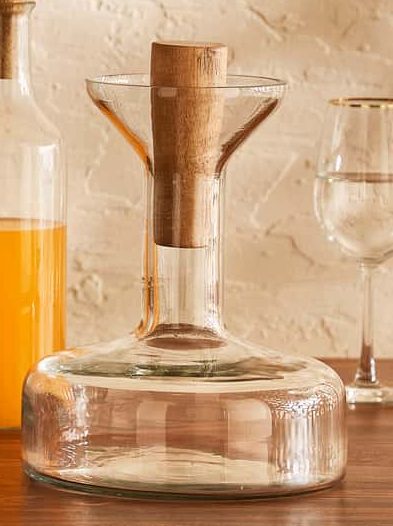 Libras love playing host and getting them a classy decanter is a great way to win their heart. This gorgeous glass and wooden decanter is sleek and would make a great addition to a Libra's barware collection.
8. Scorpio: Handcuffs
If you're dating a Scorpio, you know how freaky these water babies can get. So, this V-day, get them something they'll really appreciate–a pair of handcuffs. After all, what's a better time to get freaky with your bae than V-day?
9. Sagittarius: Philips Handheld Garment Steamer
Trying to find the best Valentine's Day gift for a Sagittarius? Well, since this fire sign is spontaneous and is always on the go, a portable cloth steamer would make for a great gift for them. It is handy, practical, and will let them be effortlessly stylish. This could also be their new favourite travel companion, after you.
10. Capricorn: Nescafe Portable Coffee Maker
A Cap loves a freshly brewed cup of coffee or ten as they need their daily dose of caffeine kick to function. So, this V-Day, gift your bae a Nescafe Portable Coffee Maker that makes cafe-style coffees at your fingertips. It is a Bluetooth-enabled smart device that gives you a personalised experience and frothy, delicious coffee every single time.
11. Aquarius:
Fujifilm Instax Mini 9 Instant Camera
Aquarians are all about living every moment to the fullest and capturing it all. So, a Fujifilm Instax Mini camera would be a great gift to help them capture all their memories and save them as keepsakes.
12. Pisces: Rad Living DIY Gift Box
Still haven't found a gift for your Pisces Valentine? Well, don't worry because a DIY Gift Box with some amazing candles is just the solution to all your problems. This water sign loves staying lit, so what's a better gift than some sassy and soothing candles?
Featured Image Source
Related: Valentine's Day 2023: 8 Trendy Spots In Delhi NCR For A Romantic Dinner Date