When it comes to wedding gifting, very few people actually get it right. And that's because it's hard enough to buy the perfect gift for one person, and now you're supposed to get one perfect gift for two people. Whether you're looking for useful wedding gifts or quirky stuff for newlyweds, it's never easy. That's why we made a list of the most useful wedding gifts, especially for couples moving into their own home.
In India, it's still common to live with the in-laws after the wedding, at least for a while. Wedding gifts tend to reflect that, with more impractical things like wads of cash being given to the bride and groom. While money is always welcome, sometimes it's just a pain to handle so much cash. So, if you're attending a wedding soon where the couple will move into a new home right after, here is a list of the most practical, useful wedding gifts you could give them. Trust us, they'll love and remember any one of these gifts.
1. Dinner set + serveware
Image Source
This may look like a boring gift to you, but a dinner set and serveware is one of the most useful wedding gifts you can give to a newlywed couple. Buy an exquisite dinner set that the couple will cherish and use for special occasions. You can also pair this with a less expensive set which can be used on a daily basis.
Click here to buy the set by Tye Tye India, pictured above.
2. Gift cards from a furniture and furnishing store
Image Source
The first things you need when you move into a new house are furniture and furnishings. If you have a gift coupon for a store which has everything you need, it makes life so much easier. We suggest gift cards in this case to avoid any clash of aesthetics and to let the couple choose exactly what they want.
Click here to buy a gift card from Urban Ladder.
3. A wall clock
Image Source
Everyone needs this but no one thinks of it. A grand, antique clock, or even a contemporary piece, looks beautiful in any home. And it's a practical gift for newlyweds who won't have time to think of such items in all the chaos of wedding planning and moving.
Click here to buy the clock pictured above, available on Pepperfry.
4. Basic but expensive appliances
Image Source
Every home needs a few basic appliances like a washing machine, microwave, and refrigerator. You can also buy a non-essential but coveted gift like a KitchenAid stand mixer and have it delivered to their new home. But make sure you tell the couple about your gift before you buy it to avoid duplication. After all, what'll they do with a second washing machine?
Click here to buy the KitchenAid stand mixer, pictured above.
5. An air purifier
Image Source
With the pollution in cities skyrocketing, and air quality deteriorating, every home needs an air purifier. No one can complain about the gift of clean air, especially with a good quality, sleek air purifier in the home. Check out your options and buy something that'll serve them well and for a long time.
Click here to buy the Dyson air purifier, pictured above.
6. Glasses and barware
Image Source
To host parties at home, you need a functioning bar and different kinds of glasses. From wine glasses to whiskey tumblers, and bar sets, the list is quite long. It can get exhausting for someone to make this list and go shopping, especially if they've just moved house. So, do the happy couple a favour and get them this much-appreciated gift.
Click here to buy the Crate & Barrel Frye bar tool set, pictured above.
7. A package for a balcony makeover
Image Source
For this gift, you might have to speak to the couple beforehand. Ask them if they have a balcony big enough to decorate in the new house. If they do, book a balcony makeover package for them. With several such services in Delhi and other major cities in India, you can gift them a beautiful balcony to enjoy their mornings and evenings together.
Click here to book an appointment with Balcony Makeovers.
8. A practical cookbook
Image Source
One of the cutest things a couple does when they move in together is cook together. It's practical and doesn't put the burden on any one partner to put food on the table. However, everyone could do with some help. Get them a cookbook to start them off, so that they're not constantly Googling recipes. It'll also make for a great decor item in their new kitchen.
Click here to buy The Newlywed Cookbook, available on Amazon.
9. Matching luxury overnight bags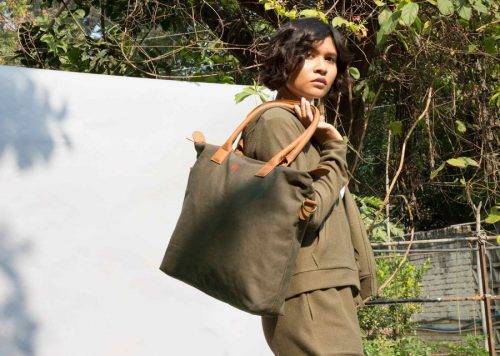 Image Source
Matching luggage is adorable. And matching overnight bags are as practical as they are cute. If they're planning a honeymoon, these bags will make for a cute addition to their luggage. Buy luxury bags for the couple because most people don't indulge themselves like this. The newlyweds will remember your gift fondly every time they travel.
Click here to buy the Nicobar travel tote, pictured above.
10. A short vacation
Image Source
Gifting a vacation sounds really expensive, but it doesn't have to be. A short weekend trip near the city also counts as a vacation. And they'll need a short break after planning a wedding and setting up a new home. If you get them the luxury bags mentioned above, or if you know someone else who will get them that gift, this will become one beautiful, memorable wedding gift.
Click here to buy a gift card from MakeMyTrip.
Useful wedding gifts don't have to be boring, as you've just seen. So choose the right gift for newlyweds and you will be the star of the wedding.
If you're looking for quirky gifts for newlyweds, don't worry. We've got your back. Click here for some super cool ideas.