It's time to shell out a few bucks for your loving siblings as Rakshabandhan is almost here! And this is probably one day that we all get along with our siblings because they shower us with gifts. So, this year, give the love back and get them some thoughtful and fun gifts. And no, you don't need to rush to the market and browse through endless options because we have the perfect gift ideas for Rakhi to pamper your siblings.
1. Celebrare Engraved Candle
Celebrare Engraved Candles from Naso Profumi
This Rakhi, get your sibling something personalised and meaningful like engraved candles. Naso Profumi has a host of lovely fragrances to choose from that will definitely make for great gifts this festive season.
2. Festive Nut Butter Gift Set
Festive Nut Butter from The Butternut Co 
If you have a health conscious sibling for whom buying gifts can be really tricky, this is just what you need. The festive nut butter gift set has delicious spreads made with no refined sugar. Get some healthy goodness this Rakhi for your siblings.
3. Damage Repair Gift Pack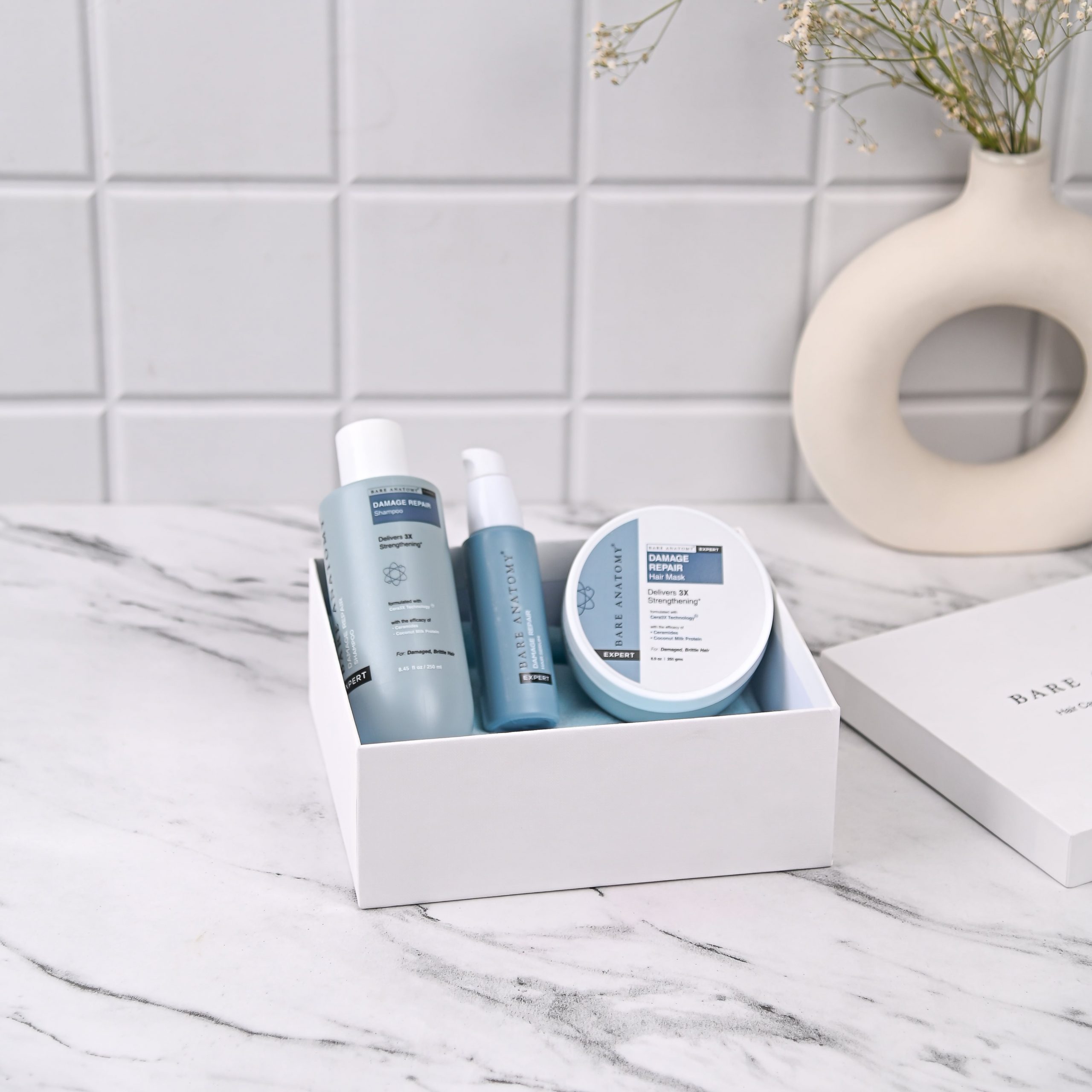 Damage Repair Gift Pack from Bare Anatomy 
Bare Anatomy's Damage Repair Gift Pack that restores the strength of the hair will make for a great gift this festive season. It is made with high-performing and clean ingredients that are sourced from around the world. This kit is bound to give your brother or sister good hair days!
4. Organic Gift Box Tan Defence Range
Tan Defence Range from Plantas
Get your sibling the goodness of organic and healthy skincare this Rakshabandhan with the organic tan defence range from Plantas. It fights off harmful UV rays and protects the skin.
5. Essentials For Men Kit
Essentials For Men Kit from Ayouthveda
Skincare is for everyone, and if you're looking for a grooming set for your brother, we've got you. The essential for men kit is a great gift idea for Rakhi to pamper your brother. Let your bro indulge in some skincare with this charcoal-infused hamper.
6. Message Candles
Message Candles from The Celeste Co 
This Rakhi, get your sibling scented soy wax candles with a special message customised just for them. The Celeste Co has the perfect scented candles that will make a great addition to any space.
7. White Elephant Block Print Shirt
White Elephant Block Print Shirt from Tistabene
Stealing from your brother's wardrobe is every sister's birthright. So this Rakhi, gift them something that you can steal later. And this white elephant block print shirt is a great gift option and will make a nice addition to their closet (and yours).
8. Pretty In Pink Gift Box
Pretty In Pink Gift Box from Prolixr
Gift the love of skincare to your sister with Prolixr's ultimate skincare routine. This will amp up the glow in just five easy steps and makes for a great gift idea for Rakhi. It contains Detoxifying Sea Algae Mask, Beauty Shield Vitamin C Serum, Aqua Marine Foaming Cleanser, Black Rose Honey Facial Scrub, and Very Berry Moisturiser.
9. World's Best Brother Gift Set
World's Best Brother Gift Set from Kimirica
This Rakshabandhan, pour your heart out and tell your brother how much you love and care for him. Specially curated for all the brothers, this luxurious Rakhi Special Gift Set includes refreshing self-care essentials that will remind him to take care of himself. And it comes with a plantable Rakhi and a card as well.
10.
Primrose Eyeshadow Palette
Primrose Palette from Anatasia Beverly Hills
Makeup is literally the best gift for any occasion and event as the ladies love stacking some new palettes. So, if you're still confused about what to get your sister this Rakhi, this one is a no-brainer. And this gorgeous primrose eyeshadow palette is luxurious and dreamy, so don't think twice because we bet your sister will love it!
11. Revitalizing Acacia + Rose Powder Mask
Revitalizing Acacia + Rose Powder Mask from Juice Beauty
A little self-care goes a long way, so this Rakhi, gift your sibling a self-care experience with this Revitalizing Acacia and Rose Powder face mask. This organic, aromatic, and oh-so-relaxing mask is meticulously curated to give the skin the attention it deserves.
12. Celebration Paan Hamper
Celebration Paan Hamper from Betel Leaf Co. 
The Betel Leaf Co. has some healthy and delicious paan hampers to make the festivities a little sweeter this year. So, take your pick from their hampers and get your sibling something fun and flavourful from Betel Leaf Co.
13. Baked Bronzer
Baked Bronzer from Kiko Milano, available in offline stores
Kiko Milano's baked bronzer is a must-have in every makeup lover's kit and is a great gift idea for Rakhi for your sister. It gives that perfect sun-kissed look along with a nice contoured structure to the face.
14. Glow Bag
This Rakhi, gift your sibling a glow bag from O3+ and let them pamper themselves. It contains a Milk Scrub, Radiant Serum, Sulphur Cooling Mask and free Derma Fresh Moisturiser.
15. Ice Cream
Ice Cream Flavours from Keventers available in offline stores
You scream I scream, we all scream ice cream! If you have a sibling with a sweet tooth then these newly launched ice cream flavours from Keventers are the perfect gift to make the festivities even sweeter!
16. Slim Lipsticks
Slim Lipsticks from Amag Beauty 
If your sister loves adding new lip colours to her makeup bag, we've found the perfect gift for her! These gorgeous slim lipsticks from Amag Beauty are luxurious, have a smooth finish and are super pigmented. And the brand is India's first to use BLIP technology which is blue light protection so their products are absolutely safe to use.
17. Rakhi Assorted Gift Set
Rakhi Assorted Gift Set from Vahdam 
Vahdam has some really exciting hampers with tea blends to suit everyone's palette. So if you have a sibling who loves to sip some exotic blends this is all you need. And along with the blends you also get a refreshing fragrance from PHY.
18. Bath Salts
This Rakhi, gift your siblings a relaxing experience with soothing bath salts from Fiducia. It helps relax and de-stress your muscles, and helps in detoxifying the skin. And it is made with Himalayan pink rock salt so pick your blend and gift away!
19. Eyeconic Eyewear
Eyeconic Eyewear from Lenskart 
If you have a fashionista sibling who loves being in vogue, you've got to check out the eyeconic eyewear collection from Lenskart. They are stylish and glamourous and make for a great gift idea for Rakhi!
20. Perfume Gift Set For Men
Perfume Gift Set from The Man Company
Be a darling sister this Rakhi and get your brother a refreshing perfume gift set from The Man Company. It has four lovely fragrances Joy, Musk, Intense, and Citron that last all day long and leave you smelling fresh from day to night.
21. Beginner's Makeup Kit
Beginner's Kit from Swiss Beauty
A beginner's makeup kit is a great gift for your sister as it is easy to use and fuss-free. And this beginner's makeup kit from Swiss Beauty contains all the essentials to get a full face of glam!
Featured Image Source