The festive season is here and it is the perfect time to celebrate with your friends and family. But what are celebrations without exchanging some gifts? And if you still haven't bought a little something for everyone, don't worry, we've got you! Here is AAE's Diwali gifting guide for 2022 to make the celebrations, bigger, brighter, and better.
Related: Staying Alone This Diwali? 7 Amazon Buys Under ₹1,100 To Make The Festival Happy And Easy For You
1. Delicate Rose Bathing Essentials Kit
Delicate Rose Bathing Essentials Kit from Bryan & Candy 
Bryan & Candy's Delicate Rose Bathing Essential Kit makes for a great gift this festive season. It includes a bath and shower gel, a moisturizing bathing bar, a luxury foaming body wash, and a soy wax candle. And it is perfect for a spa experience at home!
2. CTM Kit
OzoneAyurvedic's CTM Kit has a purifying cleanser, a nourishing moisturiser, and rose and cucumber toner to address your skin concerns. All the ingredients are natural and organic and give you refreshed and glowing skin!
3. Luxury Tea Box
Luxury Tea Box from Totally Infuzd
This Diwali, gift the Luxury Tea Box from Totally Infuzd. Simple and stylish, it can be customised with your favourite tea variants and includes a decadent golden tea strainer. This makes it perfect for gifting and personal use.
4. The French Note Indulgence Set
The French Note Indulge Set from Kimirica 
Looking for some indulgent options? Our Diwali Gifting Guide 2022 has it all. Gift your loved ones some luxurious and soothing bath essentials from Kimirica. The French Note Indulgence Set helps unwind with the relaxing aroma of authentic French lavender.
5. Brow Pomade
Eyebrow Pomade from Amag Beauty
For all the makeup lovers in your circle, we have a great option in our Diwali gifting guide for 2022! Amag's professional Brow Pomade is a vanity essential as it gives you the brows of your dreams. And it has a long-lasting formula that feels very comfortable on the skin.
6. Ethiopian Coffee Bath and Body Range
Ethiopian Coffee Range from Nykaa
Nykaa Wanderlust's Ethiopian Coffee Bath and Body Range captures the warm energising fragrance of Ethiopian Coffee. The range has an invigorating fragrance of rich coffee beans that instantly re-energise your senses. So, it makes for a perfect gift for the festive season.
7. Self Love Gift Box
Self Love Gift Box from Amrutam 
Amrutam's Self Love Gift Box houses Ayurvedic recipes that are created with a combination of over a hundred herbs. Their products make sure your skin and hair woes are always being taken care of!
8. Skin Rejuvenating Gift Set
This Diwali, gift your loved ones the gift of glowing skin from Nourish Mantra. Their Glow Kit has four super
skincare heroes Cucumber Mint Upvan Facial Cleanser, Truglow Face Mask, Glow Serum, and Vedic
Elixir Rejuvenating Facial Oil. And these will give your skin a healthy glow from within.
9. T
rouvaille

G

in
Trouvaille Gin from Boutique Spirit Brands available at retail stores in UP and Modern trade outlets
Boutique Spirit Brand's Trouvaille Gin is crafted with passion and is a fusion of French spirits and natural flavours. Gift your friends and family an authentic experience of French spirits and celebrate the festive season together!
10. Herbal tea trove
Herbal Tea Gift Box from Shistaka
This elegant Shistaka Herbal Tea Gift Box is the perfect way to spoil your loved ones. It contains eight flavours of herbal teas and two elegant glass teacups, with a glass teapot that comes with a built-in infuser. The white and gold-plated ceramic box is designed to keep your tea fresh and delicious.
11. Rose Collection Potli
Rose Collection Potli from Ohria Ayurveda
Got a skincare lover in your circle? Because our Diwali gifting guide 2022 has just the gift for them! Ohria Ayurveda's Rose Collection Potli comes with rose-infused skincare products that give your skin the love and pampering it deserves. The kit contains a Rose facial mist and a Rose and Pomegranate shower oil that is suitable for all skin types.
12. Oyster Wayfarer Sunglasses
Oyster Wayfarer Sunglasses from The Tinted Story
Looking for a stylish and timeless gift this Diwali? Check out The Tinted Story's Oyster Wayfarer sunglasses that are both stylish and practical. They have tinted lenses that protect against harmful UV rays and make for a great addition to anyone's collection.
13. Glam Slam Sunglasses
Glam Slam Collection from Lenskart

This Diwali gift your loved ones a dash of something stylish with Lenskart's Glam Slam collection. It has something for everyone so shop away!
14. All-You-Need Liquid Lipstick Kit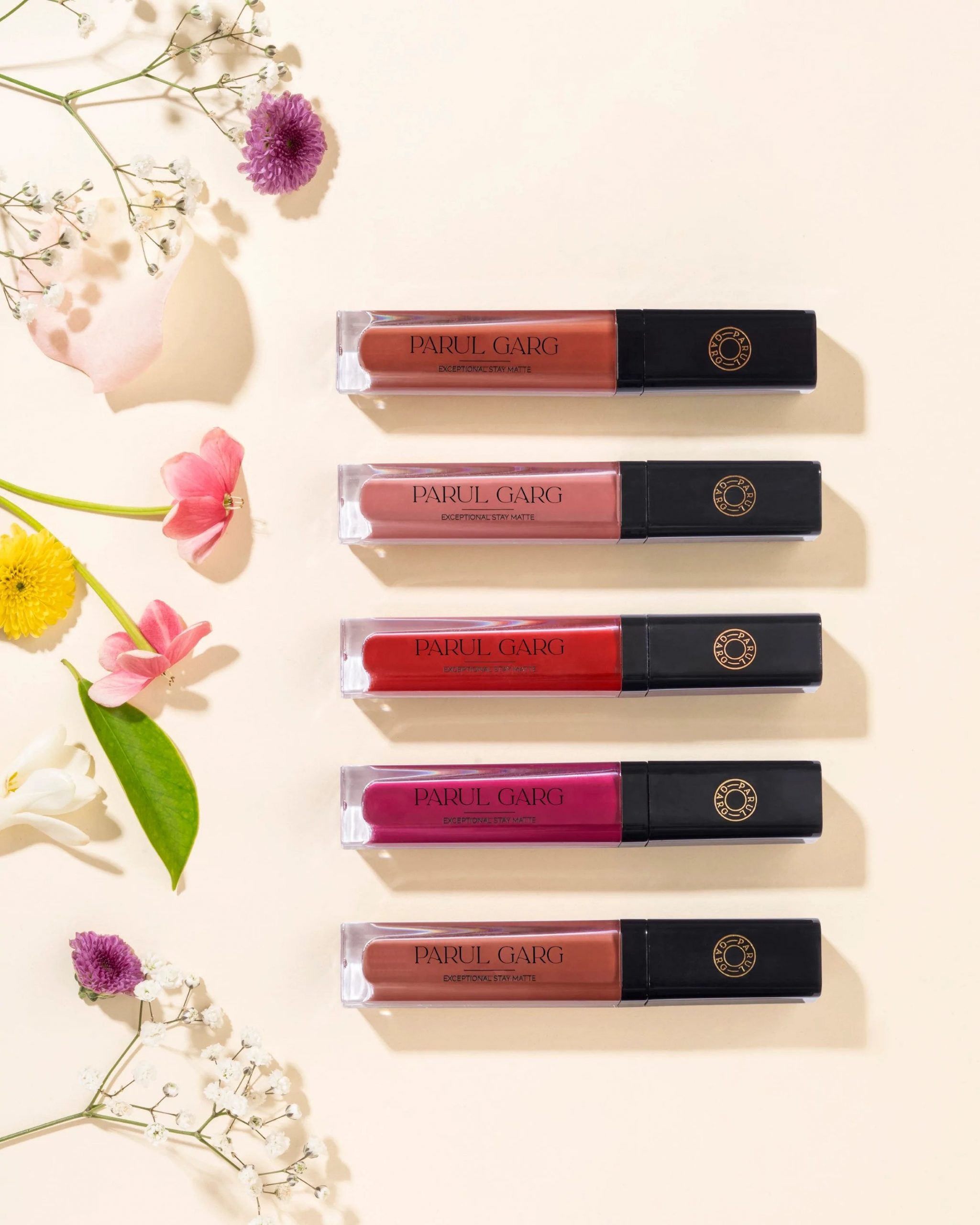 All-you-Need Liquid Lipstick Kit from Parul Garg
We all have a makeup guru in our circle, and if you have one too, we have the perfect gift idea for them. Parul Garg's All-you-Need Liquid Lipstick Kit has been curated to be 'the complete set' that is essential for your makeup closet. The All-you-Need kit has shades ranging from the softest nudes to the boldest red. These five liquid lipstick shades can help in creating almost every kind of makeup look.
15. Aromas and Ceramics
Candles from Aromas and Ceramics
Looking for some lovely candles to brighten up the festivities? Check out Aromas and Ceramics for some gorgeous candles that are perfect for gifting and decoration purposes!
16. Power Gummies
Gift Hamper from Power Gummies 
This Diwali gift the goodness of health with a hamper from Power Gummies! These nourish the body from the inside out with a range of nutrients, giving the skin the glow it deserves after a good night's sleep and making the hair look gorgeous.
17. Single Malt Whiskey
Kamet Single Malt Whiskey available in retail stores 
Sip away the festivities with Kamet's single-malt whiskey which is grown and distilled in India. It has notes of tropical fruits and spices that are perfect to enjoy the festive season with your friends and family!
18. Freshly Baked Cookies
Make the festivities sweeter with Big Momma's scrumptious cookies! The fresh handmade cookies are perfect to spread the love this Diwali season so get your hands on them and thank us later!
19. Votive Candles Set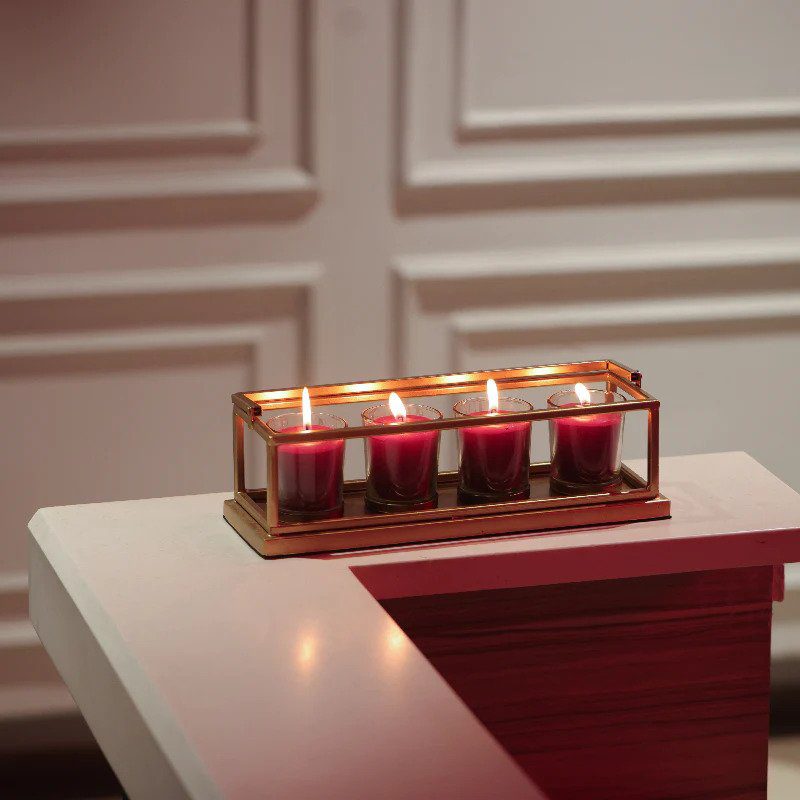 Votive Candle With Stand Set from The June Shop
This Diwali gift your loved ones an elegant Votive Candles Set with a stand from The June Shop. They make for a great gift option as they brighten up any space and double up as a lovely decorative piece.
20. Cup and Saucer set
Sonoran Gold Cup & Saucer from Vaaree
Looking to gift some classy tableware this Diwali? Because our Diwali gifting guide 2022 has just what you need! This elegant Cup and Saucer set from Vaaree is artful and makes for a great present for your loved ones.
21. California Grown Pistachios
California Grown American Pistachios from Amazon
Dry fruits are the heart of the Diwali season and what's better than some California grown American pistachios to gift this season? So get your batch of best quality pistachios and make the most of the festivities!
Featured Image Source