Both Polki and Kundan jewellery are something that speak to every woman. However, it might get a little confusing when you go out to buy jewellery, especially bridal jewellery, and you have to make decisions that bear major consequences for your wallet. To make life easier for you, here is a low-down on the basics of different cuts and techniques used in Kundan and Polki, which seem to be the favourite picks for this wedding season.
Can you guess which one is Kundan and which one Polki?
Origin
Polki jewellery was introduced in the Mughal era, whereas Kundan jewellery is a famous Rajasthani jewellery style which pre-dates Polki.
Essential Element
Polki consists of unfinished and uncut natural diamonds whereas Kundan is a jewellery making technique which makes use of different types of stones – precious, semi precious or glass imitations which are later set in 24 karat gold foil.
Earlier, both Polki and Kundan used 22 karat gold for the top and the base. But now, the jewellery base is made of gold which is is of lesser purity, like 18 karat or 16 karat and the top is made of 24 karat gold.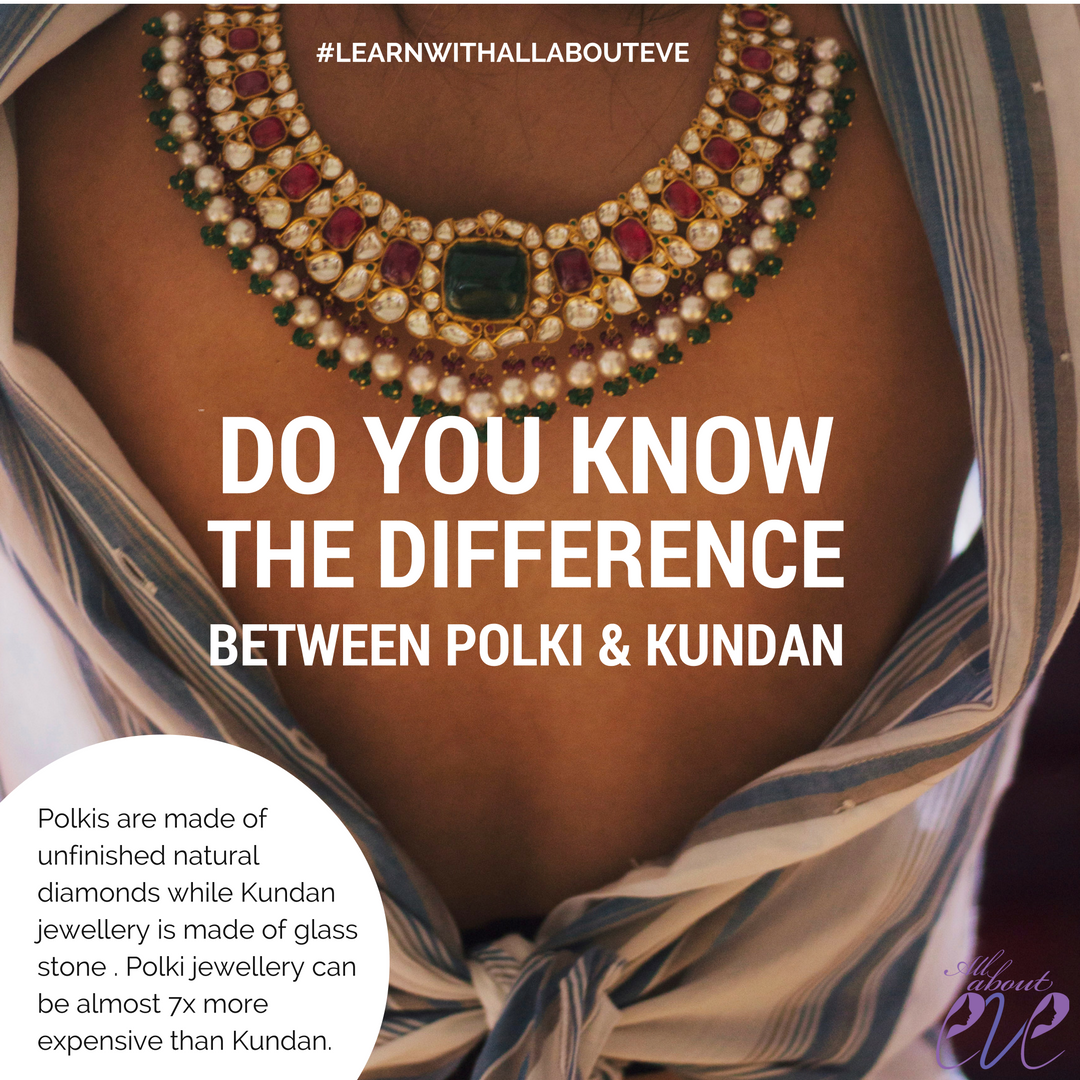 Technique
Polki is mined from the earth in a natural way and is not grown in a laboratory. It is used in its natural shape and doesn't need any polishing or finishing. Owing to its natural form and sheen, Polki is held in high esteem and is on the pricey side.  Since the stones retain their original shape, none of them are alike, imparting a distinctiveness that makes each piece unique.
On the other hand, Kundan jewellery is about precious gemstones that are studded in gold. It is elaborate by all means as it has multiple layers of precious metals and stone. Mostly, the underside of Kundan jewellery is enamelled and it is polished to  give it a more intricate look.
Pricing
Just like diamonds, Polki jewellery is priced according to the 4 Cs' – carat, colour, clarity and cut. It is way more expensive than Kundan as it consists of unprocessed diamonds.
The usage of artificial stones makes kundan less expensive. Also, the use of gold in designing kundan jewellery is optional, which increases its affordability factor immensely.
 Kundan Gold Set                                           Polki Necklace
Picture credits: Krishna Jewellers