A wedding is a grand affair, and who doesn't want to look their best on a big fat Indian wedding? But that doesn't mean that you need to spend half your savings on jewellery for the occasion. And if you're shopping for a destination wedding, you don't want to deal with the hassle of securing your jewels and worry about losing them instead of having fun. There are so many options available in designer jewellery that is not made with precious stones or metals, so it doesn't cost as much but looks as good as real jewellery.
To avoid any confusion, and to give you a clear idea of what will look good with your outfit, we put together a collection of designer jewellery alternatives to real jewellery. These pieces will make you stand out at all the functions, even without that heavy, chunky, real jewellery.
Related: Semi-Precious Designer Jewellery For Bridesmaids: Check Out These Brands
1. Delicate and eye-catching baubles
Making this bauble so valuable is its intricate design from Vaitaanika's Honeycomb collection. Crafted in silver, you can wear it to a cocktail party or bridal shower to add spunk to your outfit.
Earrings by Vaitaanika
2. A showstopper pair of danglers
Beautifully crafted in meenakari, these breathtaking danglers, from Vaitaanika's Mayura collection, will be a prized treasure in your jewellery box. They can be worn for a festive evening with any Indian attire or even a contemporary one.
Earrings by Vaitaanika
3. A gorgeous champagne pink set
This is a total stunner and will leave everyone in the room staring at you. It is an elegant piece to add to your jewellery collection and will look stunning with a cocktail gown.
Jewellery by Zayraah Accessories
4. A pair of oxidized earrings
Oxidized earrings add an instant charm to your whole look. They can be worn for a mehendi or haldi as they are light and look beautiful with Indian outfits.
Earrings by Sajja Vastra
5. A gorgeous choker set
There is nothing that can add oomph to your whole look better than a gorgeous choker set. Paired with a saree or monotone lehenga, a choker set, with kundan, polki or beads, will get you all the attention in the room. It is the perfect option to wear for a cocktail or engagement party.
Jewellery by Handmade Jewels Store
Jewellery by The Pitaara House
Jewellery by Little Box
6. A quirky silver pendant set
This designer jewellery option is a gamechanger in itself. A quirky silver pendant set screams fun, elegance and glamour. You can pair it with a white shirt and silk skirt, and you are good to go. You can also carry it with an ethnic outfit because it is so versatile and light!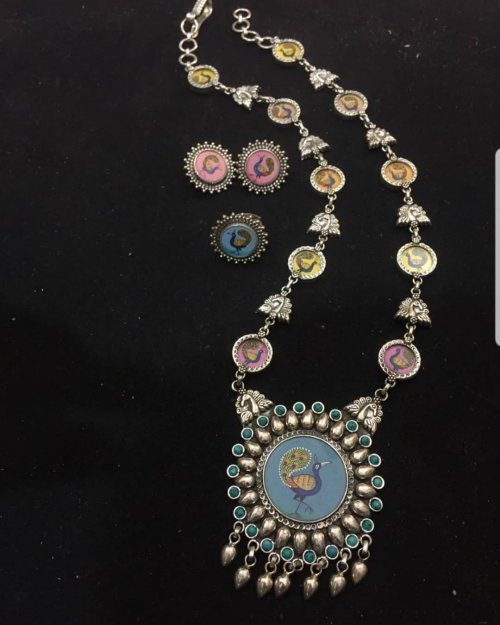 Jewellery by Dori and Stone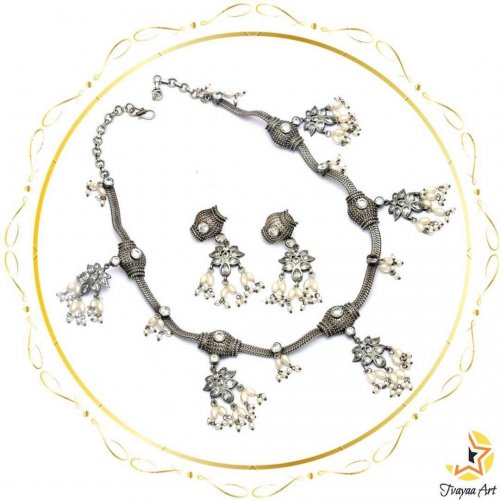 Jewellery by Tvayaa Art
Related: 16 Silver Jewellery Brands You Need To Shop At For The Festive And Wedding Season
7. Studded bangles
If you want to skip those heavy danglers and choker sets, a studded bangle is all you need. They have all the elegance and charm to complete your wedding look without any of the effort. A plain, studded bangle can enhance your outfit and make you look effortlessly gorgeous in no time.
Bangle by Mish 
8. A pair of mirror earrings
No outfit is ever complete without a little sparkle, and this pair of mirror earrings are just what you need. They are so lightweight and gorgeous, you can carry them from day to night without any hassle and enjoy the wedding festivities.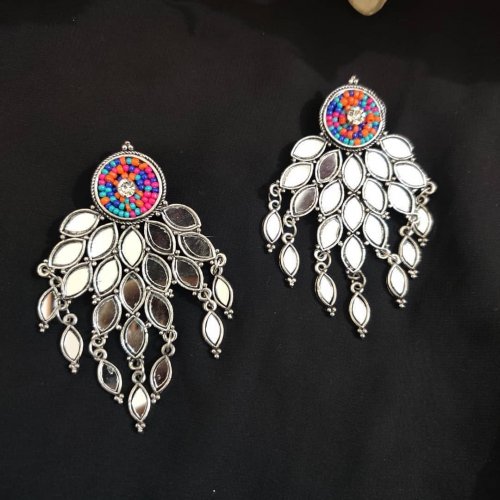 Earrings by Sangli Vogue
Looking for more subtle, daily wear designs? Here is our pick of fine jewellery brands where you can get stunning designs for parties or daily wear.