Kaleeras are a fairly common sight in north Indian weddings. The long gold ornaments hanging off a bride's wrists are hard to miss. Their designs have varied across the years and now, brides have a wide variety of kaleera designs to choose from. Almost every north Indian bride looks forward to the long gold ornaments that complement her wedding lehenga and the fun associated with them. From heavy golden bunches, to intricate single strings, there is a large variety of kaleera designs for a bride to choose from today. But if you knew the story of the kaleera tradition, would you wear them?
Image Source
Conventionally, a bride's sisters and friends tie these kaleeras on her wrist as a way to bless her marriage. After the ceremony is over, the bride tries to drop a kaleera on the heads of her bridesmaids. If it drops on someone, this person is supposed to be the next in line to get married.
However, the story of how kaleeras came to be is completely different and more sombre than what they mean today.
Image Source
Kaleeras were meant to be edible
Kaleeras have been a part of Punjabi and Himachali weddings for over a century. But the earliest kaleeras didn't look like the ones we see now.
The ornaments hanging off a bride's wrists then had coconuts, fox nuts, and other snacks for her. In those days, it was almost a given that the distance between a bride's home and her new husband's house would be significant. This would mean a fairly long journey for the bride, most often with people who were strangers to her. The bride's kaleeras were meant to hold snacks for her in case she got hungry on the way.
Now, this sounds fairly harmless. But having these snacks next to her in the form of kaleeras meant that the bride wouldn't have to forego her quintessential bridal shyness and ask her in-laws or husband for food on the way. She could eat these non-perishable items discreetly by just plucking them off her wrists.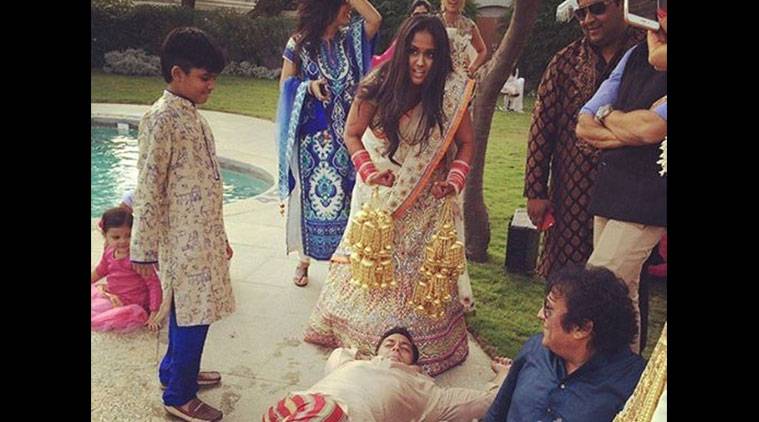 Image Source
The original tradition shows in the kaleera designs of today
To an empowered Indian woman of today, it sounds quite regressive that a woman was expected to stay quiet and submissive even when she would be tired and hungry. Even now, the designs of kaleeras represent the shape of the food that was traditionally tied on a bride's wrists. The kaleeras at the top look like half coconuts, and the smaller beads represent the smaller items like fox nuts.
Some theories suggest that the kaleeras also represented a blessing for the bride that she may never run out of food in her new house. Such traditions have also been known to come out of reality. And the reality of those days was that a woman was supposed to live and die in her husband's house. So if she did run out of food, for any reason, she wasn't welcome to live with her parents again. She would have to survive in her new home for the rest of her life.
In later years, of course, the significance of kaleeras completely changed. From serving a grim purpose in a suffocating patriarchal set-up, they have now become a symbol of the most casual, fun parts of a north Indian wedding. In fact, many brides insist on wearing kaleeras even when the family doesn't insist.
Knowing these stories behind the origin of these fun trinkets, would you wear kaleeras at your wedding and let bygones be bygones, or would you forsake them because of their history?
Related: Why Do We Still 'Give Away' Brides As A Ritual At Weddings?