Buying bridal jewellery is not an easy job. From the design to the price, there is a lot to think about when buying jewellery. All of these factors become even more important when it comes to bridal jewellery. If you're getting married this year, you need to start thinking about what kind of jewellery you want to wear. Instead of making a rushed decision at the last minute, use this article as a checklist.
Here are 7 questions you should ask, either yourself or someone with more knowledge about jewellery, before buying your wedding jewellery.
Image by Romesh Dhamija
1. What is the difference between kundan and polki jewellery?
Most people tend to get confused between kundan and polki jewellery. For a layperson, it's not easy to tell the difference at first glance. However, there is a huge difference between the two. Kundan jewellery is made from glass, gold and uses gemstones like diamonds, emeralds and rubies. Polki jewellery involves using uncut, raw diamonds which are not processed. Because of this, polki is much more expensive than kundan and is considered more valuable as an heirloom.
If you want to make a wedding set which will eventually be an heirloom, and you have the money to spend, choose polki over kundan.
For more information on the difference between polki and kundan, click here.
2. Are you going to have any use for that big set after your wedding?
Moving on to the size of your bridal jewellery, you need to keep certain considerations in mind. If your set is looking really big, you might want to make it smaller and more wearable. While your bridal jewellery won't ever be like regular wear jewellery, it should not be wasted lying in the locker till the next wedding. Consider getting a smaller set from which you can use individual pieces for smaller occasions or parties.
You should also consider changeable jewellery. Many jewellers now make pieces which are multi-purpose. A maang tikka at your wedding can be worn as a pendant, or the large, dangling earrings can be separated to make two pairs of smaller earrings.
3. Have you considered vintage jewellery?
Instead of buying something new, do you want to wear vintage jewellery which belonged to your mother or grandmother? When it comes to jewellery, old truly is gold. Contemporary or new jewellery cannot match the charm and beauty of vintage jewellery. It will add a special significance to your wedding ensemble if you wear jewels which have been in your family for decades.
You can also re-design vintage jewellery with a modern twist. Heavy neck pieces can be broken up to make earrings and a lighter necklace, and an elaborate maatha patti can become part of a necklace. This way, you can make sure your heritage is a part of your wedding day look while still being a modern bride.
4. What is the karatage of the gold in your jewellery?
When you're buying bridal jewellery, you must remember to ask your jeweller for hallmarked gold. A hallmark is the certificate of purity of gold. This hallmark should also bear the karatage of the gold being used. The purest form of gold, as is commonly known, is 24 karats. However, using 18 or 22 karat gold is more common for bridal jewellery sets. This is perfectly fine but you should know what you're getting.
Always go to a trusted and reliable jeweller, especially when you're buying heavy sets. You don't want to be duped into spending lakhs for something that isn't even real.
5. Are you following a trend blindly and ignoring something you actually like?
When you're buying bridal jewellery, your eye will automatically go to the bigger sets and the trendiest designs. But think about it before finalising your wedding jewellery. Are you just following the trends you've seen on all the wedding blogs and in magazines? Does this huge set even match your aesthetic? Is it really you? Give yourself time to figure out what you will really like on yourself and what will look the best with your outfit. Polki might be the obvious choice but it doesn't have to be your choice. Sometimes, a single chain with earrings can look better than the most elaborate set.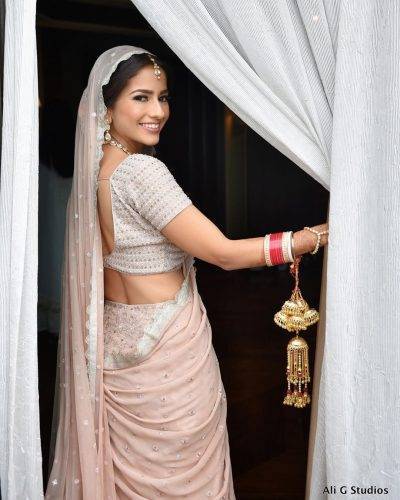 Image by Ali G Studios
6. Have you considered imitation jewellery or bridal jewellery sets on rent?
Imitation jewellery in traditional designs can look great as your wedding set. If money is a concern, or even if it isn't, imitation jewellery might be a better option. Instead of struggling with locker space for your jewellery after the wedding, you can alleviate all the stress by buying gold-plated jewellery which won't hurt your bank balance.
You can also rent bridal jewellery sets for your big day. If you really don't want the responsibility of handling jewellery after your wedding, rent it. This is quite an economical option especially if you don't have any emotional attachment with your bridal ensemble. Instead of spending all that money on jewellery, you can travel with your spouse and make irreplaceable memories.
7. Can you move painlessly while wearing this set?
Buying bridal jewellery should be done after finalising your wedding outfit. When that's done, you can decide on designs depending on your neckline. Apart from that, you will also know how much your wedding outfit is going to weigh. If that's already quite heavy, don't weigh yourself down even more by wearing heavy jewellery. You will already be quite immobilised under all that cloth. So make sure that you can move painlessly while wearing your full bridal jewellery set. The earrings should not be ready to tear your ears, and your headpiece should not feel like a solid weight on your head.
Featured Image Source