The best way to achieve a regal bridal look is a neckpiece that makes a statement. And if you are a bride-to-be looking for some gorgeous options, we've got you covered. Picking the right jewellery to complement your look can be overwhelming. After all, you don't want your jewellery to overshadow your carefully chosen bridal outfit. But you also don't want it to be understated and forgettable. To help you find the best solution, we found some stunning bridal choker necklace designs! From polki and diamond to gold chokers, these pieces will totally steal the show this wedding season!
Related: Bridal Nose Rings Which Will Give You A Classic, Elegant Look On Your Wedding Day
1. A minimal gold choker
Image Source
Plain and classy gold jewellery is the OG for all Indian brides. It looks sophisticated and is easy to match with any outfit. So, if want to stick to the classic, minimal, and chic bridal look, go for a simple and elegant gold choker.
2. A classic polki choker
Image Source
Nothing beats a classic polki choker for the big day. It is a great option to carry for any of your wedding festivities as it looks simply stunning. You can layer it with other necklaces or wear it as it is since it can instantly uplift your whole bridal look!
3. An over-the-top diamond choker
Image Source
Diamond chokers add all that glamour and elegance to a bride's attire. And if you are someone who loves to go extra, an over-the-top diamond choker is perfect for you. It is a statement piece and doesn't require any other piece of jewellery to be layered with it.
4. A vintage pearls bridal choker necklace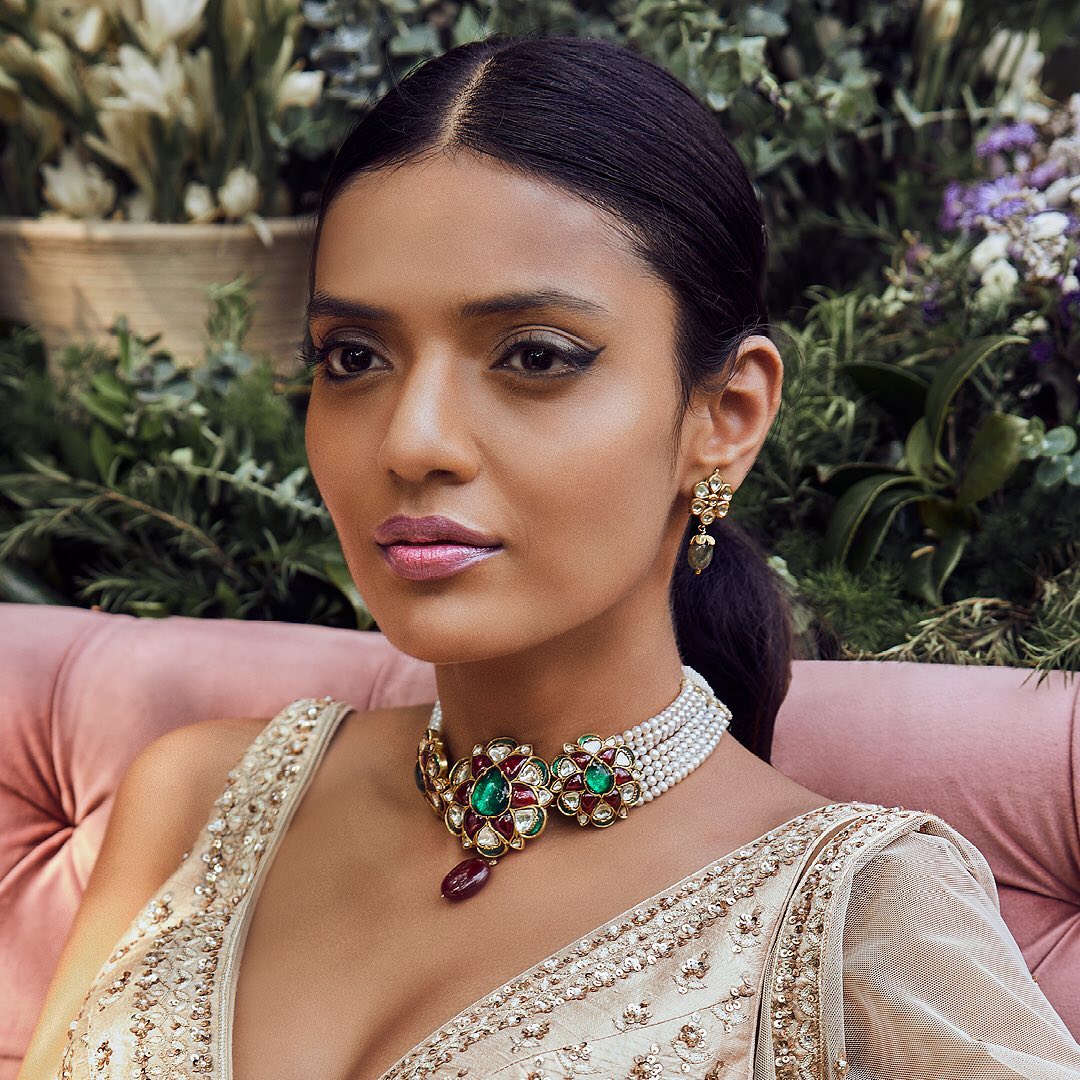 Image Source
Pearls have a timeless, old-world charm to them. And when paired with some diamonds, they can look extremely chic. So, if you are looking for vintage and modern bridal choker necklace designs, go for a pearl choker!
5. A dramatic navratan choker
Image Source
If you want to go all out on your big day with heavy jewellery, you can try a navratan bridal choker necklace. As the name suggests, these chokers have multiple gems in different colours so you can get your choker customised.
6. A pastel minakari choker
Image Source
Minakari chokers, or enamelled chokers, are a great option and make for the perfect bridal jewellery. They are light, pretty, and ideal as statement jewellery. You can pair them with your mehendi outfit or your wedding day outfit, depending on your attire.
7. A short, minimal choker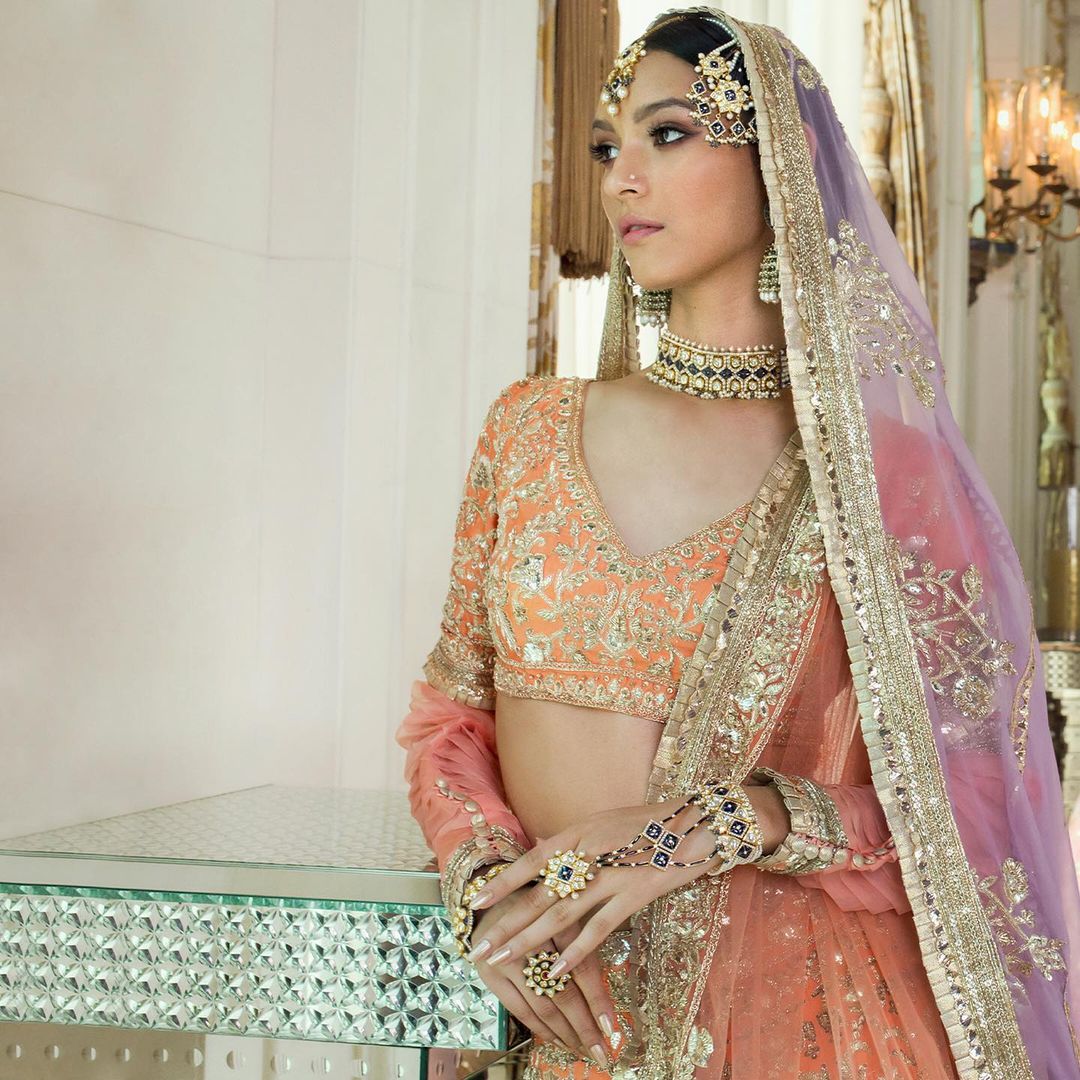 Image Source
If you are all about aesthetics and love short, single-lined, and minimal bridal chokers, you have some great options to explore. These chokers are a rage among millennial brides as they are fuss-free, look regal, and are easy to carry!
8. A timeless emerald choker
Image Source
Emeralds scream elegance, class, and beauty. And if you are looking for something dramatic yet modern, there is nothing better than a timeless emerald bridal choker. You can choose multiples shades of emerald paired with rubies, pearls, and polki.
9. A fun floral choker
Image Source
Perfect for your mehendi and haldi functions, floral chokers are trendy and look gorgeous! You can pick from multiple colour options and look your absolute best for the wedding festivities!
10. An aad choker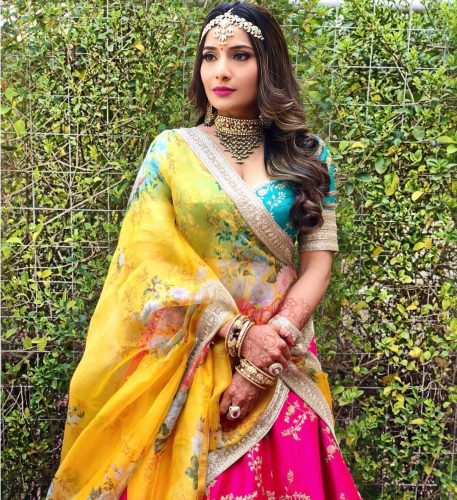 Image Source
An aad choker, or a Rajasthani aad choker, is a traditional and beautiful bridal choker necklace. It is an elongated choker that looks elegant and doesn't require much layering. Perfect to pair with deeper necklines and blouse designs.
Related: Semi-Precious Designer Jewellery For Bridesmaids: Check Out These Brands