White rice is a staple in most Indian kitchens. But after gluten, rice has become the latest calorie-dense food source to have a bad rep in the health and weight loss community.
Though white rice isn't inherently harmful, it packs a lot of starch, which gives it a higher glycaemic index. Moreover, while brown rice is high in fibre content, white rice is stripped of most nutritional benefits during the refining process. But does this mean that you need to cut out this staple from your diet completely to shed some kilos? Not at all. Here's everything you need to know about enjoying white rice on a weight loss diet.
Related: 5 Rice Recipes To Turn Your Regular Chawal Into A Delicacy
1. Portions and proportions
Image Source
One of the most popular ways of keeping one's weight in check is by creating a calorie deficit. And one way to do that with rice is to keep an eye on the portion size for each serving. Try to stick to a single serving of rice and avoid adding other sources of carbs to the same meal. Also, when having rice with a dish like dal, rajma or curry, it helps to adjust proportions so that there's lesser rice. That way, you can enjoy the same combination of flavours while keeping a check on your starch intake.
2. Mix 'em up
Image Source
Yes, white rice tastes the best. But it is also the least nutritious and the most calorie-heavy of all the different rice varieties. You can get the best of both worlds by combining half the quantity of your regular white rice with red, brown or black rice. The latter are nutrient-dense and also have a high fibre content, which helps keep one full for longer. And the longer you stay full, the lesser is the urge to snack, and the weight loss journey remains uninterrupted.
3. Ditch the oils and steam 'em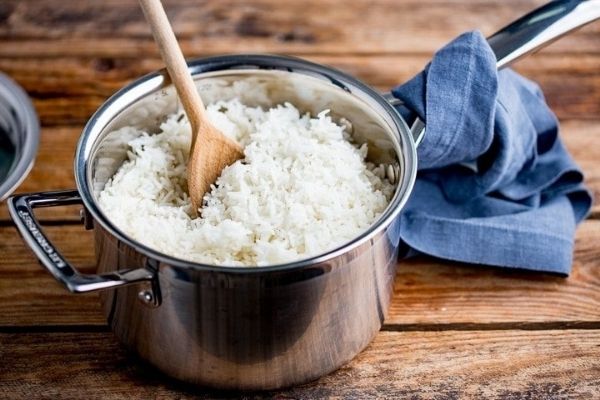 Image Source
Yes, you can enjoy having white rice on a weight loss diet, but how you cook the rice matters. Tossing rice in a kadhai full of oil to make fried rice won't help you reach your weight loss goals. Neither will a heavy cream and sugar-based kheer. Instead, opt for simpler variations of steamed or boiled rice to go with some hot rajma or dal.
4. Move it, move it
Image Source
Remember that food is only one aspect of your weight loss journey. Taking a more holistic approach to reforming your lifestyle as a whole is the ideal way to go. So, enjoy that rice but also supplement your indulgences with some movement or exercise of choice.
5. Timing matters
Image Source
Try incorporating white rice into your diet during lunch instead of dinner. This gives your body more time to break down and digest the rice carbs well before you get to bed. According to experts, cutting off carbs earlier in the day also helps prevent bloating.
To conclude, white rice is not your enemy when it comes to weight loss. It's all about mindful consumption in moderation. That being said, if you suffer from diabetes or blood sugar issues, make sure to consult with a licensed nutritionist or doctor before reintroducing rice into your diet.
Related: Try These Easy Leftover Roti Recipes To Transform Your Chapatis Into Delicacies
Featured Image Source