The summer is here, and this time, it has brought around a record-breaking heatwave as well. With the maximum temperature clocking in at over 40 degrees already, there's no respite from the heat. So, it is even more important to take care of your diet to avoid a heat stroke or other repercussions of the heatwave. Here are some food items to add to your diet, and some to avoid, to stay healthy during this unrelenting summer.
Summer friendly food to add to your diet
1. Cucumber
What you need in this heatwave is to stay as 'cool as a cucumber'. Cucumbers are one of the best things to add to your diet in the summer because they are low on calories and have high water content. This healthy, fat-free snack will help you cool down during the hot summer days and keep you hydrated.
2. Tomato
Tomatoes are rich in vitamin C and other antioxidants, which makes them one of the best vegetables to add to your diet. Tomatoes have over 90 per cent water content and that's great for you. The anti-inflammatory compounds in tomatoes will help reduce any inflammation or other health risks caused by the heatwave.
3. Coconut water
Drinking regular H2O can get boring. Shake things up by adding a glass of coconut water to your daily routine. It'll help you stay hydrated and lower your body temperature during this heatwave.
4. Melons
'Tis the season of melons, peeps. Stock up on some musk melons and watermelons. They are the juiciest, most hydrating fruits you can eat in the summer. Apart from keeping you cool, melons also have the added advantage of helping prevent various ailments like high blood pressure and heart diseases. Melons keep you hydrated and aid digestion as well.
5. Yoghurt
Yoghurts are perfect for a dreadful summer day. They not only satiate your hunger but also keep you away from salty, high-calorie snacks. The probiotics in yoghurt keep your digestive system healthy as well. If you are out of yoghurt, turn to good old curd for its cooling effect and immunity-boosting qualities.
Related: Beat The Heat: 3 Ways To Make Refreshing Lemonade At Home
Food to avoid during scorching summer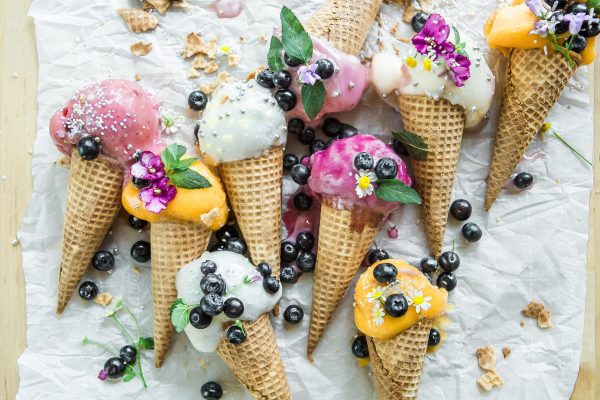 1. Ice cream
Now, this is a real bummer, but eating ice cream on a hot summer day won't actually cool you down. Instead, it'll increase your body temperature. The fats in ice cream raise the internal temperature of your body and the initial cooling effect is pretty much made irrelevant, thanks to our digestive system.
2. Alcohol
Another huge disappointment, we know. But to stay hydrated during the summer, it's best to let go of your favourite beer. Alcohol dehydrates the body which is the exact opposite of what you want to happen in the scorching heat. If you do end up consuming alcohol, don't forget to keep drinking a glass of water every time.
3. Beverages like tea and coffee
Tea and coffee come under the category of diuretic foods. These are foods that drain the water out of the body. In the summer, we need to consume as much water as possible. So, to keep your body hydrated, stay away from chai and coffee.
4. Spicy food
Capsaicin, found in spicy food, leads to a rise in body temperature. During a heatwave, all efforts should be made to keep the body temperature low so that it stays cool. So, get ready to say bye to your favourite hot sauce this summer.
5. High protein food
Proteins are important for the body. Unfortunately, during a heatwave, they also become counterproductive. Proteins take a long time to digest, and this causes a lot of heat during a process called thermogenesis. So, it's best to take it a little easy on the meat this summer to avoid heating your body.
Images Source
Featured Image Source
Related: Aunty Eve's Life Tips: How To Deal With This Terrible Heatwave