We started this year by sharing wishes and pleasantries with the ones we love. Oh, there were so many 'best wishes for a happy and successful year ahead!' But just about a month into the year, the human race went head first into a global pandemic. Almost every form of social gathering and economic activity came to a sudden halt. Many, across the globe, have now had to postpone their weddings too, for an indefinite period. While postponing a wedding brings a lot of added pressure, we're here to help with one of the big problems – "How do we tell people now?" Let's help you pick the best 'Save The Next Date' wedding invite message!
Related: How To Turn Your Quarantine Wedding At Home Into A Dream Affair 
Templates for postponed weddings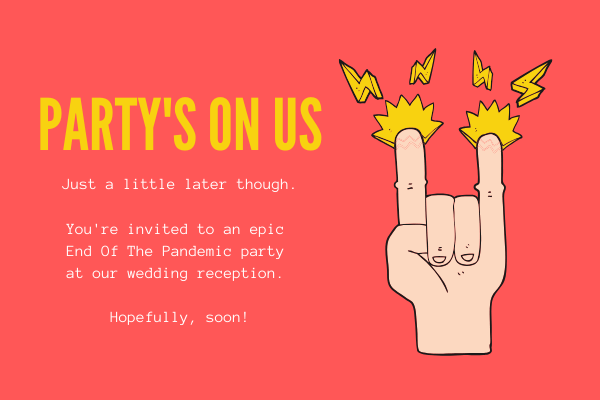 Here's one for those planning a digital wedding over a video call. Yes that's actually happening, and honestly, we think it's pretty cool!
Related: Fancy A Small Wedding? Here Are Some Tips To Pull It Off Beautifully
How to word your wedding invite message
In case you plan on sending emails or WhatsApp text messages to your guests, here are some ideas to make it fun and creative. You can simply select the text, copy it, paste it wherever required, make your changes, and SEND!
Our scheduled wedding on [insert date] at [insert venue] has been postponed indefinitely due to the ongoing global crisis. We sincerely hope we're all able to get back up and fight harder for a safer future. Till then, stay safe, and practise those dance moves!
OR
We really want to be married, but we don't want to do it in your absence. This is why we have decided to wait a little longer to reunite with you on the most special day of our lives. We are postponing our wedding to wait for the day when it will be possible to make the wedding of our dreams the best day of our lives!
OR
We've had enough. We're not getting married just yet. The jhaadu-pocha routine has taken away our wedding glow, and we need to rejuvenate. Thoda wait karlo please, till we set up a new beauty routine and finalise a new wedding date.
OR
We heard there's no wedding without a hiccup; we just didn't know it would be such a big one during our wedding! We're reworking our plans to have you all be with us soon!
OR
Hey guys! We are going to tie our super tight, janam-janam ka knot over a Zoom call with you all. So, keep an eye on your inbox for the link to join the call and, of course, DM for shagun! *wink*
We know postponing a wedding is hard, but there's really not much you can do when the world is battling a pandemic. All we can hope for is a quick flattening of the curve!
Featured Image Source: Fotowalle – The Story Folks