Is your idea of a perfect 'big fat wedding', well, NOT a big fat one? Are you someone who would rather have a small wedding and a seriously awesome vacation? Or just someone, who doesn't like the thought of a lavish spend on the event? But you do still want your big day to shimmer and stand out, don't you?
It might seem like a challenge to pull off an intimate, budget wedding without compromising on the aesthetics. With smart planning, however, it is quite the opposite. Here are some ideas for a small (read, stunning) wedding which will make it a gorgeous affair.
Related: Things We Wish Would Vanish From The Big, Fat Indian Wedding
1. Plan, plan, and plan
Planning for a small wedding is perhaps equally (if not more) important than planning for a big one. Start at least six months in advance to ensure you get the best deals on the venue, catch any possible sale that comes your way, and book all your services in time. It will also help you a lot in utilising all resources optimally.
2. Trim the guest list
An intimate affair would also mean that you would want to rule out unfamiliar faces at your wedding. Choose your guest list wisely, and restrict it to close relatives and friends. The wedding will be so much more enjoyable with only the people you like in attendance.
Yass!
3. Wiser the venue, better the wedding
We are assuming that you don't have a large backyard or a courtyard for the festivities (you are super sorted, if that is the case). Choose a suburban, off-beat venue, or identify a non-metro town and take the festivities there. Places like Dehradun, Jaipur, or Khajuraho could be on your prospective list.
Contrary to what many believe, you may actually end up saving a lot, with a simple destination wedding.
Related: Destination Wedding In India: Offbeat Options That Won't Hurt Your Pocket
4. Ditch the DJ
It might be hard to imagine the wedding festivities without the traditional DJ. But not getting one might do you good. Hire a small band or an individual singer to play the perfect music in the background. Our votes are for an acoustic performance.
For the crazy dance nights, get your very own wedding mix to play on your special day (and maybe a friend who would love to double up as a DJ).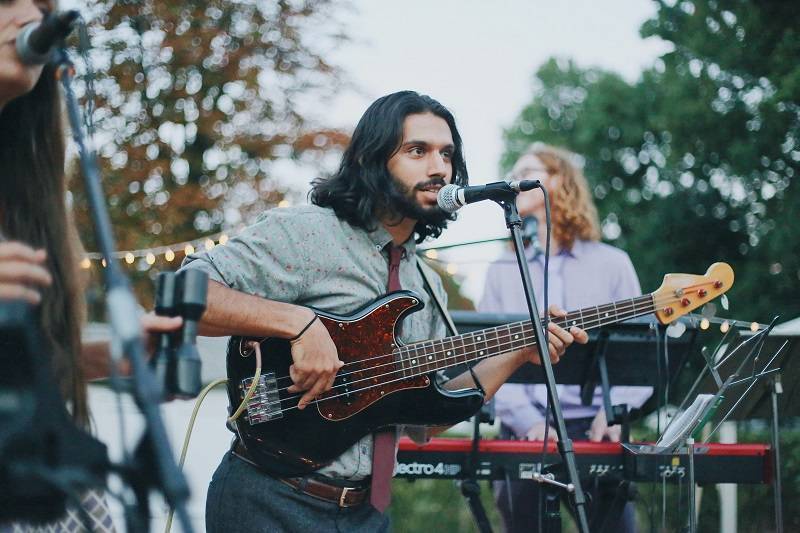 5. Get creative with your wedding outfit
We won't be surprised if the price of designer wedding outfits has given you nightmares. Don't get disheartened if those are way out of your budget. Get creative and smart with your outfit choice. Choose your look, pick up your fabrics yourself from a wholesale fabric market, and find a suitable boutique to create your ultimate outfit.
Another great idea is to ransack your mother's closet and find an old, heavily embroidered saree. For that matter, ask her if you can use her wedding outfit, and re-create it into a beautiful wedding outfit for yourself.
Check out how celebrated wedding planner Devika Narain wore her mom's lehenga for her wedding.
Related: Places Where You Can Rent Wedding Clothes In Delhi To Avoid Going Broke
6. Orchids and roses aren't always the prettiest
Replace the dreamy flower decor with an equally beautiful but far cheaper alternative. Marigold and jasmine look beautiful as decor at weddings and come at half the price of orchid or rose decorations. Using flowy fabrics in beautiful colours to decorate the venue is another option.
7. Brunch is the new cravate noire
Forget black ties. Brunch weddings are the cool new thing. Plus, they can be super cozy and intimate. Keep the ceremony in the morning, followed by an exquisite brunch for your guests.
You could get creative with the catering and give it to a food truck rather than a traditional caterer. Also, you could replace the wedding cake with a cheese or a pizza cake. Get quirky, because WHY NOT!
Related: Meals On Wheels: Check Out The Best Food Trucks In Delhi NCR
8. Local rules
With wedding planning becoming a popular profession, there are a slew of new entrants – young, excited wedding planners in every town, even beyond the metros. There is no need to have a fancy entourage to manage your wedding. Choose a local event manager who is in line with your aesthetic sense, can use cheaper (and prettier) decor options, and isn't afraid to experiment.
Jazz up the cozy wedding of your dreams!
9. Send out personalised wedding invites
Get a little creative, and ditch all those basic white and gold wedding invites. Make it a little fun and add a touch of your own story by getting personalised wedding cards. They reflect your personality and are so much cuter and more creative than the old-fashioned ones.
Try these personalised invites from Rustiq by Rubal and make it an affair to remember.
With so many options to personalise and make your wedding unique, why would you go in for a template?