Brides, your big day is almost here! It's definitely time to feel the excitement, but it is also time to do a final check so that things run smoothly during your wedding. As the bride, you won't be required to do any of the heavy lifting. But as the bride, you are expected to know everything that's going on. You need to sort out any problems or issues beforehand so that you, the bride, don't have to get stressed about anything. And the closer the wedding gets, the higher is the chance for stress to creep into your mind. So, we made a checklist for brides for the week before the wedding. This is the only checklist you need to refer to if you're getting married in a week.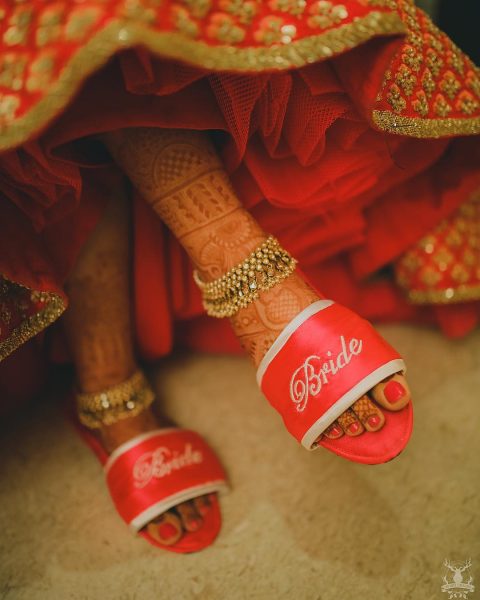 Image Courtesy: Morvi Images
Start ticking.
1. Put all your wedding outfits in separate bags, divided by functions
Make sure your clothes are packed in a manner that you can just grab a bag for each function. For example, for your sangeet, pack your entire outfit in one garment bag. Try to put a temporary label on the bag. This way, when you're headed to the parlour in a rush, you won't forget any part of your outfit.
2. Segregate shoes to match each outfit
Have you decided which shoes you're wearing on each day? Keep them next to the garment bags for respective functions. If you're carrying your outfit in a suitcase, pack your shoes in the same bag.
3. Put all your jewellery in separate boxes, divided by functions
Like your outfits, you need to segregate your jewellery too. Put post-its on the boxes so that you know which jewellery box needs to go with each outfit. This will also help keep a track of all your pieces and avoid any losses.
Image Courtesy: Fotowalle
4. Sort out transportation and logistics for the wedding days
You need a car and driver to yourself on all days of the wedding. So make sure that's sorted and everyone knows, so that your schedule doesn't get disturbed. You will also need space to rest at all your venues and access to a spacious bathroom.
5. Pack your parlour bag
This bag should have:
Extra hair pins
Your own makeup brushes, if you have sensitive skin
Basic products like moisturiser, kajal and lipstick
Double sided tape to keep your maang tikka or matha patti in place
Safety pins, and anything else that you think is necessary.
6. Pack a suitcase for your first few days in your new home
Before you get down to unpacking everything and settling down in your new place, you need the basics. Pack a suitcase for 3-4 days so that you have time to put all your things in place. This suitcase should have:
Two heavy outfits for the day after the wedding and the reception
Basic makeup – kajal, lipstick, bindis, and eyebrow kit
Toiletries – toothbrush, toothpaste, towels, body wash, face cleanser, scrub, makeup remover, cotton swabs, toner, moisturiser, sunscreen, hair ties, hair pins, combs, and anything else you use on a daily basis
One casual outfit for each day, because you can't stay in a heavy suit all day
A comfortable nightsuit
Undergarments
Formal shoes, or juttis, for when you're dressed up
Casual, everyday shoes
Slippers
Pack this suitcase in a manner that you have what you need immediately, right on top.
7. Go over the final guestlist, caterers' requirements, and decor ideas
As the bride, you should have at least a basic idea of what's happening at your wedding. Make sure you know what different vendors, like the caterer and decorators, are planning. Give them your ideas or demands now, to avoid any last minute stress for anyone.
Image Courtesy: Stories by Joseph Radhik
8. Delegate bridesmaids' duties, put that WhatsApp group to good use
To make sure your bridesmaids are of actual help during the wedding, you need to delegate certain duties. Decide who will:
Go with you to the parlour on each day
Help guests with settling down and transportation arrangements, if they're from out of town
Stay in touch with the groom's side to make sure timelines are being followed
Coordinate with the mehendi walas, handle the kaleeras, and organise the mehendi favours
Be by your side at all times during the wedding, whether you're on stage or off
Be in charge of music for performances and entries
Make sure everyone shows up for dance practices
9. Coordinate with the groom for groomsmen duties
Get a lowdown from the groom on who is handling what on his side, so that your people know who to contact. You can also delegate this task to one of your bridesmaids, but you need to make sure it's done.
10. Relax. Eat healthy. Sleep!
In all the madness leading up to the wedding, don't forget to sleep and eat. Don't ignore your health, it'll show on your face and in your energy levels on the big day. Sleep at least 9 hours each day, get your skincare regime in order, and eat your fruits and green vegetables. Drink lots of water to avoid bloating.
For a comprehensive list of everything that should be in your bridal trousseau, click here.