Indian ethnic wear is a beautiful example of tradition, art and intricate designs. While we love how these outfits look, they present a problem when you think of how to store sarees and suits in a convenient manner. You have to be careful to protect them but you also have to make sure they don't take up too much space in your wardrobe. Don't worry, we've figured out how to store Indian clothes and tackle this common problem. Read on to find out some of our tried and tested hacks which are some of the best ways to store Indian clothes.
1. Declutter
Firstly, clear the clutter. Get rid of the clothes you don't wear anymore or wouldn't take a second look at. Decide whether or not you would ever wear them again. At some point, your clothes will start looking old. So if you have no use for them, give them away. This is one of the best organised wardrobe ideas to start with.
2. Protect your dupattas
Every Indian girl's wardrobe is bound to have salwar kameez sets. Every Indian girl also struggles with the problem of how to store Indian outfits. You can't just fold them like t-shirts and shove them in the cupboard. This is how you can make sure your Indian wardrobe is protected:
Use shower curtain rings for the dupattas. Loop your dupattas through the rings and use a hanger to suspend them.
Buy a scarf holder here, and use it the same way.
This way, you can locate your dupattas faster, and they won't get crumpled.
3. Segregate according to utility: How to store heavy Indian clothes
Your Indian wardrobe can be separated based on the utility of each outfit. Here are some easy solutions if you're thinking of how to arrange an Indian wardrobe:
Make separate sections for wedding wear and casual wear.
Create a separate space for the heavy, intricate pieces. Not only do they require more space, but piling them up with the rest of your clothes might damage them.
Store your sarees and suits in separate cloth bags to avoid any damage.
Label your shelves to make it easier to find your clothes.
Straighten your clothes before storing them. They consume less space.
4. Saree storage
So, sarees are a little complex to store. Here are a few quick tips on saree storage ideas and how to keep sarees in cupboards safely:
You can arrange your sarees with their matching blouses and petticoats on a hanger. Storing sarees on a hanger will keep them wrinkle free.
You could also opt for saree bags to keep them safe. The problem of how to store sarees and suits becomes much easier to deal with when you have separate bags for each outfit. This is especially helpful when you're thinking of how to store silk sarees in cupboards.
Re-evaluate your need for old clothes. If you have been storing your Banarasi saree for several years without ever wearing it, try these 12 ways to give it a new life.
5. Skirts, lehengas, and kurtis
Skirts and lehengas cannot be folded, so the only way is to use hangers for them. If you're thinking of how to store Indian wedding clothes after the wedding season, try these tips:
If you fold them and stack them up, the studs or beads on lehengas and skirts could get caught in the thread of your other clothes. A single yank can ruin your favourite skirt.
Kurtis can be folded and stacked up on shelves which is the best way of storing them.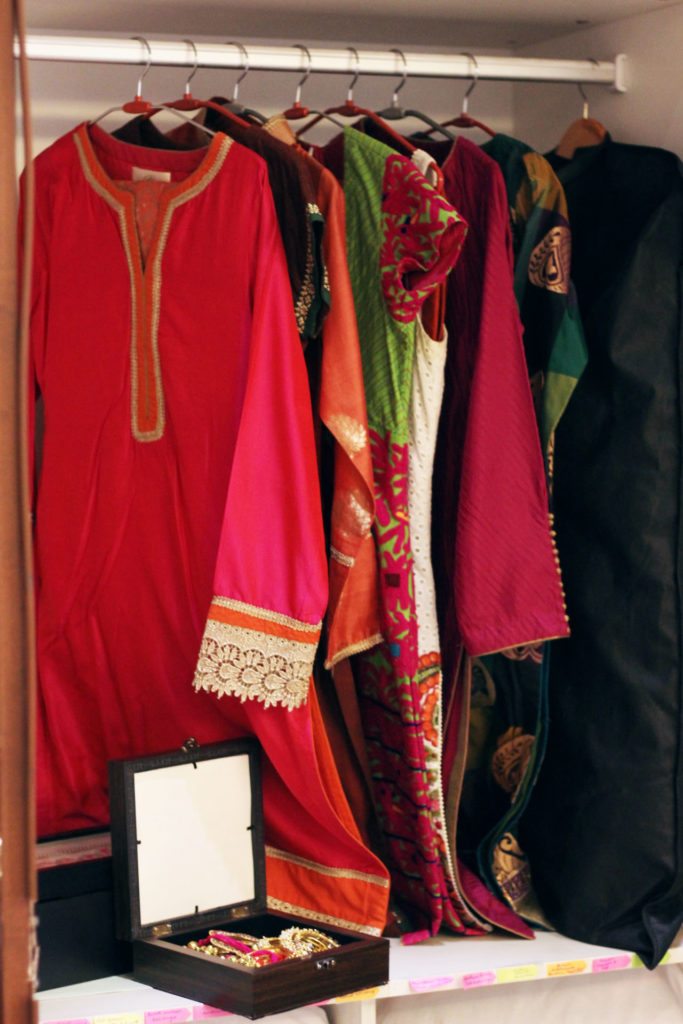 6. How to keep saree blouses in cupboards: Muslin Wrap!
Muslin isn't just a great summer fabric to wear. It's also great to store your expensive couture, especially intricate saree blouses. Buy bags or simply wrap your clothes in muslin to avoid wear and tear while they lie in your cupboard. Muslin prevents the sequins and embroidery on these clothes from catching on something and ripping. It also keeps dust and cloth-aging agents away.
So, get on with organising your closet then. Save your pretty clothes for the next wedding season! But if you're thinking of giving away your clothes and revamping your wardrobe, click here for some epic ideas for the next wedding season.