Indian weddings are a festival in themselves. With so much happening over a week, it's very easy to lose yourself in all the chaos. From the bride's close relatives, to even the not-so-close ones, everyone is wrapped in the brightest colours and shiniest bling. Heavy outfits and jewellery are the norm, so why not stand out?  If you are one of the bridesmaids at the next wedding, the pressure to look good and to stand out in the crowd can be overwhelming. Planning a whole bridesmaid look is more tedious than you think, so we're here to help with six stunning bridesmaid looks to make your life easier and prettier.
1. Pretty in pink
Pink is one of the most traditional colours for an Indian wedding. And it looks gorgeous, so who's complaining? But there are two sides to this. Creating a whole pink look can either go beautifully or make you look extremely unkempt. Maintaining a balance in all the different elements of the look is very important. Adding contrasts and similar tones will give you a more eye-catching look and add depth to your ensemble.
Outfit by Pooja Rajpal Jaggi
Necklace by Jewels of Jaipur
Clutch by Vareli Bafna
Juttis by Imlee Jaipur
2. Into the blue
Blue makes for an elegant and cool wedding vibe. Bright, fun and gorgeous, blue is a rather flexible colour to experiment with. And it's one of those colours that always makes heads turn at weddings. Choose subtle pieces with different textures to bring this look together since it's a soft colour, and you don't want to overdo it and make the look drab.
Outfit by Sonali's Creations
Necklace by Jewels of Jaipur
Clutch by House of Vian
Juttis by Kkarma
3. Maroon magic
The deep hues of maroon have always been dramatic and look stunning. Maroon is another one of the most traditional colours for an Indian wedding, especially in the winter. It looks best during night time ceremonies since it's such a rich colour. Match it with shades of purple and wine for a stunning bridesmaid look.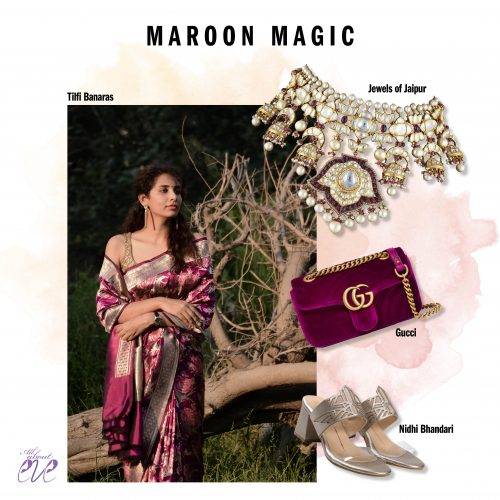 Outfit by Tifli Banaras
Necklace by Jewels of Jaipur
Clutch by Gucci
Heels by Nidhi Bhandari
4. Shine bright
Metallics, with all their bling and drama, have been an important aspect of party outfits for a long time. Choosing a metallic outfit for evening or night functions always works. Wear minimalist jewellery, or just one statement piece, to enhance your metallic ensemble. Let the outfit get all the attention.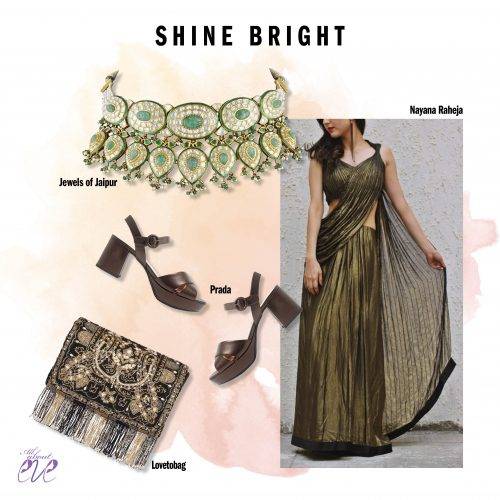 Outfit by Nayana Raheja
Necklace by Jewels of Jaipur
Clutch by Love to Bag
Heels by Prada
5. Dark beauty
If you don't want to experiment much, and believe in sticking to solid colours, we have just the look for you. A classic black outfit is one of the most popular choices for a reception or cocktail night. You can wear a black saree and pair it with a statement neckpiece to bring more character to your look. You can also experiment with your accessories and clutch, and try a little extra bling as it will bring the whole look together.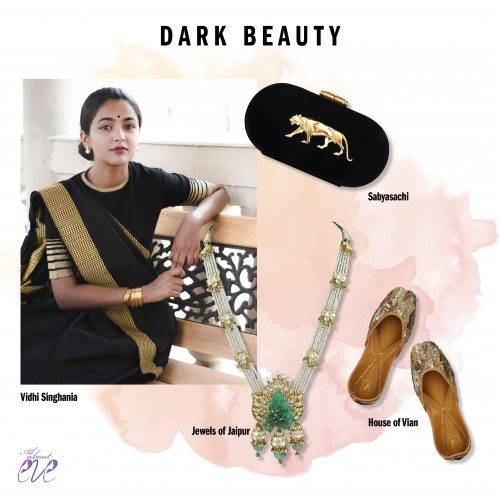 Outfit by Vidhi Singhania
Necklace by Jewels of Jaipur
Clutch by Sabyasachi
Juttis by House of Vian
6. Green goddess
Green has a charm that makes it one of the most popular colours for Indian weddings. This bright colour is perfect for a mehendi or haldi function as it will pop in the day time. You can play around with the jewellery and accessories in similar or contrast tones to uplift your look. From pastels to deeper tones, green is a versatile colour that works for everyone and makes for one of the most stunning bridesmaid looks.
Outfit by Bhumika Grover
Necklace by Jewels of Jaipur
Bag by Adora by Ankita
Footwear by Aprajita Toor
Click here for more gorgeous mehendi outfits. If you're looking for unique and beautiful engagement outfits, click here.