The India Couture Week 2017 kicked off on the 24th of July. This fashion gala is where the biggest designers come together, creating art which is the universal language spoken. One week where sheer talent, trends, craftsmanship and fashion merge together into an atmosphere of opulence. Here's why this event in all its grandeur, has everyone talking.
1. LINE-UP OF 14 FORMIDABLE DESIGNERS
The couture week is going to feature the likes of Sabyasachi Mukherjee, Manish Malhotra, Varun Bahl, Rohit Bal and other coveted designers. With a lineup as talented as this, we can't wait for the visual explosion at the gala.
L to R clockwise: Varun Bahl, Anamika Khanna, Manav Gangwani, Rohit Bal, Rina Dhaka, Tarun Tahiliani, Monisha Jaising and Manish Malhotra. Other designers at the event include Rahul Mishra, Anita Dongre, Anju Modi, Gaurav Gupta, Reynu Tandon and Shyamal & Bhumika.
2. THE RUNWAY GIVES BIRTH TO THE HOTTEST TRENDS OF THE SEASON
Your one stop destination of what's trending in the fashion biz. That it is new, luxurious with a fashion forward sense, we don't doubt. But just how the colours pair up with the vibrant designs of these talented artists, that's the real show.
Manish Malhotra's collection
3. WHAT'S IN STORE
The week long fiesta is going to be a spectacle of grand sets, ebullient ensembles and concepts that will blow your mind away. A new story of fashion will be penned bidding adieu to the old while keeping in mind the intricacies of Indian tradition.
Tarun Tahiliani's show
4. OPULENT DECOR
13 shows, spread over a week have found a venue at the Taj Palace Hotel and a few off-sites in New Delhi. We hear the monsoon-inspired motifs, revamped cocktail wear and hand woven- detailing are stealing eyeballs.
5. OPENING ACT
Couturiers Anamika Khanna and Rohit Bal will be opening the show. Anamika Khanna will be showcasing her couture collection titled 'Luxury 2017' as installation pieces at The Kila, Mehrauli in New Delhi from 6 pm to 8.30 pm. Rohit Bal's 'Khush Posh' will be shown at the Bikaner House at 9:30 pm. The designer says his collection is an 'effort to revive heritage pieces from the costume collections of royal Mughals which have been immortalised in museums.'
Anamika Khanna and Rohit Bahl with Sonam Kapoor
6. CLOSING ACT
All good things come to an end, but when it's Manish Malhotra, India's true connoisseur in the closing act, we don't quite know if it's something to look forward to because it's Manish Malhotra; or resent it because it's over. Last year it was Alia Bhatt as the show stopper. We wonder who would it be this time?
Manish Malhotra's show stopper in ICW 2016 – Alia Bhatt along with Aditya Roy Kapoor
7. MEET FASHION INDUSTRY'S TOP MAVERICKS
The India Couture Week will see a plethora of professionals that covers bloggers, artists, stylists, choreographers, and fashionistas who will redefine fashion as we know it.
ICW 2017 is a good place for networking with fashion bloggers and designers
8. A SALUTE TO INDIA
This year, the ICW has a strong focus on Indian weaves and handlooms. According to Sunil Sethi, President, FDCI, "Our embroideries and hand done crafts have found a place on the world map too that is why it is imperative to promote the 'Make in India' endeavour."­­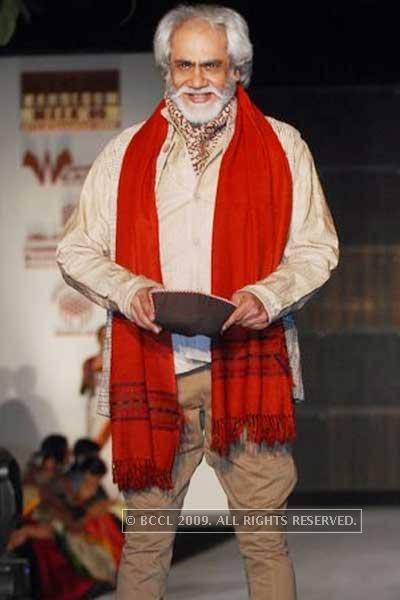 FDCI President, Sunil Sethi, is often seen sporting Indian handlooms. (Photo courtesy: BCCL)
9. BRIDAL COLLECTION
So we know Sabyasachi is a legend when it comes to bridal wear, but think about what his newer collection is going to be like? They're already so good – we wonder what taking it up a notch would entail.
Sabyasachi's latest bridal collection – Champakali lehenga in red raw silk
10. ALL ABOUT EVE CONNECTION
What's more, All About Eve is collaborating with Varun Bahl at the India Couture Week 2017. We all know Varun Bahl's love for floral motifs and it's evident from the sneak peeks that his foliage romance ensues.
Stay tuned as we unravel more magic, live from the #ICW2017 on day 5 of couture week at the Varun Bahl show.
Glam packed, star studded, and a montage of the best talent the country has to boast of. What's not to love?