Working from home might be the new normal these days, but that doesn't mean you can sit around in pajamas all day. Even though thousands across the world are not going to offices anymore, we still need to maintain a certain professionalism, especially when we're interacting with our colleagues on video conferences. Imagine walking into a meeting in an old, torn t-shirt, with dirty hair in a high bun, and sunken eyes. Not the best way to be taken seriously at work, is it? The same rule applies to video conferences now. If you need help with how to look good on a video call, here are a few tips which will go a long way and are quick and easy.
Related: Missing Family And Friends? Try These Group Video Calling Apps To Hang Out "Together"
1. Apply dry shampoo to your scalp
If your hair is dirty, and you don't have the time or the inclination to wash it, this is a godsend for you. Putting dry shampoo on your scalp removes the layer of oil and stickiness. In case you don't have dry shampoo, you can always use baby powder, but since it leaves a white residue, it is best to give baby powder some time to absorb properly.
2. Use tea bags under your eyes
Used tea bags are very handy, so don't throw them away. Dip two tea bags in hot water and take them out to cool. Apply these tea bags under your eyes to reduce dark circles and puffiness instantly. The caffeine in the tea helps with blood flow, and the antioxidants help reduce swelling. In case you don't have tea bags, put a spoon in the freezer and, once chilled, put it under your eyes.
Image Source
3. Use ice cubes to massage your face
Rubbing a few ice cubes on your face will tighten up your pores giving you a fresh look. It also helps in regulating the blood flow and makes the skin look healthy and firm.
Related: Skincare Tips From Dr. Blossom Kochhar That Will Keep Your Skin Healthy Forever
4. Throw on a shirt over pajamas
If you have been lazing around all day, and need a quick fix to look presentable for a video conference, just throw on a shirt over your pajamas. Try to wear something fitted, instead of a loose top, to look more formal. Nobody will ever know as long as you keep an eye on the camera angle.
5. Tie up your unruly hair
This is one of the easiest and most important tips. If you have frizzy or unruly hair, it is always better to tie them up in a ponytail or a top knot bun to look more professional. This is a great quick fix for any kind of bad hair day.
6. Add on some accessories
Adding some accessories like a watch, a pair of earrings, rings, or pendants can uplift your look in an instant. You'll look dressed up even with the simplest top or shirt and an accessory to go with it.
Image Source
7. Add some colour to your face
No one expects you to be wearing makeup when you're working from home. But to avoid any nagging questions about your health, add a little colour to your face. Dab some lipstick on your cheeks and lips to look awake and fresh. It'll give you a healthy glow, and it may even attract some questions about your quarantine skincare routine.
8. Use highlighter for tired eyes
With increased screen time, your eyes are probably more tired. Have a look in the mirror before your video conference, and if your eyes look weary, dab a little highlighter on the inner corners of your eyes. This is an instant way to make your eyes look awake and fresh.
9. Dab Vaseline to the high points of your face
Vaseline is a versatile product that can do wonders for your skin. If you don't have a highlighter, dab some Vaseline petroleum jelly to the high points of your face like the tip of the nose, cheekbones, and a little above the brows. This will give you an instant glow.
Related: 10 Tried And Tested Uses Of Vaseline Apart From Moisturising Dry Lips
10. Apply a clear topcoat on your nails
Do you always end up with chipped nail paint? That is one of the biggest no-nos for anyone who wants to look presentable. Just apply a single layer of clear nail paint as your top coat, and you are good to go.
11. Brush out your eyebrows
Unruly eyebrows can make you look unkempt. Always brush out your eyebrows with an eyebrow brush or pluck stray hair to give your face a cleaner look.
12. Sit facing a source of light
This little hack will brighten up your face and make you look fresh even if you don't do anything else. Try sitting next to the window on your next video call, if it's during the day. You can also switch on a light behind your device, so that the light falls on your face.
Apart from these quick fixes, there are also a few other things you can do to look good on a video call. These might take some time to execute, but they will have long-term effects on your appearance.
1. Apply banana peel on your face
Bananas are great as snacks and as a part of your skincare routine. Applying the inside of a banana peel to your face instantly hydrates and moisturises your skin making it look plump and healthy. It also reduces the appearance of fine lines and wrinkles. This can be done a few hours before your video conference, if you have the time.
2. Rinse your hair with apple cider vinegar
If your hair has been looking rather dull lately, rinse it with apple cider vinegar. After washing with your regular hair cleanser, use apple cider vinegar as your last rinse, and your hair will have a significant shine.
Related: Frizzy, Damaged Or Dull Hair? Try These 10 DIY Hair Masks For Every Hair Problem
3. Exfoliate your lips with sugar and coconut oil
This is a great hack even when you're not stuck at home. Mix some sugar with coconut oil and scrub your lips with it. It will exfoliate and remove the dead skin giving you soft, plump lips. You can always add coffee or essential oils to customise your lip scrub.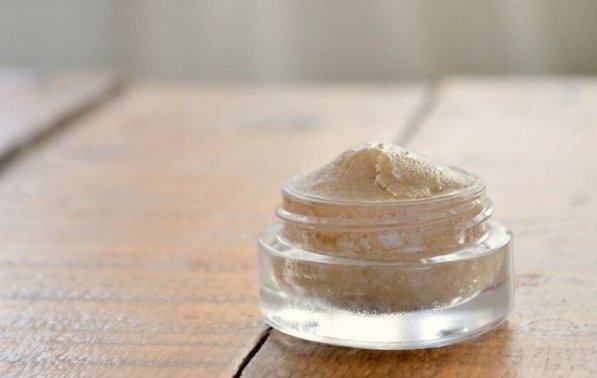 Image Source
Working from home isn't easy. If you and your team are looking for a professional tool which can be a singular platform for all your business functions, try Microsoft Teams. With new features in their latest updates, Teams is slowly emerging as the top video conferencing app while working remotely. Check out these features on Microsoft Teams that you didn't know you needed.