Vaseline is one of those miracle balms you can use on anything. And our parents have known that for a while now. Which is why, at this point, Vaseline is like a member of the family for most of us. While most of us use it as a balm for chapped lips, there are several other uses of Vaseline which make this jelly indispensable. Like, did you know you can use it on your hair?
If you've been using all the goodness in that Vaseline dabba only for your lips, think again. There are so many other uses of Vaseline which will make your life easier and happier. Here are a few such ways in which you can use Vaseline every day:
1. Use it as eye cream at night
It's not as fancy or well-equipped as other night creams, but Vaseline has its advantages for your eyes. If your main complaint is dryness and flaky skin around your eyes, put a thin coat of Vaseline around your eyes and massage it gently into the skin for a few seconds. Take care not to let the Vaseline go inside your eyes at any point. With a couple of nights of basic Vaseline therapy, you will stop feeling that annoying stretchiness around your eyes which happens with dryness, especially in the winter.
2. Vaseline as a makeup remover
Imagine coming back from a heavy night out and realising you're out of makeup remover. No amount of soap will take the makeup off your face completely. And soap will only dry out and damage your skin further. Don't worry. Reach for that reliable jar of Vaseline and smear a small amount on your face. Massage it for a while all over your face, and wipe it off well with a soft tissue. After you've wiped every inch properly, wash your face with your regular cleanser. Your face will be wiped clean of all makeup.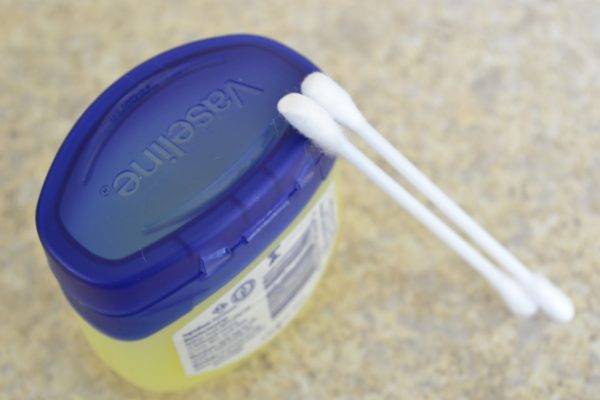 Image Source
3. Take off tight rings with Vaseline
Rings can tighten on your fingers for any reason. Trying to take off a tight ring can be a frustrating, fruitless process. The next time this happens, apply some Vaseline on your finger, around the ring. The truant ring slide off your finger easily.
4. Vaseline for minor scrapes
Fresh wounds from minor cuts and scrapes can often be itchy, which only makes them feel worse on your skin. Using Vaseline on a minor scrape or cut can soothe the irritation. However, it's not really medicinal so it won't heal the wound. But it can be a temporary fix to help you feel better before you get medical attention.
5. Use Vaseline as protection for your fingers while applying nail paint
Before you start painting, apply a thin coat of Vaseline on the skin around your nails. This way, you can simply wipe off any stray lines of paint that can trail off on to the skin in the process. This is one of the most under-advertised uses of Vaseline, but it's really effective.
6. Vaseline as a highlighter
Vaseline, because of its lasting sheen effect, is also a great highlighter. Dab a tiny amount on your cheeks and on the arch of your eyebrows to highlight your features. This can also help you save a lot of money on makeup products. Highlighters come and go, but Vaseline stays forever.
7. Tame split ends and frizz with this magic jelly
Yes, you can use Vaseline on your hair as well. Use a small amount on the ends of your hair to control split ends and make them less obvious. This is a great hack to give your hair a healthy look if you don't have time for a haircut just yet. You can also use Vaseline to tame frizz, but if you have thin hair, this will make your hair limp and sticky. Because of this ability, however, Vaseline can also be used to tame any wild eyebrow hair. Apply a tiny amount on your eyebrows to keep them in place.
8. Make powdery makeup products creamy
If you've been using makeup for a while, you would know how different powdery and creamy products can look on your skin. But you don't need to buy both versions of the same colour. Just mix a little bit of powder with Vaseline and you'll get a creamy eyeshadow or blush. Store it in a cool place so that the consistency remains intact.
9. Vaseline can replace mascara
If you want to cut down on your usage of mascara, but love well-groomed lashes, use Vaseline. Apply a small amount of Vaseline on your lashes and brush them out for uniformity. Get proper lashes without any messy mascara.
10. Avoid a raw, scratched nose during a cold
When you feel a cold coming on, and your nose becoming slightly raw, dab some Vaseline on your nose. You can do this throughout the day, but it will be more effective at night. Who needs the pain of a scratched nose alongwith the downer of a cold?
Stop ignoring that Vaseline jar on your table, and use it to its full potential. That jelly is your best friend. Share this with someone who needs to know these uses of Vaseline.
Click here for more skincare, hair care and beauty tips.