Handmade gifts will always be more special and memorable than an item off the rack. They make for an adorable token of love and appreciation for your dear ones. If you're tired of picking up gifts which get lost in a crowd, try handmade gifts from small, homegrown brands. It's the best way to ensure that your gift is unique and that it stands out in a sea of other packages.
All About Eve has started a unique movement to promote small businesses in the wake of the economic fallout of COVID-19. As part of this campaign, we've been trying to help small businesses, who will feel the brunt of the slowdown the most. During our quest, we found homegrown brands which offer beautiful, unique handmade gifts which will appeal to people of all tastes. Check out our favourites.
Related: 16 Thoughtful Gifts For Newly Weds That Will Win You The BFF Of The Year Award
1. Handcrafted by Bhavya
Handcrafted with Bhavya is a collaborative effort by two friends, Bhawna and Divya, who make beautiful handmade accessories and home decor items. Their hair accessories are particularly unique because of their combination of sophisticated elegance and girly charm.
2. Ash and Reeth handcrafted soaps
If you love unique soaps, you need to check out Ash and Reeth. They make handmade soaps from scratch for all skin types and ages. You can also ask them to customise soaps for you according to your skin type or based on a particular ingredient. The perfect gift for a skincare addict!
3. Madhubani Infused Decor
This brand has some spectacular, handpainted home decor items, inspired by Madhubani paintings. A unique way to revive an ancient Indian art form, Madhubani Infused Decor truly lives up to its name. From cushion covers, wall hangings, crockery to lamps, you'll find the idea gift for art lovers here.
4. Wishers Lane
Wishers Lane creates customised and handmade gifts that make for unique home decor. They also make quirky zipper pouches and many more interesting items that you can get made on order. Their name and photo frame boards are particularly exquisite.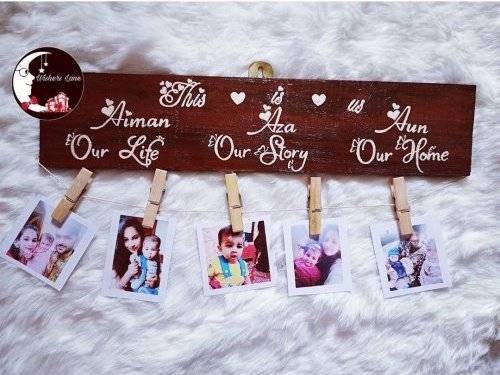 5. Craffeteria by Pradnya
Craffeteria by Pradnya offers a wide variety of handmade and customised home decor products like trays, jewellery boxes, personalised gifts, and more. You can also get personalised photo albums which make for memorable gifts.
6. Aryad's Creation
If you are looking for something subtle that conveys your thoughts for the recipient of the gift, Aryad's Creation is just the place for you. They have gorgeous art pieces, explosion boxes, and decor pieces at affordable prices to suit everyone's wallet.
7. Amida Studio
Amida Studio has some of the quirkiest, most fun, and unique home decor pieces. Their nameplates, kitchen boards, and wooden decor pieces, will be a gorgeous addition to anyone's home decor. The best part about gifting handmade home decor is that the recipient of your gift will see it every day and know how special they are to you.
8. The Craft Shop by mnharika
The Craft Shop by mnharika offers distinctive crochet decor items and dreamcatchers. The intricate detailing on the dreamcatchers, key chains, doilies, wall hangings, cushions, and pillows is nothing short of breathtaking.
9. Lawasa
We can never have too much jewellery, can we? The handmade earrings by Lawasa can light up any outfit, traditional or modern. Apart from jewellery, the brand's macrame planters and dreamcatchers also make for the ideal gift for anyone who is re-decorating their home.
Related: Colourful, Sparkly, And Gorgeous: Jewellery Brands We're Loving This Summer
10. Gift Fantasy
Know someone with a sweet tooth? They will love the chocolate bouquets by Gift Fantasy as a gift. Other personalised and handmade gifts by the brand include photo books, calendars, photo frames, and more. They also do customised photo bed sheets, pillows, hats, and explosion boxes.
11. Scissor Sensations
Scissor Sensations is run by Harshul Kaushik, a fashion and design student. She makes scrapbooks, gifts, and home decor items from scratch. The scrapbooks, in particular, are perfect for gifting to teenagers to encourage them to document the memorable moments.
12. Priti Choraria
Priti Choraria's accessories, brooches, headbands, and waistbands are made with a remarkable attention to detail which shows in the final product. In fact, because of the distinctive style of these items, you can be sure that there won't be another like the one you pick.
13. Artiliciously Yours
Know someone who's a Game Of Thrones fan? Or a Stranger Things addict? Check out the collection of handmade gifts at Artiliciously Yours. All their products are handpainted and can be customised to suit your style. They have everything from coasters, bookmarks, tissue boxes, to other home decor items.
14. Ethree
Ethree's handmade and handpainted jewellery is gorgeous and has a unique aesthetic. Each piece is beautifully handcrafted and makes a bold statement. Pair their jewellery with any kind of outfit to make heads turn.
Related: 16 Silver Jewellery Brands You Need To Shop At For The Festive And Wedding Season
15. Anrh Group
Anrh Group is a manufacturer of candles and skincare products that are made with natural and organic ingredients. The brand claims that the essential oils and herbs used are chemical-free and do not have any side effects. Win-win!
16. The Crafting Tale
The Crafting Tale has some really quirky and fun gift ideas for professionals. From funky desk organisers, and customised mirror frames, to charming candle holders, their products make for the perfect gift for someone who needs a happier, more cheerful workplace.
17. Dreamcatcher Store
As the name suggests, this brand specialises in gorgeous dreamcatchers. The vibrant colours and detailing make their products beautiful and dreamy. Other than dreamcatchers, they also make keychains, earrings, and wall hangings that are equally eye-catching.
18. Sly Creations
Sly Creations is a brand that specialises in gifts made from paper. They have a wide variety of home decor items, scrapbooks, wall hangings, frames, journals, and jewellery, that are handmade and crafted out of paper.
19. The Paper Rush
The Paper Rush specialises in everything stationery, and they have gorgeous gift packing options. Apart from offering unique packaging, they also offer customised gifts, accessories, frames, calendars, jewellery boxes, and so much more. You may even be tempted to pick up a few gifts for yourself.
Related: 8 Gift Packing Ideas And Brands To Make Your Diwali Gifts Look Spectacular
20. Moonchild Charms
Keychains make for cute gifts that don't really need an occasion. You can gift a keychain to anyone, any time to just make them feel special. Moonchild Charms has adorable resin keychains made mostly in K-pop style. They also do customisations on request, so you can gift something beautiful and meaningful at the same time.
21. Shoonya by Nidhi
Shoonya by Nidhi is popularising Indian art and its diversity through their work. They do unique wall murals and canvases that focus mainly on Indian art forms. They also conduct workshops to share their knowledge of the arts and do their bit to rejuvenate India's craft traditions.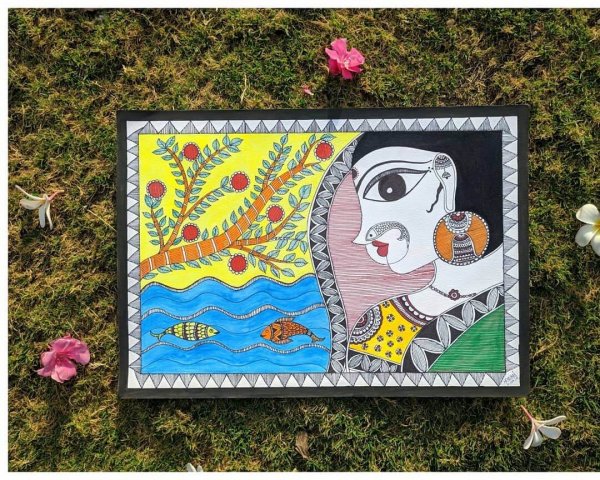 22. Artis Villa
Looking for an anniversary or birthday gift? Artis Villa has a diverse range of gifting options for every occasion. They specialise in customised anniversary, birthday, and wedding gifts.
23. GiftsGoneCraftyy
Craving something sweet? From homemade chocolates and mousses, GiftsGoneCraftyy is a great place to satisfy your sweet tooth. They also do beautiful gift hampers and customised gift baskets which are perfect to bring a smile to anyone's face.
24. Dreamer Forever
If you know someone who loves a boho vibe in their decor, Dreamer Forever serves you well for gift ideas. Their collection of dreamcatchers, accessories, and keychains are aesthetically pleasing and will make for a vibrant addition to conventional home decor.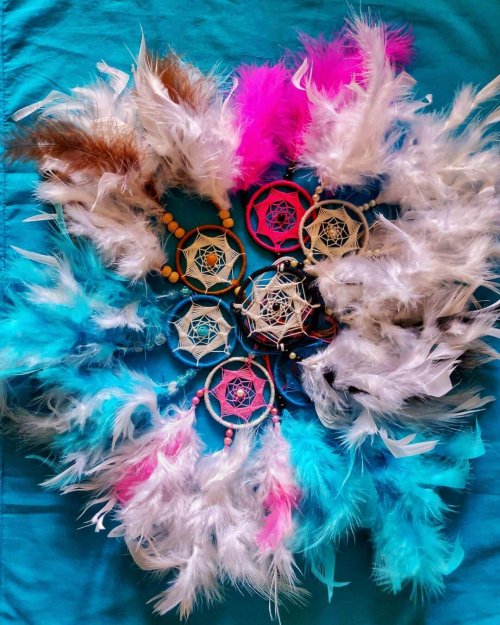 25. We Create Joy
As the name suggests, this brand makes quirky crafts like accessories and bags with so much variety that you will be spoilt for choice. Every piece is crafted so beautifully that you might end up ordering everything for yourself.
Handmade gifts are the best way to show that you care and to give something to your loved ones that they will cherish for a long, long time. Watch this space, and follow us on Instagram for more details and information on the #SmallBizBigInfluence campaign and what we're doing to shield small, homegrown businesses from the economic fallout of COVID-19.
Related: Boring Shoes No More: Get Your Own Handpainted, Customised Shoes With This Brand