Festivities have been lowkey this year, but that doesn't mean you can't spread some holiday cheer as the year comes to an end. Getting gifts for your loved ones is one of the best ways to bring some smiles and celebrate the festivities. So, get comfy in your blankets because we have the perfect list of gifts for Christmas that will save you the trouble of gift-hunting this season. Wishing you happy holidays and a Merry Christmas!
1. Hamper of flavoured tonic water
Refreshingly unique flavours are perfect to kickstart the festivities. Jade Forest's Tonic Waters are bold, crisp, and best enjoyed when mixed with spirits and equally impressive when savoured without alcohol. These drinks are low in calories and sugar, and they don't use any artificial ingredients.
2. Dry skin set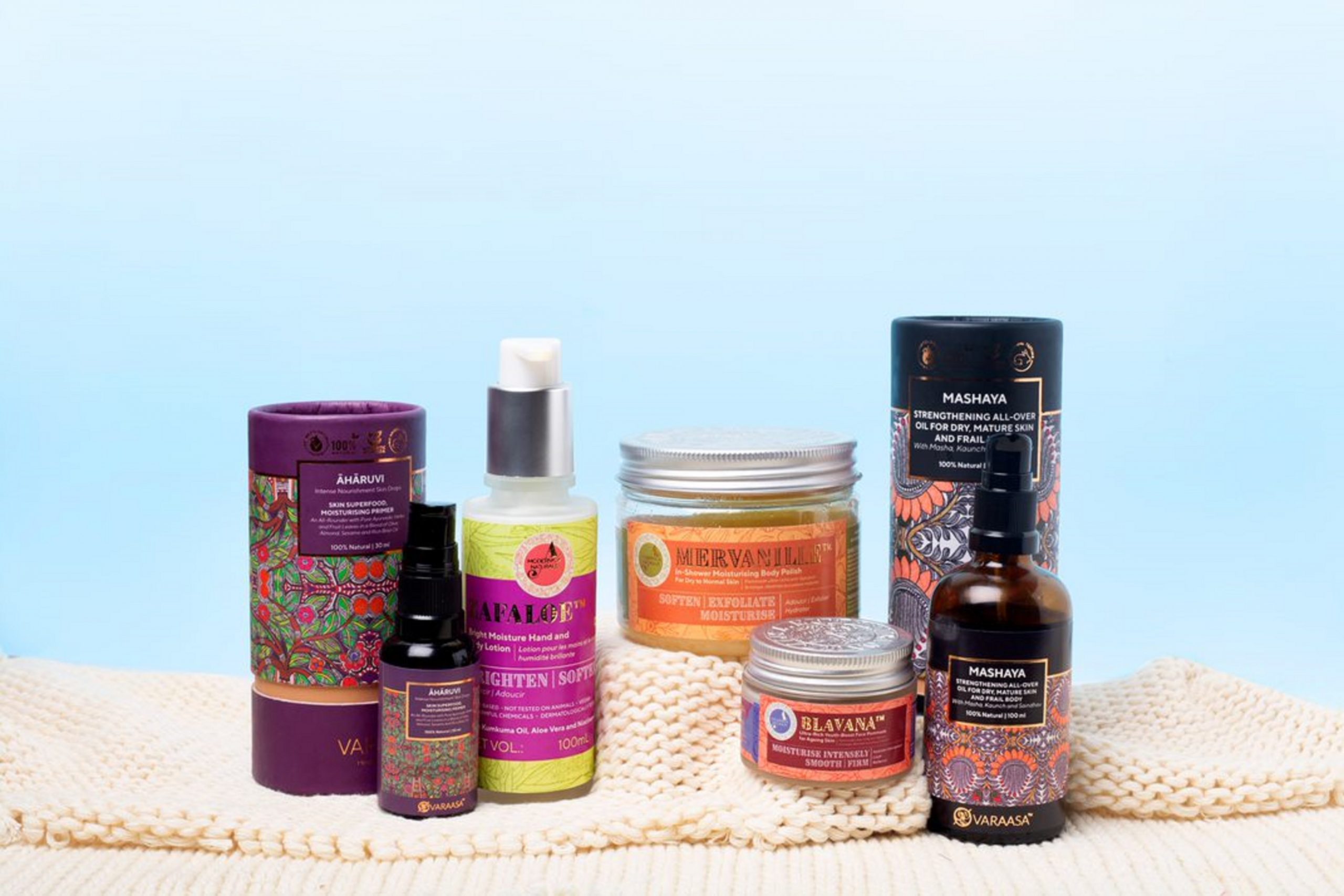 Dry Skin Set from The Ayurveda Experience
Beat the chilly winters and get round-the-clock moisturisation with The Ayurveda Experience's Dry Skin Set. It has the goodness of ayurvedic and modern skin-science ingredients. The products in this set provide intense moisturisation and strengthen and nourish the skin from within.
3. Precious jewels
Christmas Treats from Kohinoor Jewellers Agra 
Can't find the perfect gift for Christmas for your lady love? Well, precious jewels make for a truly memorable gift. So, this festive season, get the special lady in your life some Christmas treats from Kohinoor Jewellers Agra.
4. Iced Out highlighter
Iced Out Highlighter from Anastasia Beverly Hills 
A good highlighter goes a long way and makeup is a no-brainer when it comes to considering gift options. And this gorgeous highlighter from Anastasia Beverly Hills is perfect to add that touch of glam and glitter. It has a smooth finish and ultra-beam effects for a lit-from-within radiance!
5. Sports shoes
Got a fitness enthusiast in your close circle of friends and family? Because these shoes from Adidas's new collection Ultraboost are just gorgeous! They are super comfortable and stylish, making them a great gift idea for Christmas.
6. Unique tea blends
Advent Calendar Gift Set from Vahdam
Get your hands on Vahdam's Tea Bags Advent Calendar Gift set which houses some of the best blends. Packed in pyramid tea bags for bolder infusions and housed in an advent calendar gift box, it makes for one of the best Christmas gifts ever.
7. Enchanting lipsticks
Holiday Fable Enchanting Lipstick from Kiko Milano
One of the best gifts for Christmas is a gorgeous lipstick. In Kiko Milano's stunning holiday fables enchanting lipsticks, you can find some lovely shades. So, head to your nearest outlet and get your hands on their festive collection.
8. Ear sliders
Bloom Reform Ear Sliders from Prakshi
Planning to gift your special someone something memorable and cherishable? Don't look any further because Prakshi's Bloom collection has some stunning statement pieces that will blow your mind. Gift a little shimmer and sparkle this Christmas.
9. Candy
Christmas Konnections Candy Box from House Of Candy
Make the festivities a little sweeter with delicious and tangy candy from House Of Candy. Because no matter what anyone's age is, candy is always a good idea. Get this assortment of sweet, tangy, fizzy, and chocolate flavoured candies for your loved ones this season!
10. A grooming kit for men
Ultimate Grooming Kit from The Man Company
Get festive ready from head to toe! The Man Company's Ultimate Grooming Kit is what you need to sail through the season of festivities. Keep your gifting worries aside because we bet the men in your life are going to appreciate this one.
11. Facial regime kit
Weekly Face Regime Kit from Skinella
Feed your skin superfoods like honey, oats, coffee, and chocolate once a week and enjoy the gift of healthy skin. This kit removes all the dirt from the skin and leaves it deeply moisturised. A spa-like treatment in the comfort of your home!
12. Lively fragrances
Mint Infused In Rose And Lemon from Naso Profumi
The refreshing aura of fresh citrus and mint leaves meets the eternal romance of the rose to make a happiness-inducing blend. This festive season, get your close ones a lively fragrance from Naso Profumi's gorgeous collection.
13. Plant-based collagen
Plant Based Collagen from Onelife
Give your loved ones a gift of health this festive season with Onelife's plant-based collagen. It improves skin elasticity, strengthens nails, and supports hair health. And it comes in two delicious flavours, Feeling Peachy and Zesty Lemon, that are enriched with hyaluronic acid, biotin, and vitamin c.
14. Bath and body range
Wanderlust French Lavender Bath & Body Combo from Nykaa
This holiday season, bottle up your travel experiences with fragrances that still linger at the back of your head. The Nykaa Wanderlust French Lavender Range is a great gifting option for your friends and family. It comes with body butter, shower gel, body lotion, body mist, and body milk.
15. Baby outfits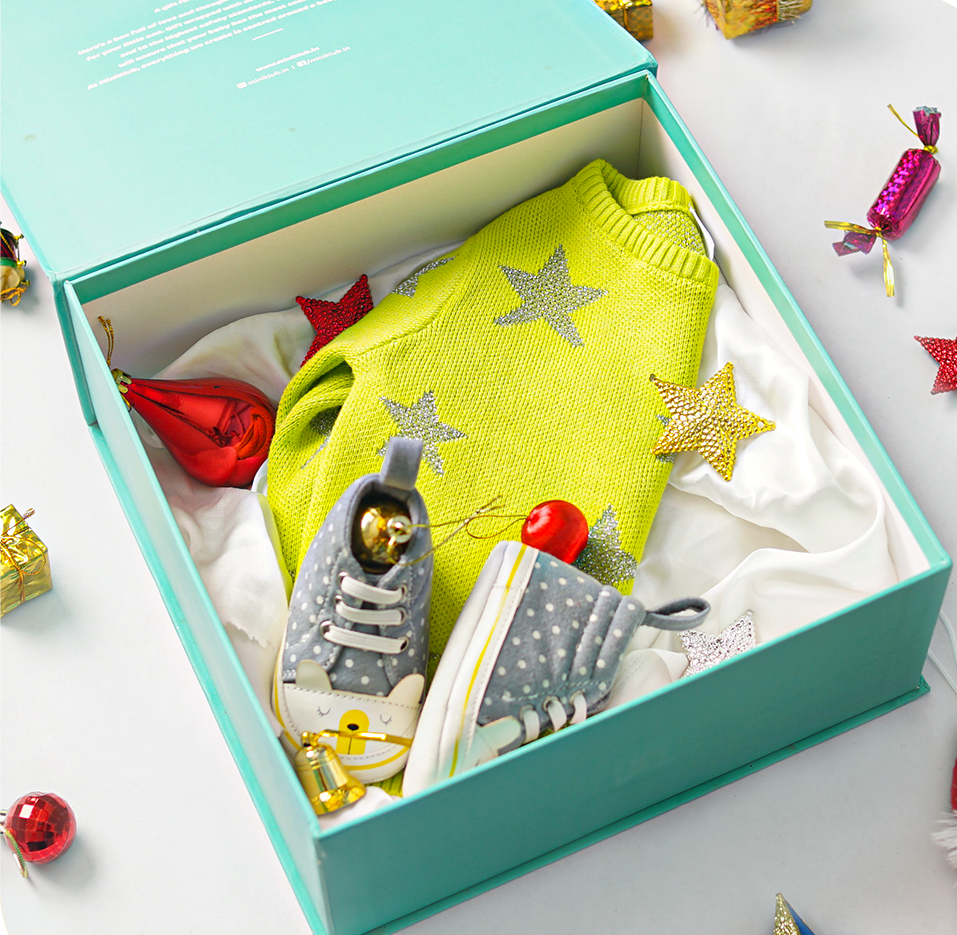 Girls Lime Green Silver Jacquard Sweater from Mini Klub
Be the best Santa for all your nephews and nieces with the gorgeous baby range from Mini Klub. From bodysuits to multi co-ordinate sets, you can find some really adorable options for kids and toddlers here.
16. Planners
Summertime Blossom from The Odd Giraffe
Have a Monica in your group that can't go without planning a single day? Well, we have the perfect gift for all your friends and family who love going by the book, quite literally. So check out these gorgeous planners from The Odd Giraffe to make getting organised fun and simple.
17. Healthy snacks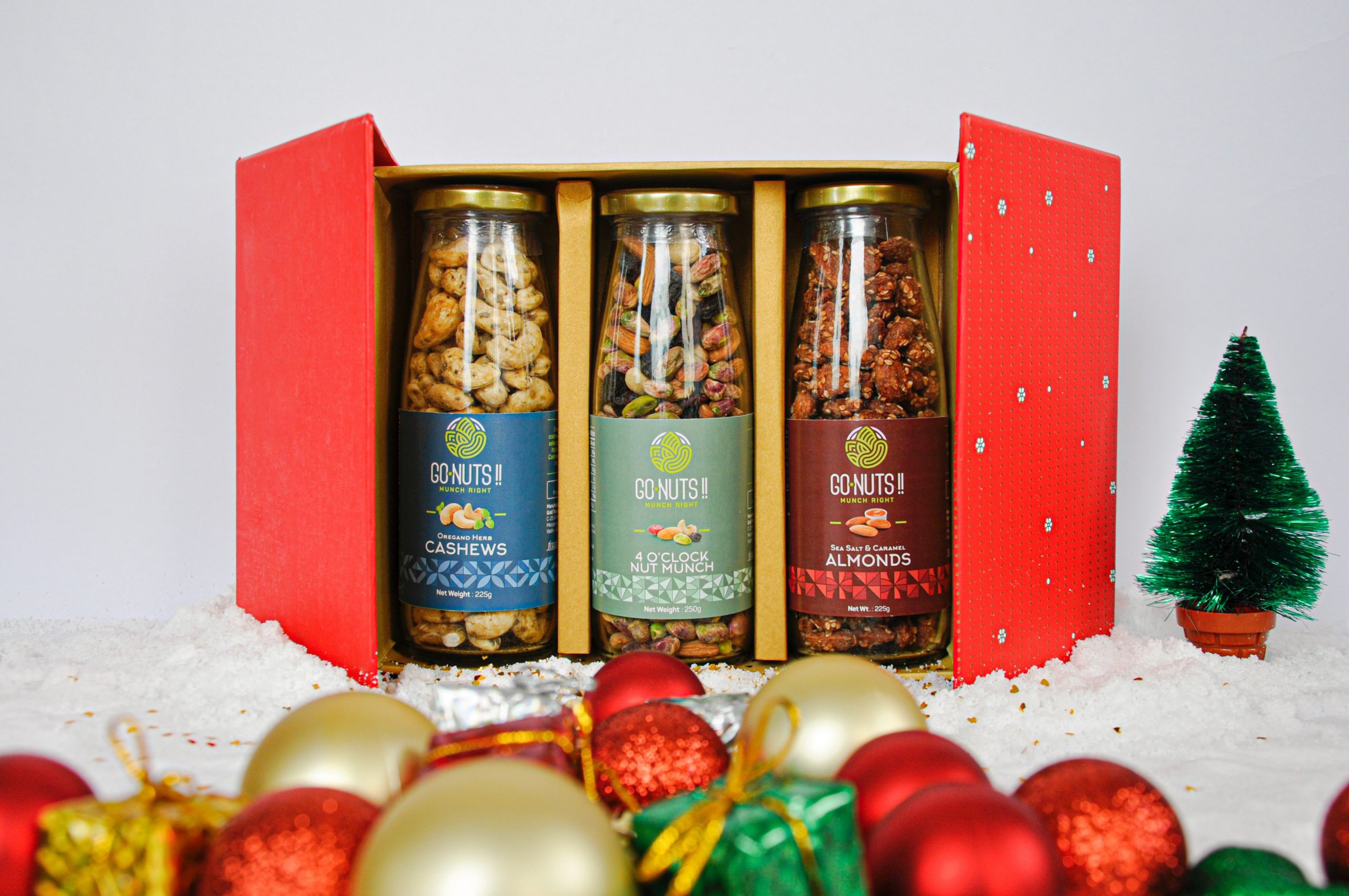 The Nut Your Regular Box from Go Nuts
Let's talk healthy but nothing boring! Because Go Nuts has some of the most delicious and tasty gifting options that are healthy and fun! So be the Snack Santa and get your loved ones a bespoke Go Nuts festive hamper for Christmas. This hamper includes Sea Salt Caramel Almonds, Oregano Cashews and 4 O'Clock Nut munch.
18. Gelato ice cream
Gelato Ice Creams from Nova Artisan Gelato
Nova Gelato x The Aesthete Project are excited to make your Christmas a whole lot sweeter by building your own Gelato Sundae. And they'll also help you look professional while doing so, by personalising your very own Chefs Hat from 15th to 30th December 2021. So order in some Gelato goodness and make the festivities sweeter.
19. Chic planters
Spread the greenery and get your close ones some decorative indoor planters for Christmas this year. You can explore some stunning options from Bonasila's collections that are inspired by everyday shapes. These can instantly uplift and brighten up any space.
20. Essential oils
Essential Oils Gift Box from Vedic Naturals
Essential oils never disappoint and are one of the best gifts for Christmas. And Vedic Naturals has a thoughtful gift set consisting of four soothing essential oils. The pack includes Rosemary, Lavender, Ylang Ylang, and Tea Tree oil that are popular for their calming and soothing effects.
21. Wine bags
Make this festive season cosy and boozy with Rani Pink Gift's intricate wine bag. It is textured with layers of soft threadwork lace on the entire bag and edged with a lace handle that fits your wine bottle perfectly. So make this Christmas fancy and fun! 

22. Fresh brews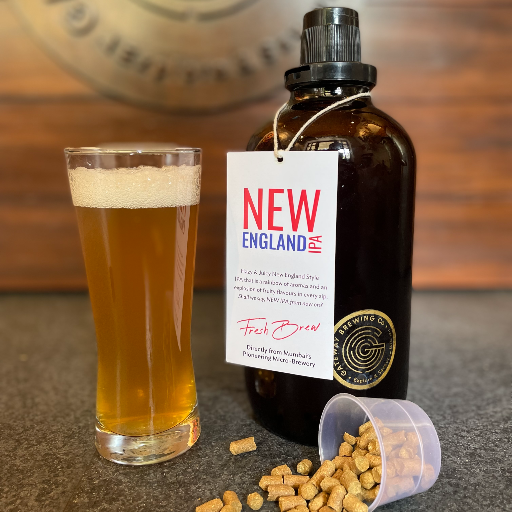 New England IPA from Gateway Brewery 
What are festivities without some drinks to down? And to make them more exciting Gateway Brewery has introduced freshly brewed flavours. So kick back and order your favourite brews online and have yourself a Merry Christmas!
Related: Love Some Freshly Brewed Beer? Here Are Breweries In Delhi NCR You Need To Try This Weekend
23. Eyeshadow palette
Pure Bloom Eyeshadow Palette from Kay Beauty
Add some glitter, pop of colour and drama to the festive season with Kay Beauty eyeshadow palettes. And the Kay Beauty 9-in-1 eyeshadow palette offers a gorgeous mix of matte and shimmer shades. They are thoughtfully curated to create limitless eye looks. High matte or high-shine, a little goes a super long way with these pretty palettes.
24. Statement clutch
Faustine Soft-Gathered Clutch from Miraggio
If you really want to sweep your lady love off of her feet, we've got the perfect gift for you. Miraggio has the best collection of trendy, stylish, and chic bags that are going to blow away anyone's mind. So check out some classy handbags to make a statement this season.
24. Hair care range
Hibiscus and Black Seed Range from Atulya Herbals 
Winters can take a toll on the hair and the scalp making it extremely dry and flaky. Therefore, an ayurvedic haircare range is a great gift option for Christmas. The herbal formulations work their magic and bring back the health of the hair and scalp.
25. Classy rings
Mother Of Sparkle Ring From Paksha
Add all the glam and sparkle to the festive season with stunning rings from Paksha. You can find really pretty pieces in your budget that are perfect for Christmas gifting this year!
26. Zodiac candles
Spread the Christmas spirit with scented candles that calm and revive the mind. With Zariin's Zodiac Candles from their wellness range, you can now pick candles according to the zodiac sign of your loved ones. So make this Christmas fun and rejuvenating with their wellness range.
Featured Image Source