Hello, beta ji! Long time, no see, here is your favourite beejee. Hehehe. I know you missed me, but I was so busy working for you only. Bachche, I have done the ultimate in unpaid social service. You know how you're always confused about what to gift your friends on their birthdays, weddings, or when they're sad? No? Well, you should. Sad people deserve more gifts than happy people. And what kind of a friend are you if you don't give gifts to your besties? Kuchh seekho, bachche. Look at me. I give all my besties and nasties the gift of my time. All day, every day.
Anyway, because you're such a terrible friend, you have a lot of making up to do. And here's the best way of doing just that. I made Aunty Eve funny cards for all my bachchas! And look how cute they are!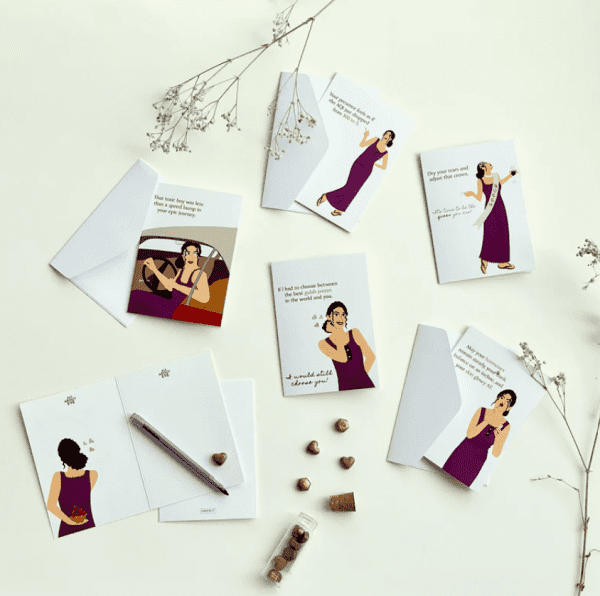 I know, I know, I look stunning. But the point is for you to send these cards to your BFFs to make them feel better when they're down…or just make them feel even more joy when they're happy. Here, let me explain.
When your bestie is jealous of your new friends
When you want to make your birthday card stand out
When your bestie gets married
…because she's going to need rock-solid hormones for the first year of this survival and endurance course.
When she can't stop crying over that disgusting ex
When your bestie is having a hard time at work…or at home
Aunty Eve's funny cards are available in sets of five right here. And each set has one of each, so you can really be the fun one in your friend group now. Chalo, chalo. Click, click, click. Aunty Eve ki duaein milengi. Also in sets of five.
Featured Image Source
Related: Aunty Eve's Life Tips: How To Make Sure Your Boss Likes You And Knows Your Value