Who doesn't like a plant as a gift? With more people becoming conscious of air quality, an eco-friendly gift is highly welcomed. Instead of a bouquet of flowers, gifting plants is the more sensible option for this festive season. Not only will you be doing your bit to combat pollution, you will also be giving a more thoughtful, personalized gift which will grow with time and care.
With bookmyplant.com, you can order plants at your convenience and have them delivered directly to the recipient. So, if you're thinking of giving a memorable gift this Diwali, here are a few plants which will do the trick.
1. Breathe clean
The snake plant, also known as Mother-in-law's Tongue, is one of the best gifts this festive season. With pollution only increasing in the cities, everyone would love a purifying plant in their homes. The snake plant is known to be one of the best air purifiers found in nature. Not only will it combat pollutants in homes, it also looks magnificent as the leaves grow taller with time. It is especially beneficial to keep this plant in bedrooms as it releases oxygen at night. Snake plants also filter formaldehyde which is found in common cleaning substances used in our homes. This plant doesn't need an extensive care routine and thrives indoors with some sunlight. It can go for days without water and only needs to be watered when the soil feels dry.
Click here to order 4 beautiful snake plants with a chic metal stand for INR 4,000.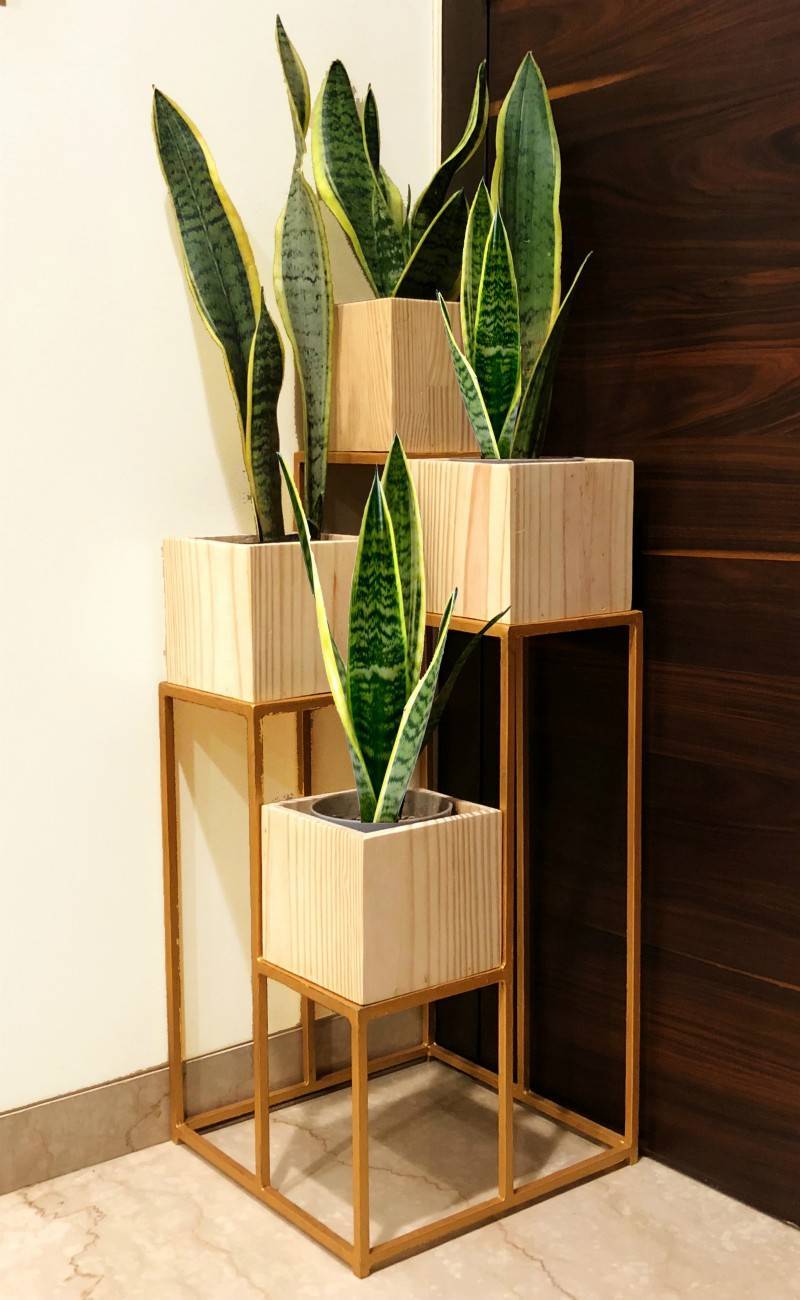 2. Discover your green thumb
Many people don't keep plants at home or in the office because they think maintaining plants takes time and effort. However, a Peperomia plant is the perfect way to start your green adventures. It's an indoor plant which is perfect for the home or the office, and is very low maintenance. A Peperomia plant thrives even when it doesn't get any attention. It needs to be watered sparingly, so you have to wait for the soil to be dry to water it again. This means that even when you go on short trips, your plant will survive.
Click here to order a gorgeous Peperomia plant in a ceramic pot for INR 220. 
Price includes branding and packaging.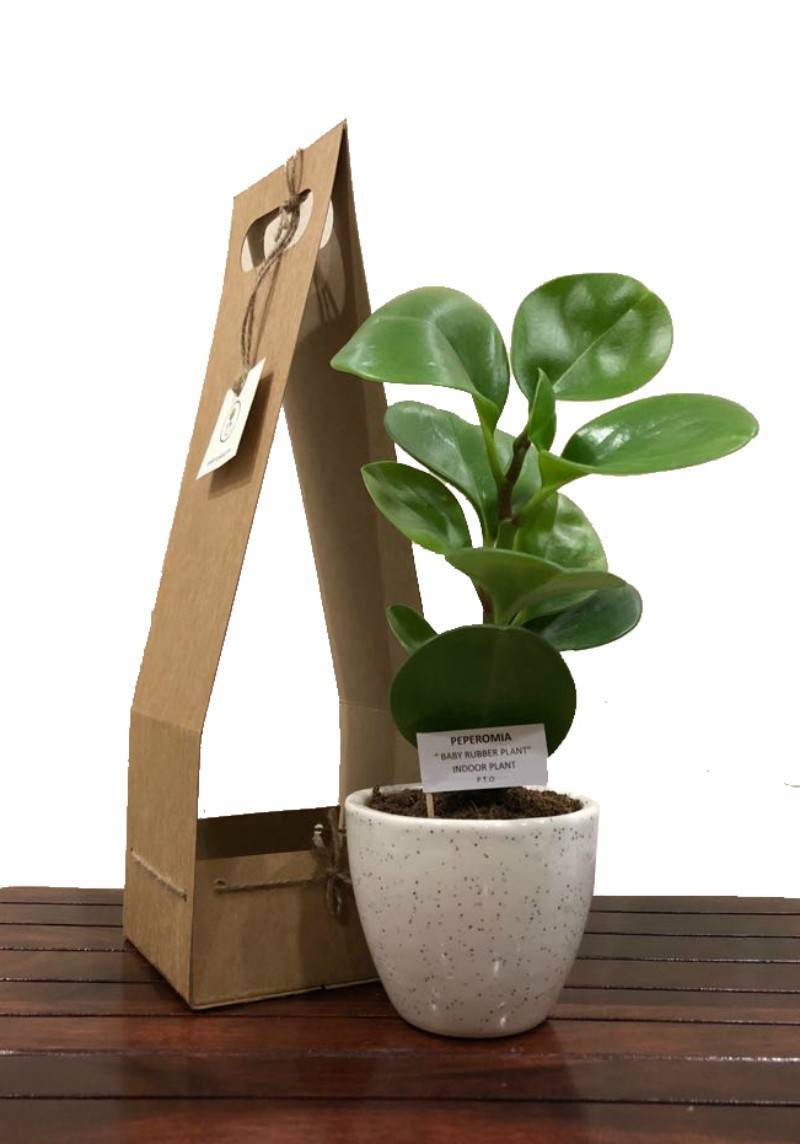 3. Shower some luck
Believed to bring good fortune, a lucky bamboo plant also brightens up a dull indoor space. It grows very slowly so you won't see much of a growth spurt in this plant. A lucky bamboo is best used as decoration in an office or at home since it can survive through weeks of being ignored. It doesn't need much attention from you and is happy to sit in a corner, looking pretty. In Feng Shui, a lucky bamboo is thought to bring balance and a sense of security in a home. The bamboo represents wood, and the traditional red ribbon is considered a symbol of fire which brings positive vibes. All in all, a lucky bamboo is a great Diwali gift.
Click here to order a lucky bamboo plant in a ceramic pot for INR 180.
Price includes branding and packaging.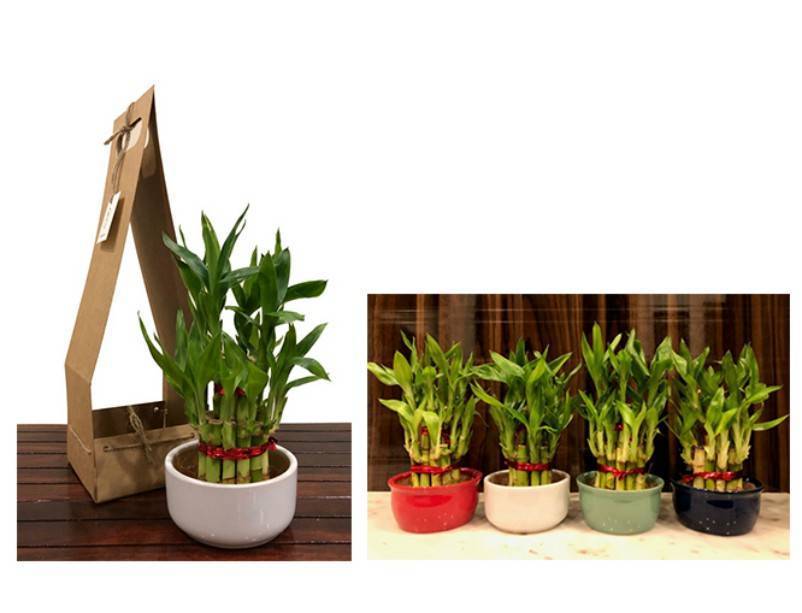 4. Natural ornaments to decorate your home or office
Known to be some of the most beautiful and low maintenance houseplants, succulents make for an eco-friendly, beautiful and thoughtful Diwali gift. They don't need much care or attention and look exquisite on a centre table or a cabinet. Succulents come in beautiful, ornamental shapes and are known for their ability to store water in their roots, stems, and leaves. This makes them fascinating conversation starters, at home or in office.
Click here to order these gorgeous succulents for INR 250 (set of 2).
Price includes branding and packaging.
5. A plant that's also a magnet
Thought to reduce stress levels in a house in Vastu Shastra, a money plant is a calming sight in any corner of the house or office. It doesn't need too much care, but you need to be careful to not expose it to harsh sunlight. It's a great indoor plant and, with the right vase, it can be a central decor element in your home. This money plant comes in a test tube vase and is a magnet which you can use in your home or your office. The size makes it conducive to move around with ease, so you can keep changing the decor of your home by just moving this beautiful plant.
Click here to order this stunning piece of art for INR 200 (set of 2).
Price includes branding and packaging.
When you buy these plants through bookmyplant.com, you can also get customized branding and packaging for small and big orders. Currently available only in Bengaluru, this service is perfect for corporate and personalized gifts.
To buy any of these plants, email your requirement to bookmyplantblr@gmail.com or call +91-9742116412.