If you are a perfectionist who absolutely loves to put some thought into your presents, this post can give you some fantastic ideas on how to embellish your gifts for a fancy, classy effect. Get your A-Game on, girls. Instead of just using the regular bow and ribbon, create unique wrappings with different, easy to find materials – all in the shelter of your own home. Here are some inexpensive Christmas gift wrapping ideas that are pretty, presentable and say how much you love the special people in your life.
1. I <3 You
Got some extra yarn lying around? Tie it around your gift and string these little hearts to get this adorable look. We recommend this oh-so-classy turquoise candle stand by Elvy – a perfect gift for a romantic new year eve dinner.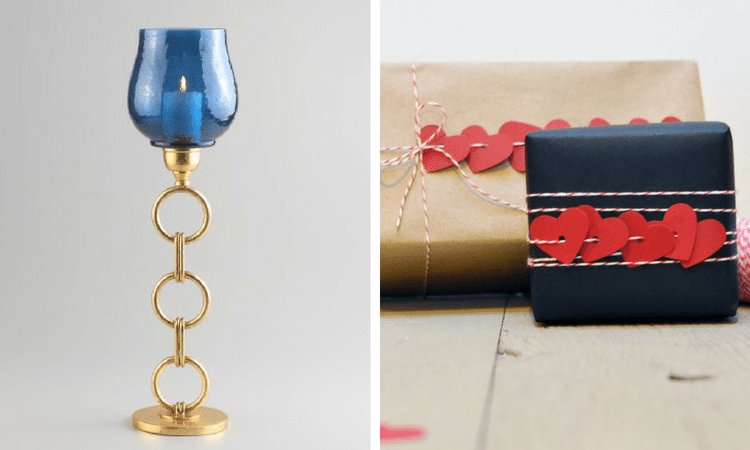 Courtesy: Elvy and Smittenonpaper
2. A Roaring Success
Take some brown craft paper, glue, coloured cards, black sketch pen and scissors. Use them all to create this adorable sleeping lion gift wrapping paper in minutes. Kids will be roaring in excitement at this little treat. Get them this special teddy bear spoon-fork set here.
3. Colourama
Here's a great one for the little ones. Get them doubly excited – both for the gift and the wrapping. Cover their gift in white paper, attach some crayons and let them decorate their own package before getting to the gift.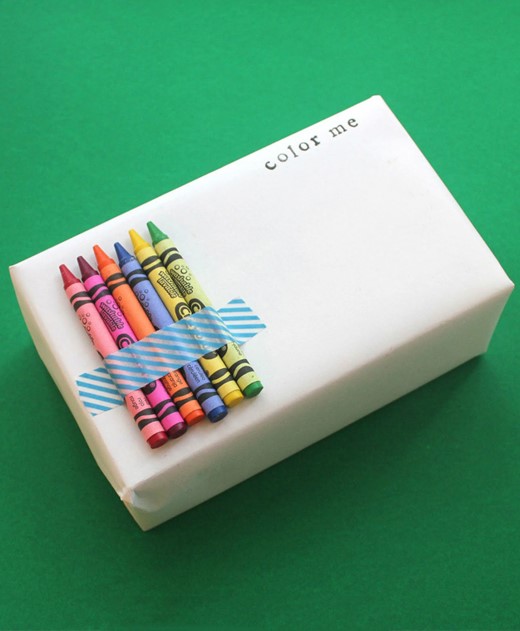 Courtesy: Creativelive
4. Atlas(t) We Meet
Does your best friend, family member or significant other suffer from a serious case of wanderlust? Lay the world before them; tear pages from your old Atlas and use it as wrapping paper. Tie a thin cord around the gift and through a vintage button to create this unique look. How's that for a fancy embellishment? Warning: Hipsters, beware. Put in this beautiful vintage mirror from Elvy for them to always have a piece of home where ever they go.
Courtesy: Elvy and Country Living
5. Total Fabrication
Have some old fabric you've been meaning to get rid of for ages? This silver jewellery box deserves a delicate fabric wrapping. Tie the opposite ends of the cloth to form knots. Repeat this one more time with the corners and tie a final knot on top of the other knots. Embellish with anything you fancy and add a personalized gift tag.
Courtesy: Elvy and Family Holiday
6. Gem-in-I
Gems are everyone's favorite childhood treat, and when they are used to embellish gift paper, they get an entirely new identity. Add color and texture to an otherwise plain gift paper with these colorful gems. Use old yarn or twine as a ribbon for an even cuter effect.
Courtesy: Food Network
7. Plain Jane With a Twist
If you have plain gift paper, make these simple cut-outs for an appealing look. Wrap it around this elegant cake tray for your bestie.
8. Sweater Weather
Make the most of an unused sweater. Cut the arm of an old knit sweater and sew the bottom closed. Place the gift box through the arm and tie the other end into a bow to create this cool look. Wrap this cozy piece on a photo frame to keep the warmth of your love alive.
Courtesy: Elvy
Now with all these fantastic ideas in your head, get set to cut, paste, tie, staple your way to a fun filled Christmas with your loved ones.