Attending a wedding soon? In the middle of all the glitter and shine, you'll want to stand out with your choice of outfits. Even though it's a classic, you can and should go beyond lehengas to make your own style statement. Lehengas, while gorgeous, can also be uncomfortable. So, if you're wondering what to wear at an Indian wedding other than a lehenga, we have a whole lot of options for you.
Whether it's a modern take on sarees or super comfy pants, these Indian wedding outfits look as gorgeous as heavy lehengas. In fact, the plus point here is that you'll probably end up standing out from the crowd. Take inspiration from these stunning outfits that redefine elegance and comfort.
Related: 25 House Of Masaba Outfits Under 25k Which Are Perfect For Weddings
1. Trendy Pants
Add a touch of ethnic-modern to your outfit by pairing it with pants. You can wear cigarette pants with embroidered crop tops for the perfect cocktail look or opt for embroidered pants with a plainer top.
To contact Malasa and find more such gorgeous designs, click here.
2. Comfortable Culottes
Teamed with an embellished kurta or a silk top, culottes can be your ultimate style statement combining elegance and comfort. This look is perfect for a reception or a cocktail.
3. Tunics
Wearing a tunic-style outfit will make you stand out in the sea of lehengas at the next wedding you attend. And you'll be super comfortable while making a style statement. These also make for gorgeous haldi outfits for bridesmaids.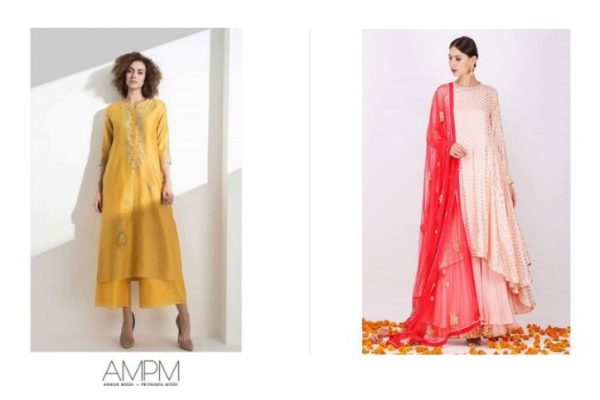 4. Embellished or embroidered jackets
Heading for a sangeet? Create some drama with embroidered, Indian jackets. Team them up with cigarette pants or a skirt, and you're good to go.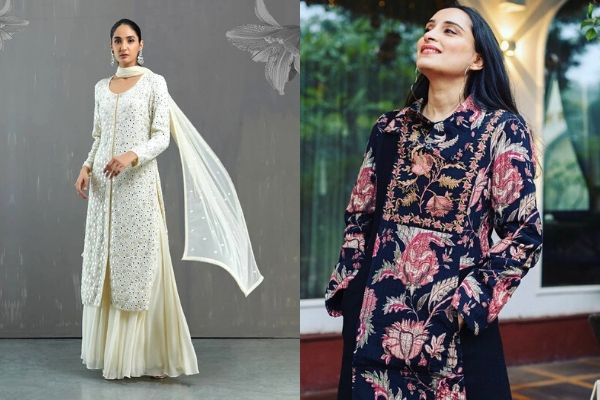 To contact Malasa and find more such gorgeous designs, click here.
5. Unique Sarees
Why opt for the regular nine yards when you can amp up your style quotient with these unique sarees?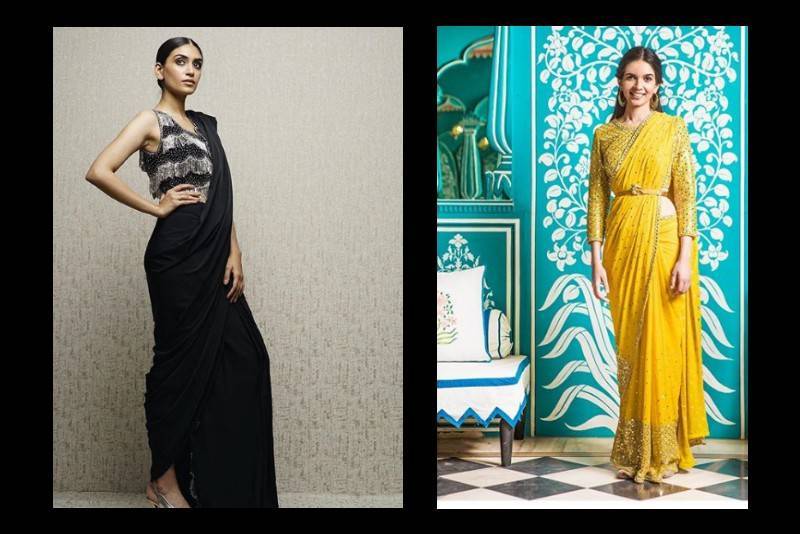 To contact Malasa and find more such gorgeous designs, click here.
Related: 14 Unique Saree Blouse Designs That Will Amp Up Your Wedding Season Look
6. Stylish Shararas
Sometimes, it's good to go back to your roots. These ethnic shararas with a modern twist will give your look an old-world charm.
To contact Bhumika Grover and find more such gorgeous outfits, click here.
7. Evergreen Anarkalis
Turn on the feminine charm in an anarkali. Slip into it at the time of pheras to ensure you remain comfortably stylish as you go through the night of rituals and celebrations. A classic Indian wedding outfit!
8. Elegant Gowns
You don't have to keep your gowns for receptions or cocktail parties only. You can wear gowns at weddings and add a unique, modern touch to your ethnic wear. Indian gowns for weddings, like the ones below, work really well for casual or traditional ceremonies as well.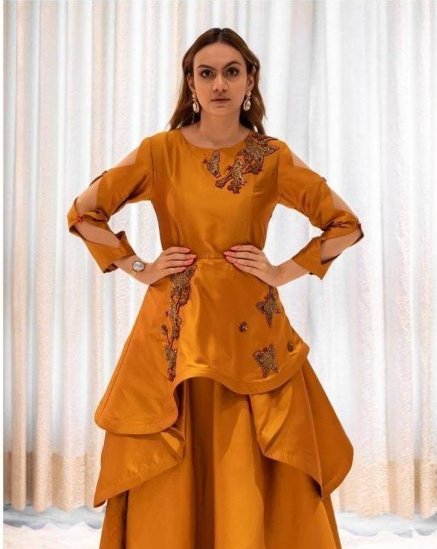 9. Crop tops paired with skirts
Contrary to popular belief, crop tops can be flattering for all body types. The next time you're wondering what to wear at an Indian wedding, dig through your wardrobe or create a whole new look for yourself. Pair a crop top with a skirt, and you'll have a winning outfit.
10. Printed Dresses
With the right accessories and jewelry, a printed dress in festive colors can look gorgeous as a wedding outfit. Dresses with unique silhouettes, like the one below, are bound to draw attention at the next wedding you attend. This is also a great option for mehndi outfits for bridesmaids.
Contact Vendors
Malasa | Facebook | Instagram |
Bhumika Grover | Facebook | Instagram
Looking for some inspiration for mehndi outfits? Check these 15 Mehendi Outfits For Summer Weddings That Will Make Jaws Drop At Your Wedding