Weddings are all about dressing like a diva and if we're going by common experience, no matter how pretty – if your outfit is insanely uncomfortable – its a total mood buster. So we bring to you some absolutely beautiful yet comfortable slip ons for a wedding, a party or any occasion where you want to pull out your traditional Indian diva.
1. Stitches
This faux georgette sari with a one shoulder blouse by AD Singh is for all those women who that sexy-but-not-too-much look. How is a sari an easy outfit? Its pre-stitched! Rock it, girl – and that too, with minimum effort. Get it here.
2. Yellow Canary
Nothing screams "Spring!" like an adorable canary yellow outfit. The best part? This Ananya Bansal beauty is the *bomb* to do your dance party twirls in. See more of Ananya Bansal here.
3. Pastel Diva
This soft pastel blue lehenga by Bhumika Grover is calling out to you. The beautiful blouse has intricate details etched into it, paired with the plain matching skirt, its one pretty little thing. Get it here.
4. Lace Me Up
Malasa stuns us with this feminine mint beauty; the lace jacket atop the full ghera sharara bottom makes this *the* outfit for times when you want to look classy and chic. Check out Malasa's collection here.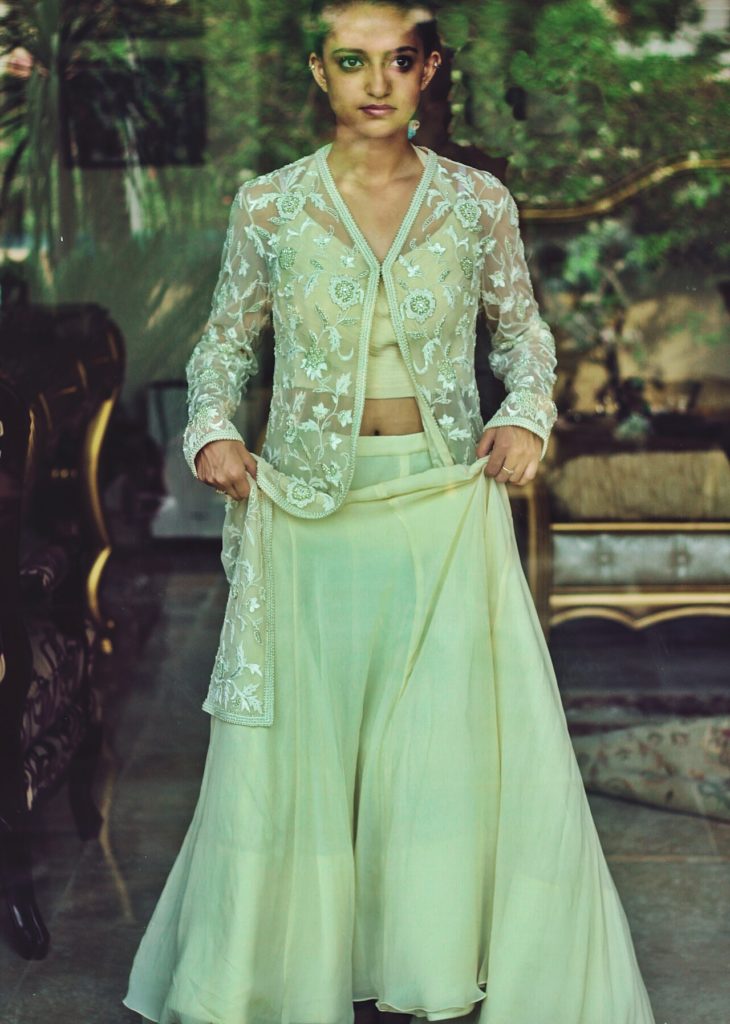 5. Ivory Pop
The most adorable and comfortable outfit for your sister's mehendi –  the pink and blue add a pop of colour to the plain ivory sharara. The gold embroidery just ties all of it in perfectly and that's why we love this Bhumika Grover piece. Get it here.
6. Mint Queen
Show everyone who's boss with this cape lehenga by Ridhima Bhasin. The panel work on the border of the cape and the embroidery on the shoulders of the blouse make you look like a royal, but the simple matching mint green skirt keeps it from going overboard. Get it here.
7. Lady Rose
Trust Pooja Rajpal Jaggi to make something aesthetically perfect, with the gorgeous floral print of the skirt pairing phenomenally with the plain baby pink blouse. Wear it with or without the chunni – you'll look like a spring princess! Get it here.
8. Shine Bright Cuz' Its Bridal
The gold lining under the sheer fabric gives this a luminosity that shines from within. Be ready within minutes with this Pooja Rajpal Jaggi beauty. The perfect friend-of-the-bride lehenga. Get it here.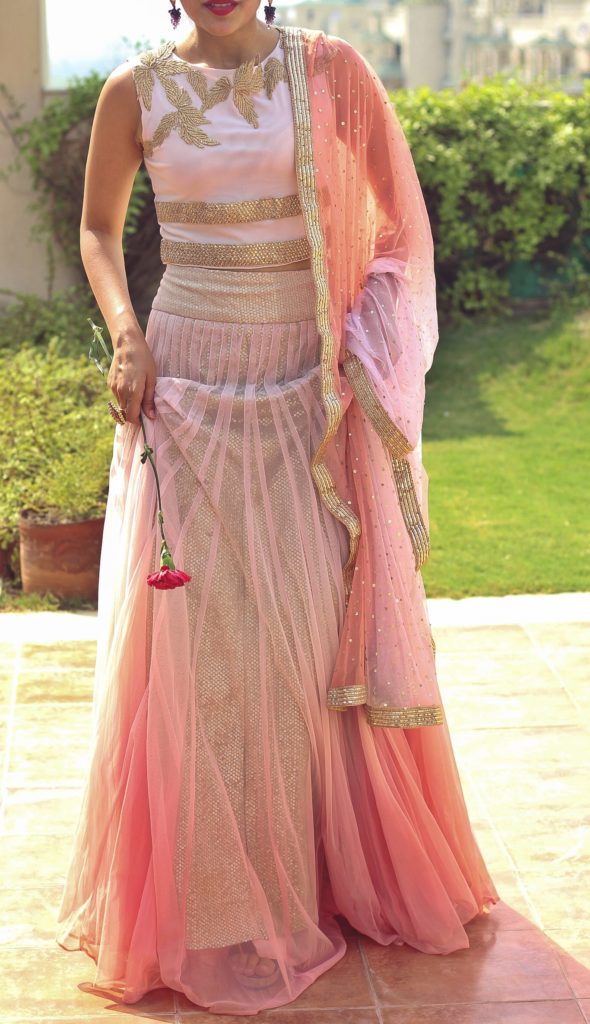 9. Show Stopper
We don't know if it's the beautiful fall of this off-shoulder open front anarkali with dhoti pants or the beautiful attached dupatta that completes the look, but this Ridhima Bhasin masterpiece is going to get all eyes on you – all the time. Get it here.
10. Maroon Condition
The deep maroon is a fascinating contrast to the pearl and gold work all over, making it the star of this outfit atop the plain skirt. We're loving this look by Malasa. See more here.