If you are a single woman over the age of 25, you've probably had your parents, relatives, and every other Tom, Dick and Harry come to you with a marriage proposal. Or at least enquire about why you are still unmarried, because tauba tauba, shaadi ki umar mein ladki is still single. The wonderful thing about the Indian marriage mart is that it is usually not the prospective brides and grooms who are interested in marriage, it is the rest of the world that gets all hot and bothered by their single status. And if you have been a part of this marriage mart for a while, you might have been subject to some ridiculous, often degrading, comments.
Women, as is the norm, face the brunt of this ridicule, especially when it comes to an arranged marriage. Here are some of the most common reasons why women are found non-shaadi material in the Indian marriage mart.
You are either too fat or too thin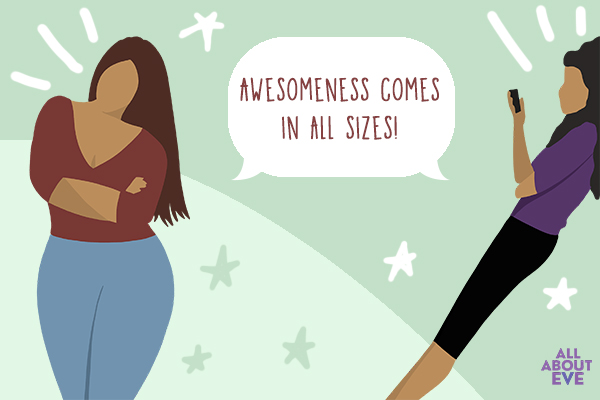 Got a little extra flab hanging from your arms and stomach? Girl, don't even think about marriage. After all, fat girls can't get married. The prospective groom and his family will be unable to carry the weight of your awesomeness.
But wait, being fat is not the only problem. Lose the flab and slim down and you'll be accused of being stick thin. Gharwaale khaana nahi khilaate, phook maarte hi udd jayegi, bachche kaise handle karegi are some statements you can look forward to, sis. It is still a mystery though why someone would try to literally blow you away.
You are too short or too tall
Arey beti, you will look like a kid in front of my raja beta. Your short height doesn't match our son's height. So, you won't really look good together.
If you happen to be on the taller end of the spectrum, comments still won't seize. Haw, how can a girl be taller than her husband? What will people say? And if you wear heels that make you taller than the man, it is obvious that you are out to demean him.
You earn too much or you don't earn enough
Our son's self-esteem is too low, so you either have to quit your job or find a lower-paying one. Because we can't have our son feeling inferior because of your high salary. How will he deal with the trauma?
And if you choose not to pursue a career, it is still not done, girl. Because aaj ke zamaane ki modern ladki can't be sitting at home without doing any work. How will the guy take on the financial responsibilities of the entire household all by himself? Also, while you're contributing to the finances of the house, you are also supposed to do all the major household chores while your husband relaxes.
You are too dark or you are white like a ghost
Didn't you know you are supposed to shine bright like a tube light? What is anyone supposed to do with a dark-skinned girl? Be ready to subscribe to a whole lot of fairness and skin-lightening tips and products.
But don't go too far, okay? Gora hona tha, ghost nahi. If you happen to be fair, you are supposed to be the right shade of fair. There are just two shades in the shade card that are acceptable in the Indian marriage mart. Anything below that means you look like a whitewashed ghost.
You have tattoos
You devil-worshipping wench. Why are you being a bad influence on our son, walking around with all those tattoos? You must be evil because no good girl will have a tattoo on her body. We don't particularly care about your thoughts and personality, because your tattoos have told us everything we need to know.
Your teeth aren't straight
You have crooked teeth and you want to get married? Only women with straight teeth are allowed to get married. Wearing braces to correct your teeth? Aren't you too old to be wearing braces? You should have gotten it done when you were younger. Now, it's too late to correct your teeth and expect to find a good match.
You have too much attitude or you are not spunky enough
Ladies, you are not allowed to have an opinion. How have you not learnt this lesson despite centuries of oppression? The only job of a woman is to look pretty and nod her head. 'Coz if you put forward your point of view, you are disrespecting your elders and showing too much attitude.
Oh, but you aren't one to share your opinions easily? Sorry to say, that's still a problem if you want to get married. No modern woman of the 21st century will keep quiet. Sorry, babe, a man needs a woman with spunk, but not too much.
You wear glasses
Oh ho, your eyesight is weak, you won't be able to get married. Men only like women with 20/20 vision, even if their vision is shot. The girl should be the epitome of perfection. She shouldn't be expecting the same from a guy though. Wearing contact lenses and glasses is so passe. Get that Lasik surgery done if you wanna get married. But don't tell anyone about it because you will be rejected for going under the knife.
Featured Image Source
Related: 20 Things That Make A Woman Bad And Unworthy Of Respect