Gone are the days of drooling over Masterchef creations from afar, a majority of us are cooking up a storm in our own kitchens since the virus took over our lives. From Dalgona coffees and mug cakes, to recreating our restaurant favourites and trying recipes from around the world, quarantine cooking has seen quite the evolution. And we've got the perfect list of cooking tips and tricks to help you take your cooking game to the next level.
1. Soak garlic cloves in water before peeling
Garlic is one of the most used ingredients in Indian kitchens. But peeling the individual cloves of garlic can be quite a time-consuming and messy task. Soaking the cloves in lukewarm water for about 10-15 minutes will ensure that the peel slides right off.
2. Parboil and refrigerate potatoes before frying
Want to add that extra crispiness to your fries? Make sure to parboil the sliced potatoes and refrigerate them for 20-25 minutes before frying them. This will also help you avoid the added unhealthiness of double-frying.
Related: Healthy Alternatives To Potato Fries Which Make For Yummy Snacks
3. Microwave lemons before juicing them
Image Source
Microwaving your lemons for just 10-15 seconds before you squeeze them will ensure that you extract every last bit of juice they have to offer.
4. Bake bananas to ripen them instantly
You're craving some banana bread, but the bananas you bought are still fresh and days away from ripening. Or not! Toss the bananas into your oven for 15-20 minutes or until the peels turn black and voila!
5. Freeze overripe bananas
On the other hand, if you have bananas which look like they could rot any minute, just slice them up and freeze them in a closed container. You can use the frozen slices in your smoothies or as a replacement for regular ice.
6. Replace milk with milk powder in your baked goods
As an avid baker, this is one of my favourite cooking hacks of all time. Substituting milk with milk powder amps up the flavour in your cookies and cakes like nobody's business.
7. Store your baked goods with a slice of apple
Baked treats are best consumed within a day or two. But if you happened to bake an exceptionally large batch, store the rest in a covered container along with a thin slice of apple. This helps preserve moisture and ensure that the baked items don't become dry and brittle.
8. Place butter under a warm glass to soften
Something that people tend to forget is that melted butter and softened butter are not the same. And if you're following a recipe that calls for the latter, this cooking hack is for you. Pour some hot water into a glass and drain it. Upturn the warm glass to cover the required quantity of butter to get it to soften to a creamy texture within five minutes.
Related: From Pasta To Pastalicious: Easy Tricks To Take Your Pasta Recipes To The Next Level
9. Never store your chocolate stash in the freezer
Contrary to popular belief and habit, one should avoid storing chocolate in the freezer. Most refrigerators have temperature fluctuations that create moisture, which can potentially ruin the texture and flavour of your precious chocolate bars.
10. Use dental floss to clean cut soft foods
That's right. You can easily slice soft foods like cakes and some varieties of cheese using dental floss. This hack comes in handy when you want to cut layers in your cake for better icing.
11. Use mayo to make your grilled sandwiches crispier
Grilled sandwiches are one of the best lazy-day dinner options. And if you're looking to get that perfectly flavoured and crunchy crust, all you need to do is replace the oil/butter on the outside of your sandwich with some mayo.
Related: Different Types Of Salad Dressings That Go Beyond Mayo
12. Use mayo in scrambled eggs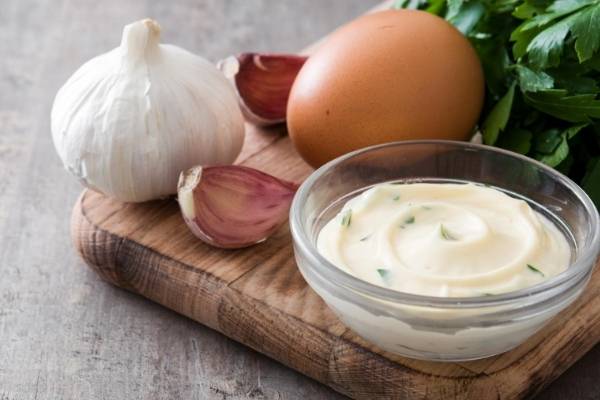 Mayo is quite versatile when it comes to making food better. To achieve that hotel-style creaminess in your scrambled eggs, just add a dollop of mayo and you're good to go.
13. Refrigerate your eggs for a few days before boiling
Peeling boiled eggs can take forever, especially when they're still piping hot. But using slightly older eggs that have been sitting around in your fridge for a while can help save some time.
Liked what you read here? Check out our August calendar for more such cooking hacks and food tips.
Related: 8 Ingredients Which Are Staples In Japanese Kitchens And How They Are Used