We have been stuck in quarantine for a while now, and the Masterchef within us is now worn out. All those days of whipping up Dalgona coffee and baking banana bread are past us. So, what now? Well, the new normal demands easy and quick recipes that don't take up the whole day but still look Instagrammable. Everyone needs at least a few food hacks that make spending time in the kitchen a little less painful. What are you waiting for? Download this August 2020 calendar that is all about easy recipes and fun hacks to make your lives easier!
Here is a quick look at what All About Eve's August calendar has in store for you.
1. 

Make your own guacamole with chips for a Zoom party
Forget fancy prawns for your next Zoom party and get some chips instead. Now, what's the best thing to accompany chips? Well, no brownie points for guessing a dip! But instead of getting a store-bought dip, just whip up some fresh, healthy, and delicious guacamole that takes no time. Get the party started with some chips and your homemade guacamole dip!
Image Source
Related: Recipes For Dips That Will Spice Up Your Next House Party 
2.

Add jam, muesli, and fruits to plain yogurt to make a smoothie bowl
Fancy a quick and light fix for breakfast? Start your day by having a fresh and cold smoothie bowl. And you really don't have to go overboard with the ingredients. Just add your favourite jam, fruits, and a little muesli to plain yogurt.
Image Source
3.

Poached, scrambled or half fried, eat eggs to treat the hangover
We agree that the best way of dealing with quarantine is getting some booze. But no one likes waking up with a nasty headache. So, skip the painkillers and have some eggs. They are lifesavers and get rid of the weekend hangover in no time. So poached, scrambled or half fried, make yourself an eggy hangover breakfast.
Image Source
4. 

Store the peanut butter upside down to avoid excess oil on top
Who doesn't love a good PB&J sandwich? And what we even love more is a large scoop of peanut butter and licking it off the spoon. But that oil on the top can instantly change our mood. So, if you want to get rid of excess oil on peanut butter, just store the jar upside down. This way, all the oil goes to the bottom and what you get is pure buttery goodness.
Image Source
5.

Add vanilla to your coffee for a mid-week boost
Make your freshly brewed cup of coffee a little more energising by adding vanilla to it. It not only enhances the flavour of your coffee, but it also helps in relieving stress. Just a few drops of vanilla essence can uplift your mood, making your coffee breaks more satisfying.
Image Source
6. 

Stop counting calories and cook a cheesy pasta today
Calories who? Cheesy pasta, woohoo! Weekends are all about indulging in self-care and good food. So, let go of the calorie count and grate some more cheese for the pasta. Reward yourself with some cheesy goodness and work it off later, if you must.
Image Source
Related: From Pasta To Pastalicious: Easy Tricks To Take Your Pasta Recipes To The Next Level
7. 

Have some fun – record your own cookery show
Whether you plan to be a YouTube vlogger or not, it is always fun to make some videos. So, when you plan on making an extravagant meal, turn it into your own cooking show. Stream it live on Instagram, or get on a video call with friends and family and give them a sneak peek of your dish.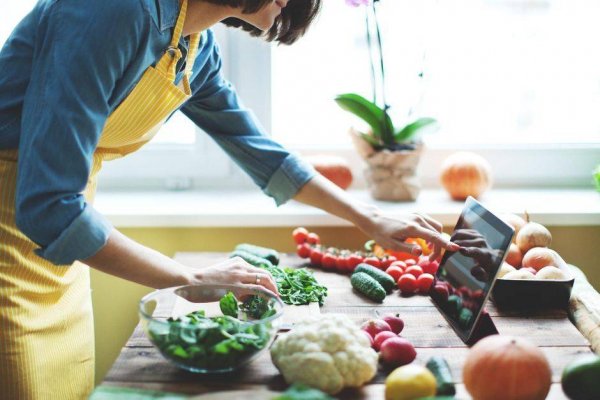 Image Source
8.

Blend your

 

favourite

 fruits with ice to make a smoothie
Just because you can't run to your favourite dessert place to get some ice cream or frozen yogurt, it doesn't mean you can't DIY. Get your favourite seasonal fruits and throw them in the food processor with lots of ice. And you will have your very own healthy, delicious, and homemade smoothie.
Image Source
9.

Ditch the fancy blueberry pie and make a mug cake in the microwave
Who doesn't love a decadent dessert after dinner? But it doesn't have to be a huge cake or a fancy blueberry pie. Ditch those extravagant desserts and make some quick, easy, and delicious mug cakes to satisfy your instant sugar rush. It doesn't need the whole day and is perfect for a quick fix for dessert.
Image Source
Related: Foolproof Mug Cake Recipes To Instantly Satisfy Your Dessert Cravings
10.

Cool your 

favourite

 wine in a tall jar for 10 mins with ice, water, and salt
Okay, this hack is literally a lifesaver. If you are in the mood for wine, but forgot to keep it in the refrigerator, here is what you should do. Just take a tall jar, add the bottle of wine, pour in some cold water, ice, and a pinch or two of salt. This is the quickest way to chill alcohol and enjoy it whenever you want.
Image Source
Related: Go Vocal For Local: Indian Alcohol Brands That Should Be In Your Bar
Download it now For Some Fun Recipes And Food Hacks.