The summer is here and that too in full swing. So, to beat the heat, here are some tips and tricks that you can implement to keep your house cool without an air conditioner. Because, honey, we gotta survive this summer without going broke.
1. Close the curtains
Image Source
First things first, you need to close your curtains during the hottest hours of the day. This will cut down at least 25% of the heat and will make your room more livable.
2. Enable cross-ventilation
Cross-ventilation works like magic when it comes to making a room breathable during the summer. But what is cross-ventilation exactly? It is a natural method of cooling that involves wind entering through one opening, be it a window or a door, allowing it to circulate in the room and then out through the other side of the room.
So, the next time you feel hot, try implementing this technique.
3. Use damp curtains
For this hack, all you have to do is spray some water on your curtains. This will filter the hot air and a cool breeze will come through. Similarly, you can take a bedsheet, dampen it, and hang it in front of the door or a window.
4. Avoid using any heat tools
You don't need to straighten your hair in the middle of the day. Trust me, you don't. So, please avoid using any heat tools like a straightener or a hair dryer. Using tools like this will not only make you irritable on a hot summer day but it will also make the temperature in your room unbearable.
5. Try the Egyptian method
This technique is not only easy but also pretty effective. To implement it, you have to sleep like an Egyptian. Try to sleep using a damp sheet instead of your regular blanket. This will keep you cool throughout your nap.
Still not sure about this? Try putting the damp sheet over a dry one. This will make the process more comfortable.
6. Turn on the exhaust fan
We all have an exhaust fan in our kitchen and bathroom. Make sure you turn them on as it helps in pushing out the hot air. If you've been wondering how to keep your house cool in the summer without an AC, this is one of the first things you should implement.
7. Hack a fan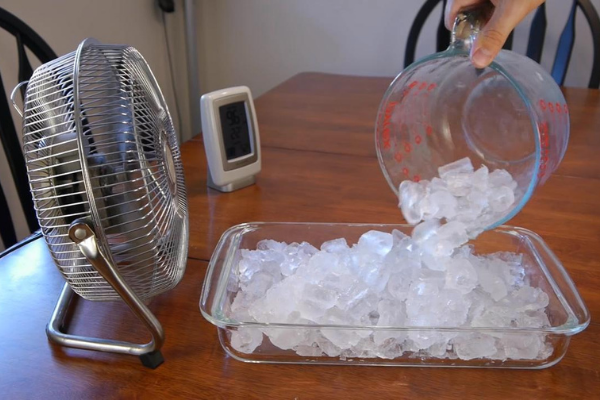 Image Source
You can make your own DIY cooler with the help of this hack. All you need to do is take a bowl of ice and place it in front of a fan. This will circulate the cool air in your room which will bring the temperature down.
8. Unplug and switch off all unnecessary appliances
Image Source
Since electronic items produce heat, it becomes important that you unplug them if not in use. This will make a massive difference, trust me. Also, turning off the lights will bring down the temperature instantly.
9. Limit the use of the kitchen
Image Source
I know cooking is essential, there's no way out. But, at this time of the year, the kitchen is so hot that it feels like it's literally burning. Try to set a particular time for your cooking so that you don't wander in the kitchen every now and then.
Related: 10 Easy, Fruity Cocktails And Mocktails Which You Should Try This Summer
Try these hacks and let us know what worked for you!