If there is one thing that almost all Indians love, it is the good old cup of tea. Nothing brings people together like a glass of chai. Tea comes in numerous varieties – cooling, bitter, nutty, floral or grassy. While most Indian households have regular tea leaves, the connoisseurs of chai might have a wider variety of teas. Now, if you are a chai lover, you've got to try these seven types of teas from across the country.
1. Masala chai
Masala chai is a flavourful mix of aromatic spices and tea leaves. Black tea is brewed with spices, sugar, and milk to make this beverage. While the choice of spices is a personal choice, the most commonly used spices in masala chai are green cardamoms, cinnamon, cloves, black pepper, star anise, nutmeg, ginger, and fennel seeds.
Related: 9 Everyday Kitchen Ingredients To Spice Up Your Masala Tea At Home
2. Pudina chai
Pudina chai, or mint tea as the name suggests, is made of mint leaves along with ginger. Popular in the Nathdwara region of Rajasthan, it's sold by various vendors with pushcarts in the region. What makes it special is that the tea is served in conical kulhads or earthen cups. It usually uses higher water to milk ratio and has a refreshing taste due to the use of ginger and mint.
3. Ronga Saah
A popular beverage of Assam, Ronga Saah is also known as Lal Chaa due to its red colour. Ronga Saah is quite famous in North-East India, especially Assam, Sikkim, and surrounding regions of Arunachal and Meghalaya. Prepared without spices and milk, this is a mild beverage that also aids in digestion. Ronga Saah serves as an antioxidant and helps prevent cold, cough, and flu. If you are a chai lover, this is definitely one of the more famous types of tea for you to try.
4. Kasai
Kasai is the speciality tea of Mangalore. This is a herbal drink made of dry roasted and coarsely powdered spices. The spices are boiled in water and sweetened with rock sugar or regular sugar. A small quantity of milk is added to balance the taste. This caffeine-free herbal tea is rejuvenating and also soothes the throat.
5. Jaggery tea
The spicy jaggery tea is quite a staple during the winter and is consumed with enthusiasm in places like Uttar Pradesh and Maharashtra. Add ginger powder and crushed cardamom to the tea, and refrain from adding jaggery while the tea is boiling to avoid curdling. Instead, add the jaggery once the flame is off and the tea has cooled down for a few minutes.
6. Ukado
A popular home remedy in Gujarat, Ukado is an immunity-boosting herbal tea. Depending on your preference, you can make it with or without milk. This herbal concoction is the perfect remedy for seasonal ailments like flu, cough, and cold. Ukado is made with different herbs and spices. Based on your preferences, you can use ginger, lemongrass, mint, turmeric, and lemon.
7. Tandoori chai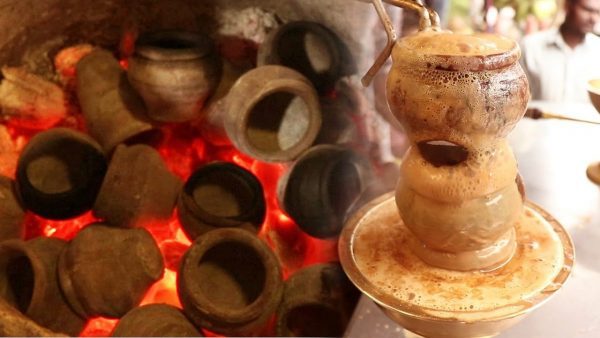 Tandoori chai is similar to masala chai except it has a more earthy and smoky flavour. A kulhad or an earthen clay mug is placed in a hot tandoor until it is red hot. Then, the masala chai is poured into the hot kulhad. Due to the heat of the kulhad, the tea froths vigorously, infusing the smoky flavour. Once the frothing subsides, pour the tea into a fresh cup or kulhad.
Featured Image Source
Related: Cosy Fall Drinks: 6 Indian Drinks To Enjoy This Beautiful Season