Urinary tract infections can lead to serious complications if not treated well. It's best to know how to avoid UTIs by taking simple everyday measures. Just drink a lot of water, use the restroom adequately and maintain hygiene.
Sometimes the infection is caused by other changes in your body like menopause or pregnancy. Either way, UTI's can get extremely painful. When suffering from one, all you can think about is feeling at ease again. You might not want to leave the house till the discomfort goes away. So here's a list of quick drinks that you can mix up at home to help you treat UTI's.
1. Coriander Cooler
How To Make: Boil a cup of roughly chopped coriander leaves and 7-8 coriander seeds in 500 ml of water for 15 minutes. You can add some fresh ginger or lemon juice for flavour. Strain and cool the mixture and drink it throughout the day.
How It Helps: Coriander helps the body to cool down and its anti-inflammatory properties help avoid UTI's.
2. Amla Green tea
How To Make: Add a teaspoon of amla powder or 2-3 pieces of dried amla along with your green tea and drink between meals to get relief from UTI's.
How It Helps: Amla is rich in vitamin c that helps with bladder infections and green tea's antioxidant properties improve your body's immunity.
3. Cucumber Spritzer
How To Make: Blitz together cucumber and fennel seeds in a blender and add a shot of soda. Strain and chill before gulping down.
How It Helps: The diuretic properties of fennel and high water content of cucumber is highly beneficial while treating UTI's.
4. Probiotic Smoothie
How To Make: Blend together a cup of probiotic curd and milk along with some berries for flavour. Sip on the cool healthy smoothie to feel better.
How It Helps: The good bacteria in the probiotic curd reaches your gut and keeps the bad UTI causing bacteria away.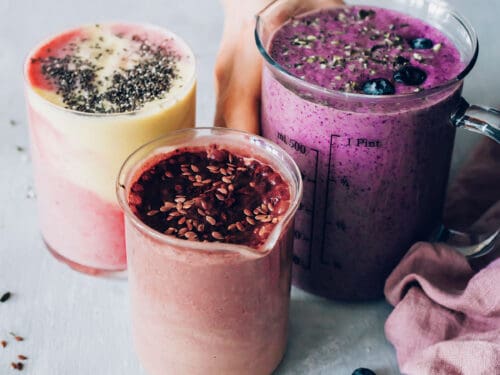 5. Cranberry Crusher
How To Make: Get your hands on good fresh cranberry juice and blitz it with some ice, coarse sugar and lemon juice. This cranberry crusher twice a day will help you with your fight with UTI's.
How It helps: Cranberry is popularly considered to contain UTI treating substances. It's also available in a capsule form.