When it comes to women travelling solo, we don't generally think of Turkey as an option. But this is one country that should be on every traveller's list, solo or otherwise. From ancient history to modern marvels, Turkey has a lot to offer which you won't be able to cover in one trip. And the majority of us urban dwellers don't have the luxury of taking a month off to travel. If you've got a week of leave, and want to make the most of it, check out our Turkey travel guide and plan a trip.
This is what we recommend based on our own experience of travelling solo in this marvellous country.
Start in Istanbul
The historic significance and natural beauty of this city will strike you as soon as you set foot here. The airport is slightly far from the main city so you'll need to take a taxi to your hotel. Once you're in the main city, you can use public transport or walk around. Enjoy the view of the magnificent Bosphorus and the incredible architecture of Istanbul. Spend at least 4 nights here, so that you can give this city the time it deserves. Remember, Istanbul is the only city in the world that's on two continents – Europe and Asia. So, there's a lot to see. Here's what we recommend you should do and where you should stay while you're here.
Where to stay in Istanbul:
Find a nice B&B near Taksim Square
This is quite a central location in Istanbul and is only a few minutes away from Sultanahmet, another significant spot, by tram. Taksim Square is the hub of all political protests and is a highly notable spot for the Turkish people. Around it, you will find several markets, shopping districts like Istiklal Street, restaurants and sights to see. You can find a delicious meal, a great bargain or a piece of ancient history just around the corner.
Stay at a hotel near Sultanahmet
If you want to be near the historically significant sites like Ayasofya and the Topkapi Palace, you should stay around Sultanahmet. There are several boutique hotels in the area on quaint, charming streets. Since these streets are small, however, you should prepare yourself for a lot of walking.
You can get wonderful budget accommodation with a view in other areas of Istanbul. But these might be a slight distance away from the main tourist attractions.
Things to do in Istanbul
Go on a Bosphorus cruise
This is a wonderful experience you'll want to relive again and again and again. Enjoy some of the most magnificent sights of Istanbul while cruising between Asia and Europe. There are several tours available with varying routes and hours. Pick one that suits you the most, but we recommend taking at least 3-4 hours out of your day for this. You can also go on a night cruise on the Bosphorus and enjoy the spectacular city lights of Istanbul.
Here are only a few of the gorgeous sights you'll see from the cruise.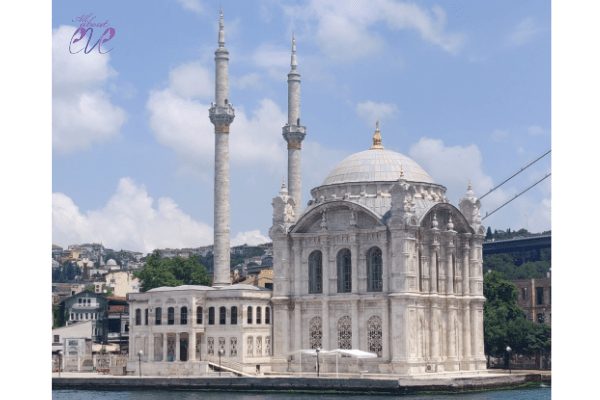 Visit the palaces of Istanbul
There are several beautiful palaces in Istanbul, but if you must choose, we would suggest these 3 unique palaces.
Topkapi Palace
Image Source
Dolmabahçe Palace
Image Source
Küçüksu Palace
Image Source
Walk to the Basilica Cistern, Ayasofya and Blue Mosque
This is a beautiful part of Istanbul to walk around and spend the day at a leisurely pace. You will be literally surrounded by history. After spending a few minutes here, you'll feel as if every single stone here has historical significance. Testament to centuries of different empires, these 3 monuments will leave you in awe.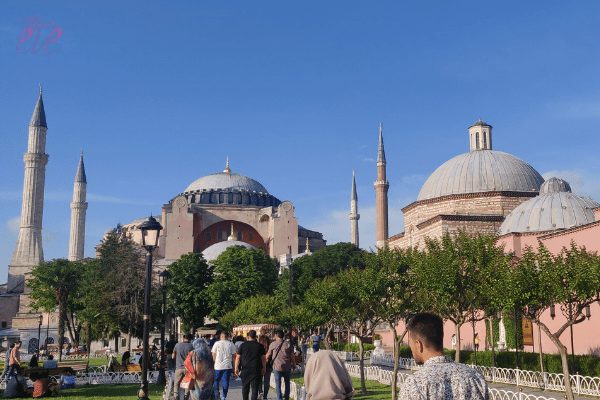 Shop at the Grand Bazaar and Spice Bazaar
Istanbul is a shopper's delight. From traditional Turkish coffee and tea, carpets, wall hangings, lamps, to great discounts at international brands, you will find it all in Istanbul. You can also take stacks of Turkish spices back home. Go to the Grand Bazaar and Spice Bazaar, a short distance from Sultanahmet. You can walk from Ayasofya or take the tram. You can also go shopping at Istiklal Street, near Taksim Square.
Take in the views from Galata Tower
If you want to enjoy a panoramic view of Istanbul and the Bosphorus, head to the historic Galata Tower. It's easy to spot from several corners of Istanbul, but a visit there will really take you back in time. If you're a Bollywood fan, you will remember this from the Priyanka Chopra and Ranveer Singh starrer, Dil Dhadakne Do.
Image Source
Indulge yourself at a Turkish hamam
There are several hamams in Istanbul and all over Turkey, in fact. Simply choose one near your accommodation and book a session. Some hamams have different timings for men and women, while some have separate sections. We suggest indulge yourself in a bit of luxury at one of the ancient, luxury hamams in the city, like the Kılıç Ali Paşa Hamam, pictured below.
Image Source
Next Stop: Ephesus
If you're a history fan, Ephesus should be high on your list of places to see in Turkey. In fact, it is one of those rare sites where you can see the relatively undisturbed ruins of an ancient city.
Things to do in Ephesus
Spend an entire day at the ruins of Ephesus
Once you entire the ancient city of Ephesus, you will never want to leave. The walk in is shaded by tall trees, resembling a royal welcome of sorts. When you step out of the pathway, you realise the magnificence and significance of where you're standing. Here are a few sights you'll get to see in Ephesus.
How to get to Ephesus:
Take a flight to Izmir from Istanbul. Izmir is only an hour away from here and tours are available from here to Ephesus. You can also take a taxi to Ephesus from Izmir airport, but if you're staying in Izmir, it's best to book a tour that will wait for you and bring you back to the city. Booking in advance is ideal to avoid any last minute price hike.
Where to stay:
While there are places to stay in Ephesus as well, the popular choice is to stay in Izmir. It's closer to the airport for when you need to leave, and Izmir has its own charms of a modern city with obvious historic touches. The view from some of the popular hotels is of the heavily populated hill before you which is beautiful during sunset. You can also visit the tourist attractions in Izmir, like the Pergamon Acropolis, Izmir Agora, and the ancient markets of the city.
Travelling solo to Turkey is easy and not uncommon. You will be welcomed by the locals there. But there are a few things to keep in mind while you're in the country:
Tips & advice:
Be careful of taxi drivers who might try to fleece you
Keep your money close to your body
Shopkeepers will try to attract you with a bargain. But most of them will listen when you refuse firmly.
The most common tactic that carpet sellers use is to call you in for a cup of tea and try to guilt you into buying a carpet. Be mindful of the fact that they're heavy and difficult to carry.
Get a room or house with a view. It'll be worth the extra money.
Pick up a few words in Turkish. It'll go one step further in making the locals want to help you.
English is not very common. Download Google translate on your phone or carry an English to Turkish dictionary.
No matter which time of the year you travel in, pack a jacket.
Keep an eye on your budget. It's very easy to spend a lot more in this country of wonders and opulence.
Get an Istanbulkart, a card you can recharge and use on public transport. Use the metro, trams and buses in Istanbul instead of expensive taxis.
Carry a stole to cover your head and wear loose pants when visiting mosques or any places of religious significance.
Carry Euros and Turkish Lira.
Most hotel and Airbnb owners will help you more and give you extra attention if they know you're travelling alone. But do be safe and don't divulge this detail to strangers in restaurants or on the street.
Other than that, Turkey is absolutely fabulous and an unforgettable experience. Get set, book your tickets, pack your bags, and go! For more tips on women travelling solo, check out our blog here. It has some expert, unique advice from seasoned female travellers.