If you love travelling, a solo trip should be on your list of things to do. While travelling with a group of friends is fun, solo travel has its own charm. In recent times, solo travel for women has also become popular in India. And why not? Indian women deserve to travel and explore new places, just like men have been doing for ages. In an ideal world, solo travel for women would not have to be a separate consideration. But it is. The reality is that women who travel alone need to a bit more mindful and aware than a man in the same position. We must tell you, though, that it is not a scary proposition for a woman to travel alone. In fact, it's quite the opposite.
We spoke to a few seasoned female travellers and scoured the internet for tips on travelling solo as a woman. And we now have a comprehensive guide for all the ladies who want to set off exploring this world on their own.
Image Source
1. Connect with the locals
Talk to the locals while you're there. That's a popular tip. But here's what a lot of people don't think of. Sandeepa, travel blogger and co-founder of sandeepachetan.com, tells us, "Try to connect with someone local before your arrival. When you have friends in a destination before arriving there, it doesn't feel like an unknown place. One of the easiest ways to do this is through your Couchsurfing/Airbnb/homestay host." Another way to connect with locals or fellow travellers is to strike up a conversation about your home. "I carry a packet of local spices if traveling abroad long term," Sandeepa says. "It comes handy when you feel homesick and is a great conversation starter when cooking in a common kitchen in a hostel or homestay."
If you're new at travelling solo, try to go to places where you have friends or friends of friends. By giving yourself this boost, you can build your confidence as a solo traveller and slowly wriggle out of your comfort zone in future travels.
2. Don't overshare
A word of caution: While talking to locals and getting information from them is great, try not to share too much about your plans. Founder of Go Girl Guides, Kelly Lewis, tells Forbes, "I'm very aware of what kind of information I'm sharing. On social media, I do share where I am, but…I don't check in to specific areas." The urge to Instagram every little thing you see may be tempting, but you should avoid leaving a trail on public social media accounts.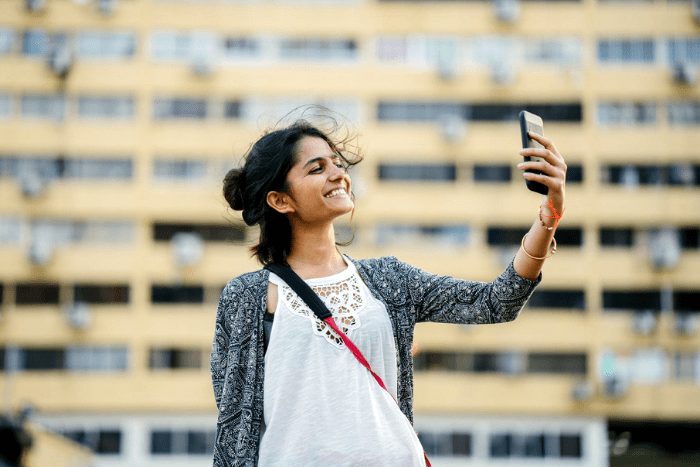 Image Source
3. Learn a few words in the local language
Doesn't it feel nice when a foreign tourist tries to speak to us in Hindi? Likewise, it can be endearing for locals to hear you attempt their language. Be careful not to sound mocking though. No one likes that. As Shruti Prabhu, co-founder of siddharthandshruti.com and travel blogger, tells us, "Learn a few phrases like 'Thank you' and 'Good Morning' in the local language. It makes it easier to talk to locals, and they really love it when you make an effort to communicate in the local language." Google Translate is a handy tool for these purposes. For places where internet connectivity is low, buy a language guide or jot down a few words and phrases before getting to your destination.
4. Don't disregard advice from locals and fellow travellers
"If they say it's advisable to hire a cab and not take public transport after a certain time, then act accordingly," Sandeepa tells us. And we would take her word for it. Being alone in a new place is not the best time to saunter off by yourself in the dark. Having said that, don't be afraid to go out at night. Just be aware of your surroundings and leave as soon as you see the crowd thinning out or if you feel unsafe.
Image Source
5. Be confident and try not to look lost
That should be the key to life anyway, right? But when you're in a new place, it becomes more important to follow this rule. "My top tip for a woman travelling solo is to always walk around with confidence, research the area before you go…and always be aware of your surroundings," Alyssa Ramos, founder of My Life's A Movie and full-time travel blogger, says. If you're wondering how to do this, here's a hot tip for you.
Budget travel expert Pauline Frommer says, "The first thing you do in a new destination is you go into a local store (like a drugstore or market) and you just buy something small so you can have the bag, and that bag marks you as a local."
Avoid staring at maps in public. Instead, mark your route before you leave your hotel or hostel, and get directions from the owners. As Shruti points out, carry an offline Google map of the area. This will help you blend in and not look like a lost tourist.
6. Choose your accommodation wisely
"My top trip for traveling solo as a woman is stay in hostels," Erica Virvo, of Nomadic Matt, says. "I love staying in hostels as a woman because you get to meet people — and you can meet people that you can then travel with. When you're travelling with other people, it's harder to do that."
Shruti echoed a similar thought when we spoke to her about accommodation tips. "Stay in an Airbnb or a hostel. It can help save money and is a fun way to meet like-minded people," she says.
"Try to find an accommodation that's owned and run by a local family," Sandeepa tells us. "Our first preference is always Couchsurfing. But if that's not an option, look for homestays. They almost always have some special tips about their city which aren't easily available online. Also, they know the places to eat and shop where the locals go, so you avoid paying the tourist price."
However, you do need to exercise a sensible level of caution when choosing your accommodation. "Before accepting a hotel room, make sure that the door can be bolted, and all windows or other openings locked or blocked," Susan Griffith, a traveller who has covered South Asia extensively, writes in her blog. "If you receive a late night knock, just repeat "GO AWAY" in an uncompromising tone."
If you are on a tight budget, your accommodation is one of the things we would urge you to "splurge" on. Don't stay in a shady place just because it's cheap. Compromise a couple of other non-essential expenses to stay in a safe, secure place.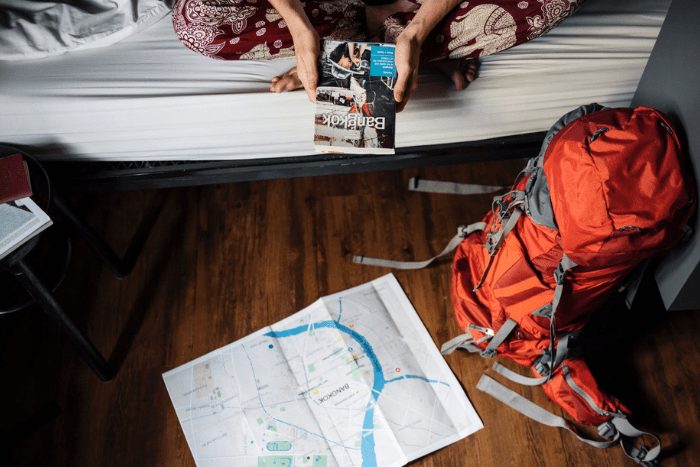 Image Source
7. Respect the local traditions
If it's not okay to show your legs in a certain area, don't fight it. Cover up. You may not realise it but there may be a deep cultural or religious significance behind the rules of the area. If you're going to a conservative country or town, try to dress as much like the locals as you can. As Julia Pond, the editorial head at Skyscanner, puts it, "If you're going to France, dress a little more nicely, don't dress like an American in slumpy shorts and flip-flops…In India, wear long flowy trousers and a long flowy shirt and you'll be in a much better situation than if you're in a Western tank top that just makes you stand out." It'll just make life easier for you on your trip.
8. Avoid carrying expensive stuff and too much cash
Leave your laptop at home if you can, and switch to a simpler phone with a plain cover. It will attract a lot less attention to you. Don't carry too much cash in your wallet. Opening the wallet will make your stacks of money visible to prying eyes. British backpacker, Claire, says in her blog, "Try not to carry large amounts with you and keep pockets of cash in different places, in case of the unlikely event one of your bags goes missing." This is a valuable tip for backpackers and budget travellers.
Image Source
9. Carry basic medicines
This is an absolute essential, whether you're a man or a woman. For women, we would suggest that you also carry your menstrual hygiene products with you, instead of relying on local markets. Among Sandeepa's travel must-haves is a pouch of basic medicine, especially when travelling abroad. A kit of basic medicines should include a painkiller, medicines for diarrhea, constipation and acidity, band-aids, an antiseptic solution, a crepe bandage, and any other medication you may need on a regular basis.
10. Be sensible
Take the same precautions that you would at home. Don't leave your drink unattended, don't trust strangers blindly, and make your safety and security a priority.
That's it, ladies. You don't need to be afraid or wary of travelling alone in India or anywhere else. Follow this guide, book your tickets, and set off on a whole new adventure.