Stuck between 'you ought to save for long-term' and 'you only live once'?  Take that dream holiday without having to empty all your savings. Check out these awesome summer holiday destinations which you can explore within one lakh Rupees.
Here's a tip though – book well in advance to get the cheapest deals, switch to Airbnb or hostels if you want to save on accommodation, public transport in cities will prove to be your saviour.
1. Borneo
If exploring the wilderness of one of the best rainforests in the world is your thing, head to this island in the South China Sea, to experience jungle adventures like never before. Wild orangutans swinging through the jungle canopy will be a common sight. To top it, Borneo is a melting pot of cultures, traditions and cuisines with Malay and Chinese influences across various regions.
Flights and accommodation: There are no direct flights from India to this wild wonderland. But you can book a flight to Kuala Lumpur and further to Kota Kinabalu in Sabah region of the East Malaysian part of the island. The air fares would be anything from INR 30,000 to 35,000 for return flights. You can easily find decent accommodation for INR 2500-3000 per night in Kota Kinabalu.
What to see: Gunung Mulu National Par, Coastal Villages of Sabah, Kota Kinabalu, Kutching.
2. Seoul, South Korea
You will be awestruck by the technology and design in the city, as much by the temples and palaces. A perfect blend of modern and traditional, in Seoul you can explore city life as well as mountain trails to the beats of K –Pop. Not to forget, the pandora of beauty products that you girlies can bring back.
Flights and accommodation: A flight ticket from Kolkata to Seoul can be bought for as low as INR 26,000. Accommodation is cheap and can be covered in INR 1500 per night per person.
What to see: Korean War memorial and museum, Gyeongbukgung Palace, Bonguensa Temple, Myeongdong, Dongdaemun history and culture park.
3. Thailand
It might seem like a clichéd destination to add to this list but there is much more to Thailand than Phuket, Pattaya and Krabi. Aptly called the land of smiles, it offers the most picturesque beaches, amazing food, great shopping options and a beautiful cultural experience as well.
Stick to the regular destinations or go to the blissful and calm Chaing Mai province to explore the cultural heritage and spectacular temples. If you are a beach bum, head to the islands of Koh Samui and Koh Phangan to just soak in the sun and have some fun. For all your shopping needs, Bangkok rules the roost.
Flights and accommodation: You can book flight tickets to Bangkok for as low as INR 15,000, if booked in advance. Flight to Koh Samui will cost you approximately the same. Decent stay in Thailand – either Bangkok or Koh Samui can be booked for as low as INR 1500 per night, per person.
What to see: Bangkok, Chaing Mai, Koh Samui, Koh Phangan.
4. Myanmar
It has been on the must visit tourist places only recently, after years of political turmoil kept it out of bounds for most.  Myanmar will dazzle you, it will delight you. This complex and mysterious land will bring you face to face with the most traditional Asian practices. Scattered lands, pagodas and monks in abundance, get aww-inspired by this gem, all within the budget of your dreams.
While many travellers avoid monsoons, the rains can bring to you greener, quieter, tourist free escapades.
Flights and accommodation: Flights from Kolkata to Yangon will cost you INR 15,000 to INR 25,000. For an accommodation at Yangon at a decent property you will have to shell out anything between INR 2000 – 3000 per night, per person.
What to see: Yangon, Bagan, Mandalay, Golden Rock Pagoda, Kyaing Tong, Monywa, Putao, Ngwe Saung Beach, Inle Lake, Island Paradise, Pyin Oo Lwin.
5. Jordan
If you are into lost cities and wadis, Jordan is your dream destination. The breathtaking desert landscape, ruins, world heritage sites and friendly towns would make you fall in love.
The best part?  The rich experience can be all yours to cherish within a lakh. Go get lost in the ruins of Petra and float in the Dead Sea.
Flights and accommodation: Flight to Amman can be bought at INR 40,000 approximately. Accommodation at the popular destinations of Petra and Dead Sea will cost you approx INR 2500 per night per person.
What to see: Petra, Wadi Rum, Dead Sea, King's Highway.
6. Laos
You would already have considered the neighbours Cambodia and Vietnam for your budget trips. This time around visit this destination that still retains a lot of traditions that modernity has eaten away in its neighbours. It is an ethnically diverse region offering you glowing rice fields, slow paced villages, breathtaking waterfalls, beautiful mountain trails, as well as tourist rich areas like Luang Prabang. It has something for everyone – a nature enthusiast, a foodie, a cultural explorer.
Flights and accommodation: Flights can be booked for approximately INR 35,000 to 40,000. Accommodation in most areas is cheap with a decent place costing you as low as INR 1000-1500.
What to see: Luang Prabang, Ban Nalan Trail, Bokeo Nature Reserve, Luang Namtha.
7. Zanzibar
With a unique culture, active party scene, idyllic beaches and ancient towns, this island getaway in the East African Indian Ocean is a super alternative to your regular beach destinations. From white sand beaches to one of the best bars you will find, consider this for an all girls trip, ladies.
Flights and Accommodation: The return flights will cost you between INR 45,000 – 55,000. You will find a nice three-star accommodation for INR 2000-2500 per night.
What to see: Stone town, Nungwi, Paje, Kendwa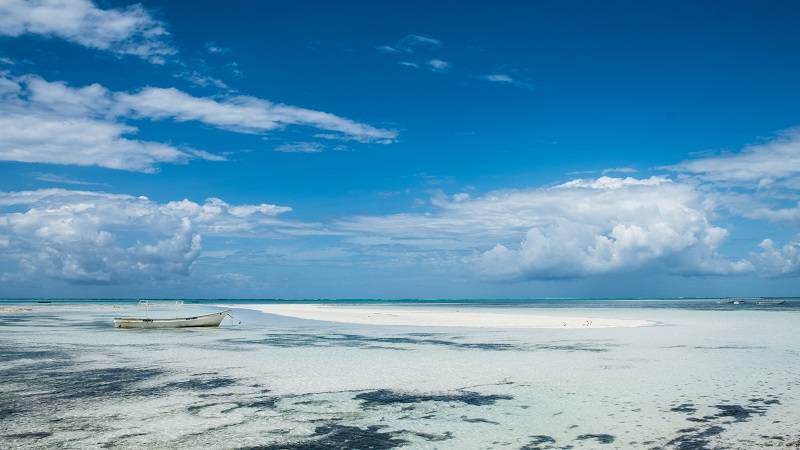 8. Iran
Yes, you read it right. And no, it isn't unsafe! If anything, Iranians are one of the friendliest people you will ever meet in your LIFETIME (We can bet on that!).  It is one of the best destinations for solo female travellers, with easy access to public transport. It enriches you with a culture thousands of years old, bring you the best kebabs you would have ever tasted in your life and acquaints you with historic architecture that can be boasted as one of the best in the world.
Flights and Accommodation: The flights, if booked well in advance, will cost you approx INR 45,000 -50,000. The hotels are usually a bit on the higher side. Look for hostel accommodations or we suggest look for local hosts. The public transport and food is super cheap.
What to see: Tehran, Mazandaran region, Tabriz market, historic village of Kandovan, Isfahan.
Surely saved the best for the last!
Happy Vacay, explorer.