Remember Aishwarya Rai's royal jewellery in Jodha Akbar? These intricate pieces of meenakari jewellery reflect the royal Rajasthani heritage very well. Even though the movie released more than eight years ago, the fine jewellery pieces still resonate in many minds very clearly.
That's the beauty of meenakari. Mastering this shahi craft of painting or enamelling metal jewellery is an art, as it is so technical and refined.
Jaipur-based jewellery designer Sunita Shekhawat doesn't shy away from exploring and modernising this art. Her beautiful meena pieces will steal your heart. The glamorous pieces will convince you that Polki is not the only option to stand out at your weddings. Read on to know more about this beautiful art.
Courtesy: Sunita Shekhawat
The history
Our country's age-old love affair with opulent jewellery is no secret. This unique art has been here since the 1500s, brought by the Mughal king Shah Jahan from Persia (Iran). Raja Maan Singh of Amber, Rajasthan, was so enamoured by it that he turned Jaipur into a meenakari hub. Even today, most sought after enamel pieces come from the pink city.
How it's made
The art is alive today, all thanks to the meenakars who paint delicate pieces with their hands.
It takes a lot of effort to find the right artisans who can execute the meenakari design with perfection. "Over 150 days of handiwork and craftsmanship goes into each and every design," informs Sunita Shekhawat, a jewellery designer from Jaipur specialising in meenakari.
The design is first drawn by hand then grooved in by an etching tool. Then the grooves are painted with powdered minerals — mainly cobalt and copper. Each piece is heated then treated with acid to fuse the colours. Most common designs are birds, flowers, leaves, peacocks, fish, and elephants.
The distinct feature of this art is that each piece is designed from the front/outside as well as the back/inside. The measure of a great meena piece is not being able to decide which side is more beautiful.
Style it right
This jewellery looks best with traditional clothes such as lehengas, anarakalis and sarees. But you can also pair it with modern outfits to get an edgy boho look. Choose a fashionable cocktail ring for a formal do, a statement neckpiece with a flowy dress and studs for office wear.
How to take care of your precious meenakari
Meenakari jewellery is usually durable and can last you for decades if cared for properly. It can lose its sheen over time. If it's on gold or silver, then clean with a dry cloth and store wrapped in cotton to prevent oxidisation. For copper and brass base, use special cleaning agents as advised by your jeweller.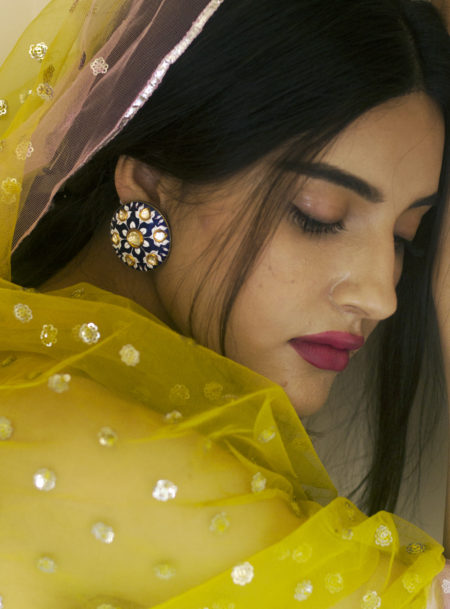 Shop all these pieces at Sunita Shekhawat's store — D-18, Defence Colony, New Delhi
Get in Touch: Instagram | Facebook