Even though celebrations are lowkey this year, being at home safe with your family is no less than a blessing in these times. And if you have been thinking of doing something special for your mom but are not sure of what to do, we are here to help. It's alright if you don't have any gifts planned for her, a little break from the regular is worth a thousand gifts for any mother. So this year, treat your mom with a lavish three-course meal with these special recipes for Mother's Day from head chefs of some of the top restaurants in Dubai.
Related: Craving Street Food But Can't Go Out? These Delicious Chaat Recipes Will Have You Licking Your Fingers
Ingredients:
2 tbsp sunflower oil
1 tsp mustard seed
7-8 curry leaves
1 tbsp ginger julienne
2 green chilli, slit
1 onion sliced
8-10 pieces medium sized prawns
1 tsp turmeric powder
1 tsp diced raw mango
2 tsp lemon juice
1 tbsp diced ripe mango
1 medium-size tomato, sliced
3 tbsp coconut milk powder
1 tbsp fresh coriander
Salt to taste
1/2 tsp turmeric powder
1 cup cold water
Method:
Marinate the prawns with 1/2 tsp turmeric, salt, and 1 tsp of lemon juice, and keep aside for 20 minutes. Next, dilute coconut milk powder with 1 cup of cold water and keep aside. Then, take a pan and heat oil in it. To this, add mustard seeds, let them crackle, then add ginger, curry leaves, chilli, and sauté it for 1-2 minutes. Add sliced onions, cook them for 2-3 minutes till they sweat well, and add some turmeric powder followed by diluted coconut milk. Now, cook the curry for 3-4 minutes till it becomes creamy. Add the marinated prawns to the curry and cook for 7-8 minutes. And lastly, add fresh coriander, diced raw and ripe mangoes, sliced tomatoes, and the remaining lemon juice, and cook it for 2 minutes. Serve with hot steamed rice and enjoy this special recipe for Mother's Day with your family.
Ingredients:
For roomali roti tart:
180 grams all-purpose flour (maida)
120 grams whole wheat flour
50 grams raw banana
25 grams whisked egg
25 ml milk
5 grams sugar
2 and 1/2 grams salt
150 ml water
10 ml oil
For turnip kebab:
250 grams turnip
50 grams split chickpea lentils
50 grams chopped onion
25 grams fried onion
15 grams chopped ginger
20 grams chopped garlic
10 grams chopped green chilli
25 grams coriander root
100 grams clarified butter
5 grams black cumin seeds
2 and 1/2 grams turmeric powder
5 grams red chilli powder
2 and 1/2 grams yellow chilli powder
Salt to taste
Spice bag for turnip kebab:
5 grams cinnamon
2 bay leaves
2 grams mace
2 grams green cardamom
2 grams clove
2 grams black pepper
2 grams black cardamom
1/2 nutmeg
2 grams dry rose petals
Method:
For roomali roti tart
Add all the ingredients in a mixer to make a soft dough and let it rest for half an hour. Divide the dough into 120 gm portions and flatten it with a rolling pin first and then even it out with your hands. Now, cook the thin bread on an inverted tawa or wok and, while cooking, keep folding it from all sides to prevent it from drying. Cut the roti with a round cutter and adjust it in a small tartlet mould. Keep pressing the mould on top of each other for a better shape. Bake the tarts at 160 degrees Celsius for 30 minutes.
For turnip kebab
Take ghee in a thick-bottomed pan, temper black cumin seeds, and add the rest of the ingredients for the kebab. Make a bag of spices with a muslin cloth and add the spice bag in the turnip kebab mixture with a generous amount of water. Now, cover the pan and cook the mixture on slow heat till all the water evaporates. Next, remove the spice bag and cool the mixture. Once cooled, make small patties of kebab and sear it with ghee.
For plating
Process the turnip with a vegetable sheeter, roll, and cut it thin. Blow torch the turnip till slightly burnt. Next, add turnip kebab in crispy tart shells followed by cumin-flavoured cream cheese with burnt turnip pinwheel. Finally, garnish with your choice of leaves for a delicious main course recipe for Mother's Day.
3. Pb&j Ghewar by Chef Himanshu Saini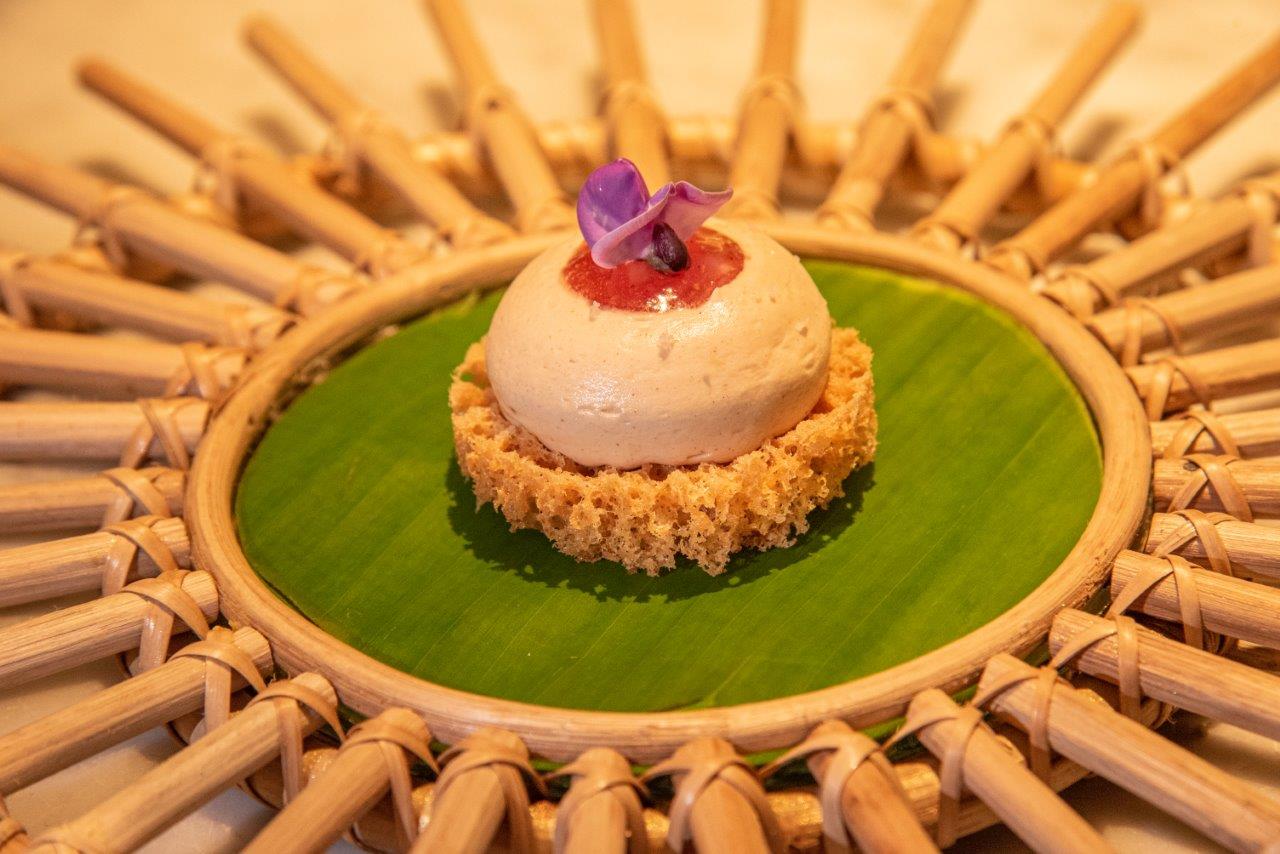 Ingredients:
For ghewar:
100 grams ghee
325 grams refined flour
1 and 1/2 litres water
170 ml milk
2 sliced lemons
Ghee for frying
2 ice cubes
For peanut butter mousse:
50 grams peanut praline
30 grams whipped cream
50 grams Philadelphia cream cheese
For the strawberry jam:
30 grams sugar
100 grams fresh chopped strawberries
30 grams liquid glucose
Method:
For ghewar
Add ghee with 2 cubes of ice in a blender along with 1/4 water, refined flour, and blend till everything is mixed together. Keep repeating and adding water till it comes to a thin and smooth consistency. Then, add milk and the juice of 2 sliced lemons in the mixture and keep aside. Next, pour the mixture into a squeeze bottle and keep it at room temperature. Heat 4 round, standard pastry rings in a frying pan filled with ghee at 180 Celsius. Then, drop by drop, add the mixture inside the pastry rings and keep repeating till the ghewar starts to take shape. Now, add more mixture in a circular motion along with the ghee and keep repeating till you get the desired thickness. Once the ghewar is cooked, remove it on a kitchen towel to drain the excess ghee.
For peanut butter mousse
Mix together peanut praline and cream cheese in a mixing bowl. Fold the whipped cream with the peanut and cream cheese mixture and fill inside a piping bag with a round nozzle.
For strawberry jam
Heat liquid glucose in a non-stick pan and add chopped strawberries. Then, cook the strawberries over medium heat for 5 minutes stirring frequently until berries disintegrate and become a medium-thick jam.
For assembling
On a crisp ghewar, pipe the peanut butter mousse along with strawberry jam and garnish it with bean flower.
Related: Craving Something Sweet And Creamy? Try This Malai Ghevar Recipe