Who doesn't love indulging in some delicious desserts every now and then? But long hours of prepping, baking, and going through an endless list of ingredients can be quite a task. So, if you are craving a quick fix but don't want to go through the trouble of running to the grocery store or standing for hours in the kitchen, we have a treasure trove for you. Here are some delicious, quick, and easy dessert recipe ideas that require only five ingredients or less!
Related: Easy Dessert Recipes For A Gourmet Experience At Home
1. Chocolate Cake
Image Source
Ingredients:
300 grams semisweet chocolate chips
4 large eggs
Powdered sugar, optional for serving
Vanilla ice cream, optional for serving
Method:
Start by preheating the oven to 170°C, greasing a round cake pan, and lining it with parchment paper. Take a microwave-safe bowl, add the chocolate chips to it, and melt them completely for about 1 minute. Next, separate the egg yolks from the whites, and with an electric hand mixer, whisk the whites until soft peaks form. Start adding the egg yolks, one at a time, to the bowl of melted chocolate, and stir to combine. Once done, take 1/3rd of the whipped eggs at a time and gently fold them into the chocolate mixture. Pour the cake batter into the pan, smooth out the top, and bake for 30 minutes. Once the cake is baked and cooled, take it out on a plate and serve with the toppings of your choice.
2. Peanut Butter Cups
Image Source
Ingredients:
120 grams cup peanut butter
3 tbsp powdered sugar, sifted
170 grams chocolate, melted
Method:
Take 6 cupcake tins and prepare them with liners. In a bowl, mix peanut butter and powdered sugar till it becomes smooth. Next, take 1-2 tablespoons of melted chocolate and spread it on the bottom of each cupcake tin followed by 1-2 tablespoons of peanut butter. Take some more chocolate and cover the peanut butter layer completely. Once done, refrigerate it for about 1-2 hours or till the chocolate hardens. Carefully remove the chocolate out of the cups, and enjoy this indulgent and easy dessert recipe!
3. Cookies 'n' Cream Fudge
Image Source
Ingredients:
500 grams white chocolate
400 grams sweetened condensed milk
12 chocolate cookies, chopped
Method:
Take a mixing bowl and combine chocolate with sweetened condensed milk in it. Now, put it in the microwave for 15 seconds and keep going till it melts completely. Once done, add the chopped cookies and mix till everything is combined. Now, line a baking tin with parchment paper, pour the mixture into it and chill it for about 2-3 hours. Once the fudge is firm, cut it into bite-sized pieces and enjoy!
4. Berries & Cream Pies
Image Source
Ingredients:
100 grams berry jam (strawberry, blueberry, raspberry, cranberry)
350 grams cream cheese, softened
2 pie crusts
1 egg
1 tbsp water, plus extra for crimping
Method: 
Start by preheating the oven to 200°C and preparing a baking tray lined with parchment paper. While the oven is heating, place the pie crust on a chopping board and cut out small circles using a cutter or the top of a teacup. Once you have the circles ready, divide the circles into two equal batches. Now fill half of the circles with a tablespoon of cream cheese followed by a teaspoon of jam. Then, using a finger, slightly wet the edges of the pie with water before covering them with the leftover pie circles. Now, press the dough lightly to seal and use a fork to crimp the edges. Then, using a sharp knife, slit the top of the pies in a cross to make a ventilation hole. Once done, place the pies on the baking tray and bake for about 15-20 minutes till they are golden brown. Let them cool down a little before serving. An easy and quick dessert recipe to try this week!
5. Blackberry & Lemon Pudding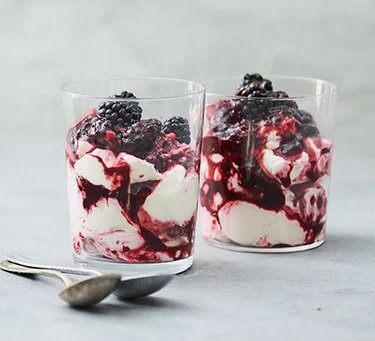 Image Source
Ingredients:
200 grams blackberries, plus extra for the topping
3 tbsp icing sugar
Zest and juice of 1/2 a lemon
250 ml double cream
Method:
In a pan, add blackberries, lemon zest, juice, and 2 tablespoons of icing sugar, and mix well. Now, heat it on a medium flame, simmer till it turns into a syrup consistency, and set aside to cool. Next, whip the double cream with a tablespoon of icing sugar and start layering it, followed by the cooled blackberry syrup. Finish it off with more sauce and fresh blueberries on top.
6. Strawberry Mousse
Image Source
Ingredients:
250 grams fresh strawberries, halved
25 grams caster sugar
140 grams mini marshmallows
200 ml double cream
Method:
In a pan, add 2-3 strawberries with sugar and 100 ml water and place it over medium heat. Cook this mixture till the strawberries are soft, for about 3 minutes, and then mash them. Once it comes to a chunky sauce consistency, take it off the heat and add in the marshmallows. Mix till they dissolve completely and then set aside to cool. Meanwhile, whip the cream till it holds shape and fold it into the strawberry mixture. Now, refrigerate the mixture for about 2-3 hours till the mousse sets and serve it topped with fresh strawberries.
7. Lemon Blueberry Sorbet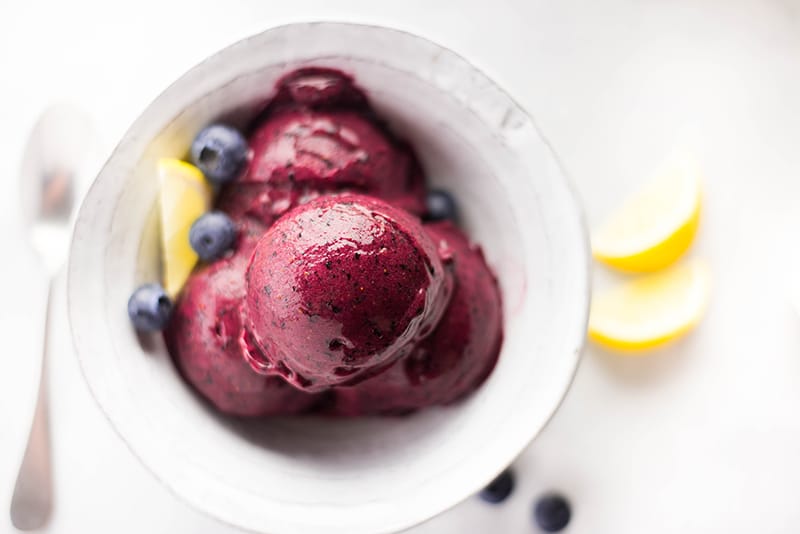 Image Source
Ingredients:
3 cups fresh blueberries
2 tbsp raw honey, plus more for added sweetness
3 tbsp freshly squeezed lemon juice
1 tsp lemon zest
1/3 cup water
Method:
Take a baking tray and line it with parchment paper. Rinse and clean the blueberries making sure there are no stems left. Place these blueberries on the parchment paper and freeze them for 4-5 hours or overnight. You can also buy frozen blueberries to skip this step. Once frozen, add the blueberries along with honey, lemon zest, lemon juice, water, and blend in a food processor till the mixture becomes smooth. Check the taste and adjust the sweetness and tartness. Serve right away. You can also store it in an airtight container and freeze it for another few hours for a harder consistency.
8. Dark Chocolate Truffles
Image Source
Ingredients:
500 grams dark chocolate
100 grams greek yoghurt
Optional toppings:
Cocoa powder, to taste
Sprinkles, to taste
2/3 cup chopped nuts, to taste
Shredded coconut, to taste
Method:
Take a bowl, chop the dark chocolate in it, and microwave in 15-second intervals until fully melted. Then, slowly fold in the Greek yoghurt until everything is combined. Let this mixture chill in the refrigerator for about 30 minutes so it becomes a little solid. Then, using a tablespoon, scoop the mixture into your palms and roll it into balls. Once done, you can roll it into your choice of toppings or enjoy it as it is! And if you are using sprinkles, shredded coconut, or nuts, dip the balls in melted chocolate before coating them.
Featured Image Source
Related: Need To Impress Your Desi Folks? Try These Easy Recipes for Indian Desserts