The festive season is all about indulging in the best homemade sweets and snacks. And one such popular festive sweet treat is malai ghevar. The creamy and dense texture of the rabri with the crunchy layer of ghevar makes it hard to resist an extra serving. So don't hold back and try this super easy ghevar recipe right away. Who's counting calories during the festivities anyway?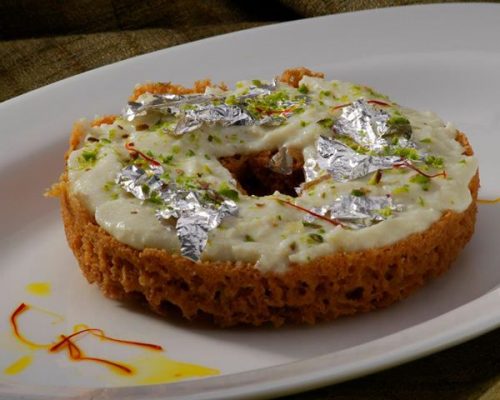 Image Source
Related: Impress Your Desi Relatives With This Scrumptious Kachori Recipe
Ingredients: 
For the batter:
100 ml ghee
4-5 ice cubes
200 gms all-purpose flour
3/4 cup whole or full-fat milk, cold
1 cup ice-cold water, or more if needed
For sugar syrup:
200 gms sugar
400 ml water
7-8 saffron strands
For the rabri:
2 cups full-fat milk
5 tbsp sugar
1 tsp cardamom powder
7-8 saffron strands soaked in 2 tbsp hot milk
4 tbsp chopped nuts for garnish (almonds, cashews, pistachio)
Oil or ghee for frying
Method:
To make it easier, we will break down this ghevar recipe into separate parts. This will include making the ghevar and rabri separately and then combining both in the end.
1. Making the batter for ghevar
Start by adding ghee to a bowl. Then, take ice cubes and whisk them in the ghee for about 5 minutes till it becomes frothy and white in colour. Now to this, add flour, 1/4 cup of water, 1/2 cup of chilled milk, and whisk again to make a smooth lump-free batter. Add the remaining 1/2 cup of water and 1/4 cup of milk to this batter till it comes to a pouring consistency. You can add more water if required. Make sure that the batter is not thick or it won't cook through.
Once your batter is ready, place a pan with oil or ghee over medium flame to heat it up. When your oil is smoky and hot, take a small amount of batter into a ladle and pour it in. Go slow as the batter will keep separating and spreading to the edges. Repeat the process about 7-10 times and leave a hole in the middle. Once you are done, lightly press the ghevar into the oil/ghee to let it fry till it turns golden brown. Then take the ladle and lightly lift up the ghevar from the centre, slowly placing it on a plate covered with tissues to drain the excess oil/ghee. 
Image Source
2. Making the sugar syrup
The next step of this ghevar recipe is making the simple sugar syrup that will add the actual flavour to the ghevar. Place a pan over high heat and add water, sugar, and saffron strands to it, and let it come to a boil. Stir properly so the sugar dissolves and then reduce the heat to medium till the mixture comes to a stringy consistency. To check, pour a spoonful on a plate and touch it with your fingers to see the threads forming. Now, let the syrup sit for about 5 minutes till it cools down a little, but keep it warm.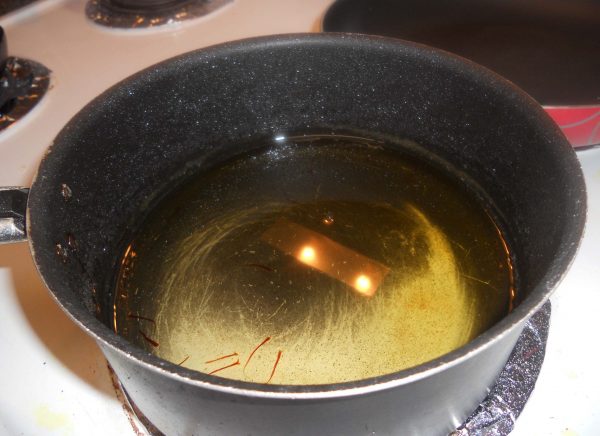 Image Source
3. Making the rabri
Place a pan over a high flame, add the milk to it, and let it come to a boil. Once it comes to a boil, reduce it to medium heat and start scraping the sides to collect the cream and let it reduce to half. Add the saffron soaked in milk and keep stirring continuously so the rabri doesn't stick to the bottom. Once the milk has reduced, add sugar, stir, then add cardamom and chopped nuts, and stir again. Take it off the heat and let the rabri cool down a little, but keep it warm.
Image Source
4. Combining the dish
Get the ghevar on a plate and add 4-5 spoons of the sugar syrup on top. Let it soak for about 2 minutes and add the warm rabri on top. Finally, finish off the malai ghevar by garnishing it with chopped nuts and rose petals. Your delicious dessert is ready to be served. You can have it warm or cold.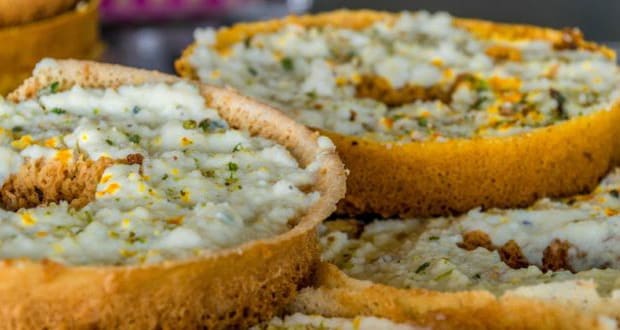 Image Source
Related: An Easy And Indulgent Recipe For Gulab Jamun To Try This Festive Season