A good breakfast sets a positive tone for the entire day. In order to make your mornings easier, we bring to you a few grab-and-go healthy breakfast ideas that are packed with nutrients and are full of flavour.
1. Berry granola bowl
There should be no excuse to slack on a healthy meal. Grab this berry granola bowl from Dietliciouz and just dig in. This is a complete fibrous meal that will keep you going through the day. You can also slice half a banana into it or add an assortment of berries.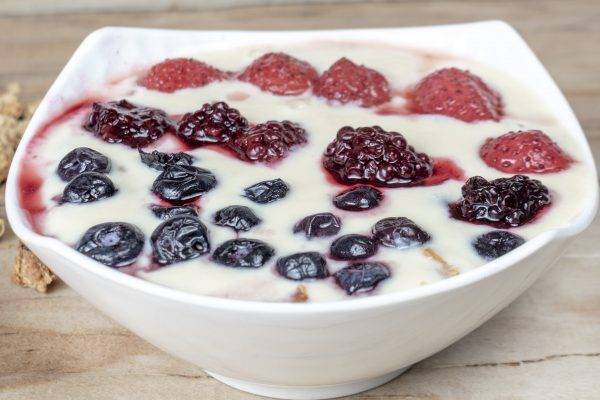 2. Healthy sandwiches
Nothing feels more heavenly than the fragrance of freshly brewed coffee in the morning. Combine it with a classic croissant from Bread and More, and your French breakfast is sorted.
If you are running late, a panini is a good option as its soft and moist bread is easy to eat. You can choose from a range of paninis at Bread and More along with a strong black coffee to get you powered up for the day.
3. Dressed up yoghurt
Easy to prepare, fresh and creamy yogurt makes for a healthy and delicious breakfast. Dunk a few pieces of fresh fruit like mango, strawberry or pineapple chunks in your yogurt. Add pumpkin seeds or almonds for that extra crunch, and you are good to go. Loaded with probiotics and calcium, yogurt is a superfood and can be consumed every day. Don't have homemade yogurt? There are several choices available in the market today – Amul Masti Dahi, Danone, and Nestle A1.
4. Almond milk
One of your best breakfast buddies, almond milk delivers the full spectrum of nine essential amino acids that your body needs. You will love its rich and creamy taste with your muesli. You can also whip up a quick smoothie by adding spinach leaves, one ripe banana and almond milk in the blender. This is a super grab-and-go option when you are heading out in a rush. For a gourmet touch, you can try the Dorset Leary nutty muesli or good old Baggrys is great too. Give Allnut's almond milk a try.
5. Quinoa breakfast bowl
Quinoa is full of proteins, fiber, and vitamins, and is a great source of energy. Having a bowl of quinoa in the morning will not just make for a healthy meal but will also keep you full and energised throughout the day. Cook some quinoa in unsweetened milk, and go crazy with your favourite toppings like fresh fruits, nuts, dried berries, etc for a complete meal. Try Justnuts Whole White Quinoa packed with nutrients and protein.
6. Kefir and granola
This literally takes no time and is a very healthy breakfast option. Just simply add kefir in a bowl, and add some granola in it. Top it with fresh fruits, nuts, syrups or any other topping of your choice. It is full of protein and fibre and gives you the energy that stays with you all day long. Grab Kellog's Crunchy Granola with almonds and cranberries with some strawberry-flavoured probiotic kefir from Mother Dairy, and you are good to go.
7. Rolled oats Upma
Upma is a good old breakfast option that is healthy and delicious. This clean meal is easy and very nutritious. Used rolled oats to make your upma as they are healthier and do not turn mushy. Feel free to add as many greens and veggies as you want with your choice of seasonings with some yogurt on the side to make a clean and delicious breakfast. Try these gluten-free rolled oats from Raw Essentials.
8. Sweet potato hash
Sweet potatoes are packed with antioxidants, minerals, fibre, and proteins. Kickstart your day with some healthy sweet potatoes cooked and tossed in with some greens. It is easy, quick and healthy, and makes for a delicious meal. You can always have fresh juice and eggs on the side or have it as it is because it is wholesome and healthy. Buy fresh organic sweet potatoes from Nature's Basket.
Looking for some more healthy breakfast options? See some more on-the-go breakfast ideas.