The one, and perhaps the only, thing that I miss about large–scale parties, events, and gatherings is the catered food and their lip-smacking appetisers. There, I said it. Following the servers around the crowd with a toothpick in hand is a hurdle race of its own, and one of my favourite snacks to run after is the all-time classic paneer tikka. When made right, biting into this juicy and flavourful preparation can transport you straight to food heaven.
Luckily, one can easily make this treat at home, and we've cracked the code for the most delicious paneer tikka recipe.
Related: Desi Comfort Food: 10 Authentic Indian Recipes From 10 Indian Chefs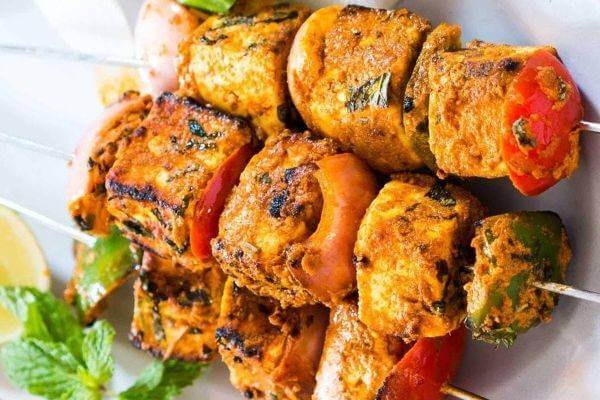 Image Source
Ingredients:
300-500 gms paneer (cut into big cubes)
1 large onion (cubed)
2 tomatoes (cubed)
1 green capsicum (cubed)
1/2 cup hung curd
1 tbsp ginger garlic paste
2 tbsp mustard oil
1/2 tsp garam masala
1 tsp chaat masala
2 tsp dhaniya powder
1 tsp kashmiri mirch powder
1/4 tsp lal mirch powder
1 tsp dried kasuri methi (crushed)
2 tbsp lemon juice
1 and 1/2 tbsp mint leaves (finely chopped)
2 tbsp dhaniya (finely chopped)
Salt (to taste)
Note: This paneer tikka recipe calls for the use of skewers and a charcoal grill/oven. However, if unavailable, you can simply cook the marinated paneer in a grill pan or cast-iron skillet.
Related: Only A True Masterchef Will Know The English Names Of These Indian Spices 
Method:
In a bowl, whisk the hung curd until smooth and add the ginger garlic paste, mustard oil, garam masala, dhaniya powder, kashmiri mirch powder, lal mirch powder, kasuri methi, and salt. Whisk to evenly combine the ingredients and prepare a marinade. Add some of the lemon juice and the chopped dhaniya, and mix well.
Now add the paneer, onion, tomato and capsicum, and evenly coat them in the marinade. Cover and refrigerate for a few hours to allow the paneer to soak in the flavours.
After you take out the marinated mix, arrange the paneer and vegetables on a skewer by alternating them.
Heat the charcoal grill/oven. If using an oven, pre-heat it to 450°F and place the skewers on a baking sheet lined with parchment paper. After spraying on some cooking oil, grill/bake the paneer tikka until it becomes slightly charred on the edges. Remember to routinely spray some oil on the skewers to prevent the tikka and veggies from getting too dry.
Once ready, slide the paneer tikkas and veggies off the skewers, garnish with the remaining lemon juice, and serve hot with some green chutney.
From one paneer tikka lover to another, this recipe is a lifesaver and satiates like no other. Pro tip — if you enjoy chatpata flavours, add some of that leftover achaari masala to the marinade for that extra tinge. You're welcome!
Related: Curry For The Soul- 8 Traditional Curry Recipes From Across India