Indian cuisine has always been known for its distinct flavours, wide variety of textures, and unique spices. From comfort food like dum aloo to delicacies like mutton keema, there are many mouth-watering dishes that Indians love and swear by. So, we curated a list of some of the best Indian recipes from chefs across the country so that you don't need to order in when you're craving Indian comfort food.
1. Butter Chicken by Saransh Goila
Saransh Goila is a well-known chef and the author of 'India On My Platter'. His butter chicken recipe is a total star and definitely worth a try.
Related: 10 Delicious And Easy One-Pot Recipes For A Relaxed Dinner At Home
Ingredients:
1 piece of dried coal
100 grams+ 2 tbsp butter
1/2 kg boneless chicken breasts, curry cut
2 tsp red chili powder
20 grams (1 tbsp+ 1 tsp) garlic paste
10 grams (2 tsp) ginger paste
3 tsp lemon juice
Salt to taste
8-10 black peppercorns
5-6 cloves
3-inch cinnamon sticks
2 bay leaves
15 almonds, peeled
3/4 cup hung yogurt
1 tsp green cardamom powder
2 tbsp roasted cumin powder
1 tsp turmeric powder
1 kg tomatoes, chopped
1/2 kg onions, chopped
10 garlic cloves
25 cashew nuts
1 tbsp dried fenugreek leaves (kasuri methi)
2 tbsp honey
20 grams (2 inches) ginger
2 tsp Kashmiri red chili powder
3 tbsp coriander powder
500 ml milk
2 tbsp oil
5 tbsp finely chopped garlic
50 grams (3 tbsp+ 1 tsp) full fat cream
Method:
Marinate the chicken with lemon juice, garlic paste, salt, red chili powder, and ginger paste. Mix and set aside for an hour.
Dry roast half the cloves, peppercorns, one bay leaf, cinnamon, and almonds. Cool the mixture and grind into a fine powder.
Add the powder to the yogurt with cardamom powder, half teaspoon turmeric powder, and cumin powder. Then pour this yogurt mixture on the chicken, mix well, and set aside for an hour.
Next, take a pressure cooker and add cashew nuts, ginger, onions, garlic cloves, coriander powder, honey, kasuri methi, salt, turmeric powder, and 100 grams butter.
Get a muslin cloth and place the remaining cloves, bay leaf, cinnamon, and peppercorns. Seal it and make a bundle. Add the bundle and water into the cooker. Pressure cook for 20 minutes. Reduce the heat after one whistle. Remove from heat and keep it aside for half an hour. Discard the potli, make a puree of the mixture into a smooth gravy, and transfer it into a pan.
Heat one tablespoon oil in a pan and add the marinated chicken. Cook until it turns golden brown.
Add the chicken pieces to the gravy, mix well, add the remaining milk, and cook until the milk boils. Cook for another 12 minutes and remove from heat.
Heat coal piece on direct heat for 10-12 minutes.
Put butter and oil in a pan. Add garlic and sauté till golden brown, add chili powder and cook for a minute.
Add some gravy in the pan and mix well. Put this gravy back into the rest of the gravy and cook for ten minutes. Take a steel bowl in the pan in the chicken gravy. Put the coal into the bowl with one teaspoon butter, cover immediately, and let the smoky flavour get infused into the gravy.
Strain the coal butter into the gravy. Mix well and serve immediately.
2. Paneer Kalimirch by Pankaj Bhadouria
Pankaj Bhadouria, the first Indian Masterchef, has written more than a few books on cooking, and her recipes are totally worth trying. This recipe is one of the best out of the lot and a delight for all vegetarians.
Image Source
Ingredients:
250 gms paneer
2 onions, finely sliced
1 tbsp garlic paste
1 tbsp ginger paste
1 tsp garam masala
1/2 tsp cumin powder
200 ml of yogurt
20 gms black peppercorns, crushed
Salt, to taste
3 tbsp refined vegetable oil
4 tbsp cream
1/2 tbsp crushed dried fenugreek leaves (kasuri methi)
Method:
Heat 2 tbsp oil in a pan, and sauté the onions until softened and pink. Do not allow them to brown at all. Puree the onions in a blender with 2 tbsp water.
In the same pan, heat the remaining 1 tbsp oil and add crushed peppercorns.
Add the ginger paste and garlic paste, cumin powder with 2 tbsp water, and cook till the raw smell of the ginger and garlic disappears.
Then, add in the onion paste and the whisked yogurt and salt. Stir continuously till the yogurt comes to a boil.
Add the paneer cubes, and simmer over moderate heat for 5 minutes.
Next, add the cream and cook for another minute. Sprinkle crushed fenugreek leaves, garam masala, and mix well.
Remove from heat, adjust seasoning, and serve hot.
3. Shahi Dum Aloo by Yaman Agarwal
Yaman Agarwal runs a YouTube channel named 'Cooking Shooking' where he presents a variety of Indian recipes full of different flavours and easy methods. This shahi dum aloo recipe is done in Kashmiri Style and is sure to please your taste buds.
Ingredients:
3 tbsp mustard oil
1/2 tsp jeera
3 tbsp crushed cashew nuts
1 tbsp besan
1 tsp fennel powder
1 tsp coriander powder
1 tsp red chili
1/2 tsp garam masala
1/2 tsp cumin powder
1/2 tsp haldi
1/4 tsp clove powder
1/4 tsp kasuri methi
1/8 tsp asafoetida
1 tomato, finely chopped
Salt, to taste
1/2 cup curd
25 baby potatoes, boiled, peeled, and pricked
Method:
To begin with, heat up a pan and add in 2-3 tbsp of mustard oil. Once it starts smoking, lower the flame and add in cumin seeds, green chili, cashews, gram flour, fennel seeds, kasuri methi, garam masala, cumin powder, clove powder, coriander powder, red chili powder, asafoetida, and turmeric powder.
Stir and roast the spices for 2-3 mins, add in the chopped tomato, salt, and cook till the tomato pieces get mushy.
Pour in 1/2 cup of curd and stir continuously. Cook this mixture well on low flame until oil starts separating.
Add in the potatoes and stir fry for 3-4 minutes. Then add water to make a watery gravy and get it to a boil. Cover and cook it for 10-12 minutes on low flame.
Serve hot.
4. Drumstick Curry by Chef Ruchi
Chef Ruchi is a home cook who cooks vegetarian recipes with a twist and new ideas. This drumstick curry is a special recipe usually cooked in southern India.
Ingredients:
2 cups water
1/4 tsp turmeric powder
1/2 tsp salt
10-12 kokum (dried)
3 drumsticks, cut and peeled
1 1/2 tsp peanuts
4 tbsp coconut, grated
2 tbsp coconut oil
1 tbsp mustard seeds
1 tsp cumin seeds
2 dry red chillies
8-10 curry leaves
1 tsp ginger paste
1 tsp garlic paste
1 onion, sliced
1/2 tsp Kashmiri red chilli powder
3/4 tsp sambar masala
Coriander leaves, chopped
Method:
Clean and cut the drumsticks in 2-inch pieces. Peel the skin off as it makes the curry bitter.
Heat up a pan and boil 2 cups of water in it. Add turmeric, salt, and kokum to it. Once the water comes to a boil, add the drumsticks to it, and let them cook for 10 minutes on a medium flame till they become tender.
Next, add coconut and peanuts to a food processor and turn it into a fine mixture.
Then, heat another pan and add coconut/vegetable oil to it. Once the oil is hot, add mustard seeds, cumin seeds, red chillies, curry leaves, ginger, and garlic paste, and saute for a few seconds. Add onions afterward and cook till they turn soft.
Once the onions have softened, add the peanut coconut paste to the pan, and saute it for about a minute. Then, add the drumsticks and kokum along with the water to this pan and mix well.
While it is cooking, add red chilli powder, sambhar powder, salt, and coriander leaves, and let it cook for another 2-3 minutes. Serve hot.
5. Ilish Bhapa by Bong Eats
Bong Eats is a team of two home cooks who love to create classic Bengali dishes prepared in their home kitchens. This ilish bhapa is one of their classics and totally drool-worthy.
Ingredients:
250 gms (or 4 pcs) Ilish machh (hilsa fish, 3-cm-thick pieces)
40 gms mustard seeds (brown + yellow mixed, soaked for 2 hours)
8 pcs green chillies
40 gms coconut, peeled
25 gms curd, beaten
Salt, to taste
1/4 tsp sugar
1/2 tsp turmeric powder
20 gms mustard oil
Method:
Soak mustard seeds in water for 2 hours.
Clean the ilish machh, and cut it in 3-cm thick slices. Ilish bhapa is best made with thick slices of fish. Fish without roe (eggs) is fattier and, therefore, ideal for this recipe. If your fish has eggs, remove them, as they may not cook fully when steamed. You can add them to your bhaja (fry) or jhol (curry).
Next, drain the mustard seeds of the water they've been soaking in and add them to a grinder jar. Add 4 green chillies, roughly chopped, along with the salt and half a cup of water. Grinding green chillies with the mustard ensures that it doesn't turn bitter.
Grind these to a fine paste. Take your time with this process. Scrape down the sides of the jar and grind as many times as it takes to form the smoothest possible paste.
Now, add the peeled and chopped coconut to the grinder jar. Grind once again until the coconut has broken down completely.
Transfer this paste to a steel tiffin box. Add beaten curd, sugar, turmeric, and mustard oil. Mix until the oil is fully incorporated.
Now add the fish, one piece at a time, and coat it with the spices. Use your hands to make sure every part of the fish, including its cavities, is well coated.
Slit four more green chillies and place them on the ilish pieces. Fasten the lid of your tiffin box (you could also seal the top with thick aluminum foil), and set the fish aside to marinate for 15 minutes.
Heat up your pan and place a stand at the bottom. Pour hot water, making sure it doesn't reach up to more than half the height of your tiffin box, or there's a danger of water seeping in. Once the water has come to a boil, place the tiffin on the stand. Cover the pan and steam on medium heat for 15 minutes.
Remove from the pan, and allow it to rest for another 5 minutes before serving.
6. Mutton Yakhni Pulao by Varun Inamdar
Varun Inamdar is one of the top celebrity chefs of the country and won an award for his show, The Bombay Chef. His mutton yakhni pulao recipe is an absolute winner.
Ingredients:
300 gms mutton, on the bone
2 cups rice
1 ltr water
1 tbsp ginger
1 small onion
Salt, to taste
1 small carrot
1 small potato
1/2 cup peas
1 tbsp garam masala powder
100 gms curd
Mint, as garnish
Method:
Slice the onion and ginger in half.
In a bowl, add mutton and salt, and put the mutton in a pressure cooker along with the onion and ginger and a cup full of water. Let it cook for 4 whistles.
Cut some carrots and potatoes. In a pan, add a little bit of oil, a pinch of garam masala, all the vegetables, and curd.
Add the cooked mutton to the pan, with some salt, and mix well.
Next, add rice which has been soaked in cold water for 20 minutes. Cook the pulao on high flame till the water evaporates, and cook it for 10 minutes on a low flame.
Garnish the pulao with some mint leaves.
7. Amritsari Chana Masala by Anjum Anand
Anjum Anand is a British food writer and chef taking Indian foods global with her lip-smacking recipes. Her Amritsari chana masala recipe is one such gem from her treasure.
Image Source
Ingredients:
5 tbsp vegetable oil
1 onion, finely chopped
Salt, to taste
2 medium-large tomatoes, quartered
1 tbsp finely grated root ginger
4 large garlic cloves, finely chopped or grated
1/2 tsp ground turmeric
1 tsp ground cumin
1 tbsp ground coriander
1/4 – 1/2 tsp chilli powder
1 1/2 tsp garam masala
1 tsp cumin seeds
2 400 gms cans of chickpeas, drained and rinsed
1/3 tsp dried pomegranate powder (anardana), or tamarind paste
Chopped coriander
To serve:
1 tsp unsalted butter
A little ginger julienne
A small portion of finely chopped red onion to sprinkle
Method:
Heat the oil in a large saucepan, add the onions and a little salt, and cook until the onions have browned on the edges. Meanwhile, blend the tomatoes with a little water until smooth.
Add the ginger and garlic to the cooked onions, and sauté for 1 minute. Add the ground turmeric, cumin and coriander, the chilli powder and garam masala and cook for 20-30 seconds before adding the tomatoes. Cook over medium heat, stirring occasionally until the oil is released into the pan, around 15 minutes, stirring often.
Meanwhile, toast the cumin seeds in a small pan, stirring very often, until they have darkened and smell aromatic, for around 40 seconds. Grind to a fine powder, and add to the pot.
Add the chickpeas and a little more salt, and give the pot a good stir. Add enough boiling water to submerge the chickpeas. Bring to a simmer and cook for a few minutes.
Taste and add the dried pomegranate powder or tamarind paste. You will need less if your tomatoes were sour, more if they were sweet. Finish off with the chopped coriander, taste and adjust the seasoning.
Serve with 1 tsp of butter, ginger julienne and a scattering of red onion for the real Punjabi experience.
8. Malabar Chicken Curry by Manju Malhi
Manju Malhi has her very own 'Brit-Indi' style where she mixes and makes a fusion of both Indian and British foods. But this Malabar Chicken Curry is as Indian as it can get.
Image Source
Related: Curry For The Soul- 8 Traditional Curry Recipes From Across India
Ingredients:
1 tbsp olive or grapeseed oil
4-6 shallots, chopped
1 tbsp ground coriander
1/2 tsp turmeric
1/2 tsp chili powder
500 gms skinless and boneless chicken breasts, cut into 2 cm pieces
For the spice paste mix:
500 gms desiccated or freshly grated coconut
2.5 cm piece of peeled root ginger
4 garlic cloves, roughly chopped
2 sticks of cinnamon
2 bay leaves
2 cloves
4 black peppercorns
For the tempering:
1 tsp olive or grapeseed oil
1/2 tsp brown or black mustard seeds
2 green chillies, slit
Method:
To make the spice paste, heat a frying pan on medium heat and add the coconut, ginger, garlic, cinnamon, bay leaves, cloves, and peppercorns. Dry roast until the coconut turns brown and you can smell the aroma of the spices. Allow it to cool, then place all the ingredients in a food processor and grind with 200 ml of water to make a fine paste.
Heat the oil and add the shallots. Fry till soft. Add the chicken pieces and cook for 5 minutes, until the chicken turns white on the outside. Add the ground coriander, turmeric, chilli powder, and salt. Mix well and add the spice paste. Add 400 ml of water and cook for 10 minutes more, until the chicken is cooked through. Cut a piece in half and check. It should be white on the inside.
Heat a frying pan and add 1 tsp of olive oil. Add a few of the mustard seeds. When they start to crackle, add the remaining seeds followed by the chillies. Saute for a minute. Pour the mixture over the chicken curry and cook for another 3 minutes.
Serve hot.
9. Dal Moradabadi by Manish Mehrotra
Manish Mehrotra is an award-winning chef who specialises in modern Indian cuisine where he works with global ingredients and mixes them with Indian flavours. This Dal Moradabadi recipe is one of his family recipes and comes from his grandmother's archives.
Image Source
Ingredients:
Split moong dal
3 tbsp turmeric powder
1/2 tsp ghee
1 tbsp cumin seeds
1/2 tbsp asafoetida
1/2 tsp ginger, chopped
1 tsp green chillies, chopped
1/2 tsp salted butter
1 tbsp coriander leaves, chopped
2-3 cloves
1/2 tsp black salt
300 ml water
Salt, to taste
To serve:
2 tsp tamarind chutney
1 tsp green chutney
2-3 onions, chopped
2 tsp tomatoes, chopped
2 tsp lime juice
1/2 tsp fried moong dal (as garnish)
1 tbsp buknu masala
Method:
Clean and thoroughly wash the dal. Soak for at least 1 hour.
Boil the soaked dal with turmeric powder in a heavy bottom pan till it is pasty. Stir continuously as the dal is boiling to avoid it sticking to the bottom of the pan.
Heat desi ghee in a heavy bottom pan. Crackle some cumin seeds. Add asafoetida (heeng), chopped ginger and green chillies. Sauté briefly, and add the tempering to the dal. Cover the pan immediately so that the tempering infuses the dal. Add butter and chopped coriander.
Pour the hot dal into a serving bowl. Drizzle some tamarind and green chutney over it. Sprinkle chopped onions and tomatoes. Add a dash of lime juice. Garnish with fried moong dal, chanachur, dal moth, or Bombay mix. Finish with buknu masala– a specialty from Unnao in Uttar Pradesh, this is a type of chaat masala with a strong flavour of heeng. It can be substituted with regular chaat masala.
10.
Chimichurri Seekh Kabab by Maneet Chauhan
Maneet Chauhan is an Indian-American chef and author of many cookbooks, and her style is defined as 'global fusion' with Indian roots. This chimichurri seekh kebab is one of her specialties and totally worth trying.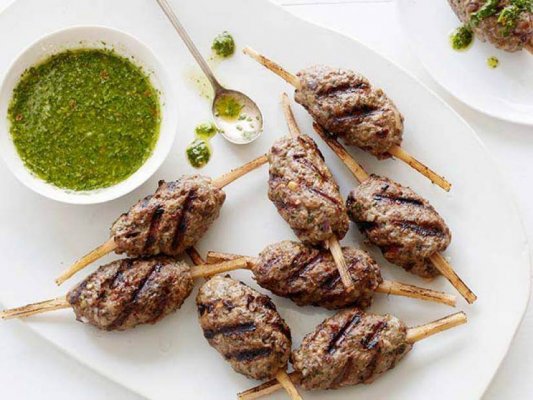 Image Source
Ingredients:
Chimichurri:
1 cup packed fresh Italian parsley
1/2 cup olive oil
1/3 cup red wine vinegar
1/4 cup packed fresh cilantro, plus more for garnish
3/4 tsp dried crushed red pepper
1/2 tsp ground cumin
1/2 tsp salt
2 cloves garlic, peeled
Kebabs:
2 1/2 pounds ground lamb
2 tbsp chopped cashews
2 tsp rock salt, finely ground
1 3/4 tsp garam masala
1 tsp minced garlic
1/2 tsp ground nutmeg
2 red onions, finely chopped
2 tbsp unsalted butter, melted
Juice of 1 lemon
Method:
For the chimichurri: Combine the parsley, olive oil, vinegar, cilantro, crushed red pepper, cumin, salt and garlic in a food processor. Process until well blended. Let stand for at least 1 hour for the flavours to blend.
For the kebabs: Preheat the oven to 400 degrees F. Combine 1/2 cup of the chimichurri with the lamb, cashews, rock salt, 3/4 teaspoon garam masala, garlic, nutmeg, and onions. Knead to combine thoroughly.
Pat the mixture evenly onto the skewers with moist hands and shape into kebabs. Place the kebabs on 2 baking sheets and bake for 8 minutes. Coat with the melted butter, and then continue to cook until completely cooked through, about 8 more minutes. Alternatively, the kebabs can be grilled over medium-high heat until slightly charred on all sides and cooked through, about 10 to 12 minutes. Brush the kebabs with the melted butter when they come off the grill.
Sprinkle the kebabs with the remaining chaat masala and the lemon juice, and serve hot with the chimichurri on the side. Garnish with chopped cilantro.
Happy cooking, folks!