It's festival time, which means it's the season to eat big and earn big. And you can achieve both by spending a little time in the kitchen. Don't worry, because we have a super easy and crunchy fix to impress all your desi relatives! Yes, we are talking about the evergreen and much loved Indian snack — Kachori. So, head to the kitchen and try out this scrumptious kachori recipe right away.
You can thank us later when you get extra sagan.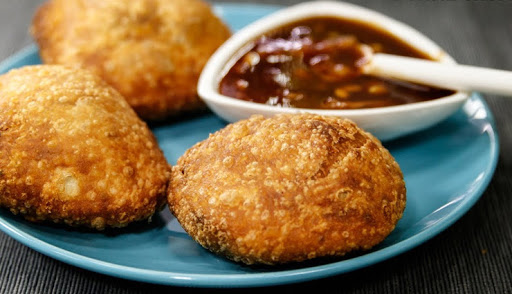 Image Source
Related: Crispy, Delicious, And Utterly Blissful: The Best Recipe For Samosas
Ingredients: 
For the dough:
2 cups all-purpose flour (maida)
1/2 tsp salt
1/4 cup ghee or oil
1/2 cup water (add more if required)
For the stuffing:
1/2 cup moong dal
1 tbsp ghee
1/4 tsp turmeric powder
1/2 tsp red chilli powder
1 tsp cumin powder
1/2 teaspoon dry ginger powder (saunth powder)
1 tsp coriander powder
1/2 tsp crushed fennel seeds
1 tsp dry mango powder (amchur powder)
1/2 tsp asafoetida
Salt, as required
Oil for frying
Method: 
This kachori recipe is quite simple but requires some patience because good things always come to those who wait. And some hot and delicious kachoris are pretty much worth the wait. So let's get started.
1. Making the dough
To begin with the kachori recipe, you need to prepare the dough first. Take 2 cups of all-purpose flour and salt in a bowl and mix well. Next, add ghee and incorporate it into the dry ingredients till you reach a breadcrumb consistency. Then, slowly start adding water and kneading the dough gently till it is nice and firm. Once it is done, cover it with a light, moist cloth, and set it aside to rest for about 30 minutes.
2. Making the stuffing
While your dough is resting, get started with the filling for this kachori recipe. Take moong dal in a bowl, and rinse and soak it in water for about 2 hours. After 2 hours, grind the dal in a food processor till it becomes a coarse mixture. Then, place a pan over medium flame, add ghee and all the spices one by one, and stir it well. Keep the flame on low so the spices don't end up burning. Next, add the ground dal, salt, asafoetida, and cook it for about 5 minutes on low heat adjusting the taste accordingly.
Image Source
Now, switch off the flame and let the mixture cool down for about 10 minutes. Grease your hands lightly with oil and start making balls of the mixture and keep them aside.
3. Making the kachoris
After 30 minutes, uncover and lightly knead the dough you had kept aside. Next, roll the dough into a log, cut it into equal portions, and roll the pieces out. Keep the edges thin, place the moong dal ball mixture in the centre, and fold in the edges of the dough, sealing it firmly. Then, take the ball, flatten it out a little more, and repeat the process with the rest of the kachoris. Remember to cover the kachoris with the wet muslin cloth so they don't dry up.
Once all your kachoris are stuffed, add oil to a pan and place it on a medium flame to start heating it. Once the oil is hot enough, start adding kachoris one by one and wait till they start to puff up. Flip it over once it becomes slightly golden, and keep cooking patiently for about 5-7 minutes. Fry them till they become crispy and golden brown, and strain them out in a plate covered with tissue paper. Once you have removed the excess oil, your kachoris are ready to be served with some mint or tamarind chutney!
Image Source