With your work life balance and daily schedule all over the place, it can be hard to get a good night's rest. Erratic sleep patterns can be a result of many factors, from irregular naps to sitting in front of blue screens and eating at odd hours. And if you don't get a healthy amount of sleep, you are going to have mood swings, fatigue, and other health problems which will just keep piling up. So, if you are wondering how to sleep fast when you tuck yourself into bed, we are here to make your lives easier. Try these eight products that will help you sleep better and get a good night's rest.
Related: How To Sleep Better In 2020: Resolutions You Need To Make To Get More Rest
1. Oil diffuser
Lavender is one of the best essential oils to help you sleep better. It calms the body, and the aroma of lavender oil is very soothing. The easiest way to add lavender to your routine is by getting an oil diffuser. Along with the light aroma, diffusers emit moisture in the air which will help you breathe better.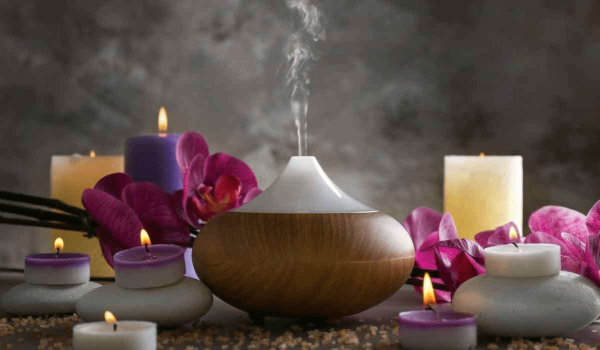 Image Source
2. Blackout curtains
In order to sleep better at night, it is important to have a dark room. If you have any light coming in, it can affect the quality of your sleep. Buy blackout curtains for your bedroom. They come in multiple colours and block all kinds of light, giving you a peaceful, dark room to sleep. Blackout curtains can also keep your room cool in the blazing summer.
Image Source
3. White noise machine
White noises are calming and can help you drift off into a deep sleep. It cuts out any background noise and lets the brain process soft, calm tunes until you fall asleep. Having a quiet space is important for a good night's rest, so a white noise machine reduces disruptive noises, making the atmosphere more relaxing.
Image Source 
4. Herbal tea
Sipping a hot cup of chamomile tea before bed can really make a difference. Plants and herbs like chamomile and lavender release stress and relax your mind and body. Chamomile also has mild sedative effects that can make you fall asleep quickly. Try some herbal tea before going to bed tonight.
Image Source
5. Blue light glasses
Blue light emitted by screens is one of the biggest factors that disturb your sleep. And since we can't avoid those screens throughout the day, we can reduce its ill effects. Getting yourself a pair of blue light glasses can help with your erratic sleep schedule. Wear these two hours before going to bed as they block the blue light and improve the quality of sleep.
Image Source
6. Meditation apps
A good meditation session can help you unwind after a long day. And since not all people know where to begin, meditation apps work too. They have soothing audio clips that help you meditate and de-stress before heading to bed.
Image Source
Related: Relax Your Mind And Body: Types Of Meditation Techniques To Alleviate Stress
7. Incense sticks
Incense sticks come in various fragrances and aromas. Lighting an incense stick before going to bed will leave your room smelling fresh and soothing. Make sure the incense stick isn't close to your bed and doesn't have a strong aroma. The right incense can give your bedroom a calming vibe throughout the day, which is how it should be.
Image Source
8. Pillow mist
If you are not a fan of diffusers or incense sticks, you can always opt for pillow mists. Spraying a little on your pillow will work as aromatherapy. The light aroma of a pillow mist will help you fall asleep better. After all, who doesn't love a nice fragrance around them when they're trying to relax?
Image Source
Did you know that a disturbed sleeping schedule can affect your mental health and make you feel low? Here are some ways to take care of your mental health and be healthier, happier, and more productive.