Are you someone who loves aesthetic decor, cosy corners, and unwinding in your own space after a long day? Well, you are going to love these home decor DIY ideas. The best part is that they're quite easy to do. All you have to do is get some easily available supplies and basic equipment. Combine these with hard work and patience, and you will be good to go. If the hard work bit is putting you off, think of the truckloads of money you will save by creating your own home decor from scratch.
Here are 6 home decor DIYs you should try.
1. DIY clothing rack
Image Source
If you own a lot of clothes, a clothing rack will come in handy. For a classic design, you will require some pipes and other hardware equipment. Check out this video for an in-depth tutorial.
Besides the OG clothes rack, you can also use a rope and some wooden sticks if that's the vibe you are going for. Click here to see the tutorial for a clothes rack made from a tree branch.
You can add aesthetic value to these racks by putting up some flowers or string lights, whatever matches your vibe.
2. DIY coffee table
Image Source
Who doesn't love a coffee table? To create one like this, you will need some old tyres, wooden plaques, and jute ropes. You can get these items in any local market. Now that you know what you need, go ahead and watch this tutorial by Ruby Singh. 
3. DIY bookshelves using old fruit crates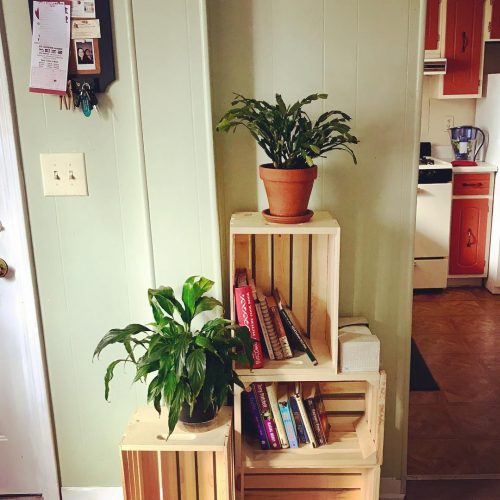 Image Source
If you have some fruit crates lying around, try this DIY. If not, you can also get these from your local fruit vendors. Apart from the crates, you might want to get some spray paint if you want to change the colour. But, honestly, the rustic vibe will work pretty well if you like boho decor.
Assemble your crates one over the other. Secure them with some glue or use a drill for more stability. Lastly, put some books, plants, and fairy lights to complete the look of your bookshelf. Watch this tutorial by Kaitlin Rose.
4. Gallery wall
Image Source
Gallery walls are quite the rage at the moment. And there are so many ways to do up these walls. If you want your wall to have a polished and sophisticated look, use a combination of decorative plates. If you prefer an easygoing, boho look, try round frames, thread rings, and aesthetically similar items. You can also use some magazine cutouts or printouts if you want to keep it lowkey. Basically, to DIY a gallery wall, you only need a couple of frames which you can arrange according to the vibe of your home.
Related: Trendy Styles, Customised Fashion, Unique Home Decor, And More: This Online Store Has It All
5. Revamp your balcony
Image Source
Revamping a balcony is a great option if you want to create an aesthetic space for some quality me-time. Whether you want a reading nook or a calm yoga space, we have got you covered. Check out these small balcony decor ideas that will liven up your home.
6. Pinterest-inspired flower wall
Image Source
This DIY is super easy and can be done on a lazy afternoon. All you need is some flowers and some masking tape. Mark the space where you want to place your flowers. Then, just stick your flowers with some tape. If you don't want to use tape, you can also use strings to create a floating flower effect. This DIY looks vibrant and can enhance any dull space. Watch this video by Khushbu Floral Beauty to understand the process better. 
Related: Sustainable, Vintage And Abstract Home Decor Ideas