Balconies are often the most neglected part of a house. This is especially the case in small apartments where balconies are often used for storage. If it's not being used to store boxes, balconies are home to a plant or two and a chair for convenience. However, there is so much you can do, even with the smallest balconies. It's difficult to find small balcony decor ideas which suit a limited budget and time constraints, but we've done the job for you.
Here are 18 small balcony decor ideas which will brighten up your home and give your apartment a unique identity. The best part is that none of these ideas will need too much time or money to execute. All you need is a balcony, however small, and some creativity.
1. Buy simple wooden furniture and decorate it with flowering plants
Image Source
2. Make a cozy nook by hanging fairy lights or tossing them on big plants
Image Source
Related: 8 Ways To Reuse Diwali Lights And Make Your Home Look Instagram-Worthy
3. You can also put lights on a step ladder and make it the focal point of your balcony
Image Source
4. Get functional but beautiful furniture like this table that doubles up as a hanging plant holder
Image Source
5. A spot of bling is always welcome, wherever it may be. Here, you can see how simple and cost-effective outdoor furniture has been lifted with those shiny planters.
Image Source
Related: Indoor Plants That Don't Need Too Much Care And Have Tons Of Benefits
6. If you want a minimalist look, get bar stools and a table that can fit on the railing, like in this picture. The neat placement of the plants adds to the minimalist decor
Image Source
7. If you want to go even more minimal in your balcony design, here's another idea which is really easy to do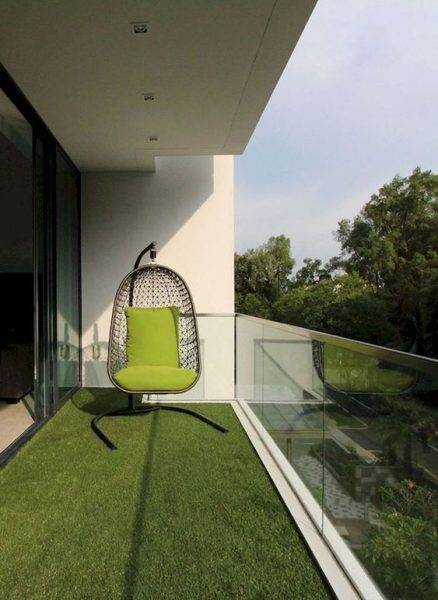 Image Source
8. Enclose your balcony (if permitted) and make a reading corner for yourself
Image Source
Related: Shop The Look: How To Decorate Your Balcony
9. You can also create a convenient, trendy home office in an enclosed balcony
Image Source
10. Create a neat wall of plants. This is particularly useful if you have a small budget
Image Source
11. You can also add lights to your wall garden to make it brighter
Image Source
12. Who said you can't have a proper garden in an apartment? Use grass carpeting to complete the look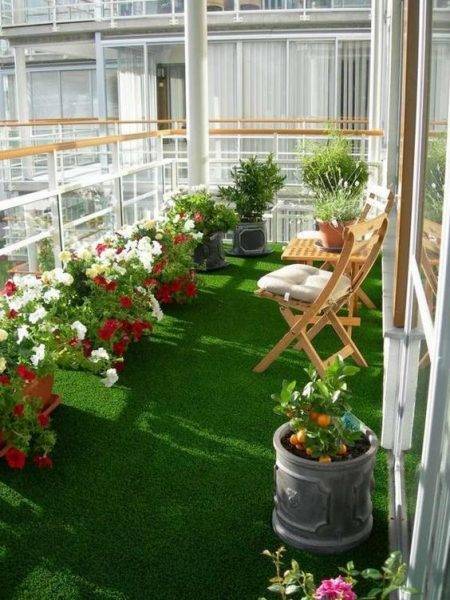 Image Source
13. If elaborate gardens aren't your thing, here's a simple design with wooden furniture which will make your balcony the best spot in the house
Image Source
14. You can even create an exclusive corner for your kids. Just make sure the railings are well-sealed
Image Source
15. You don't have to limit yourself to small plants for your balcony. Tall plants and small trees can add instant happiness to your balcony decor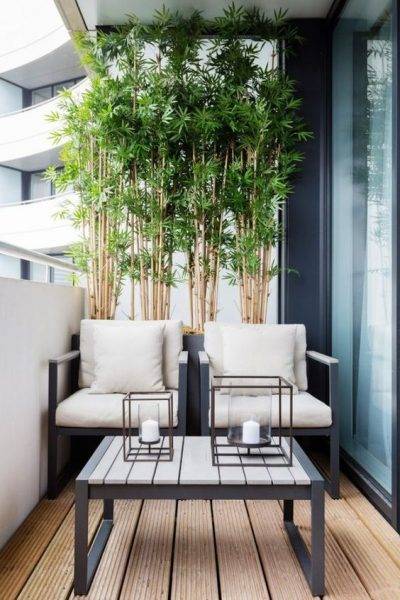 Image Source
16. If your neighbour's house is too close, or if you're on a lower floor, you can also use tall plants for privacy
Image Source
17. Sometimes, apartment balconies are so tiny that they can't fit more than one person at a time. In that case, you can put huge plants in your balcony and save on the cost of curtains. The plants will give you all the privacy you need and you can enjoy a green view all day long
Image Source
18. Add a boho vibe to your balcony with a macrame backdrop
Macrame backdrop from The Hippie Vibes
Found your perfect balcony yet?
For more home decor ideas, click here.
Featured image source