2020 hasn't been a good year so far, but that doesn't mean you can't cheer yourself up with a little home decor. From abstract wallpapers to vintage accent pieces, there are so many home decor ideas with which you can play around and get creative. And you don't even have to make changes to the whole house to make your home decor look brand new. Add a few trends here and there, and voila! You've got yourself a fresh, new space. Here are a few home decor ideas that will give your home a gorgeous vibe.
1. Warm neutrals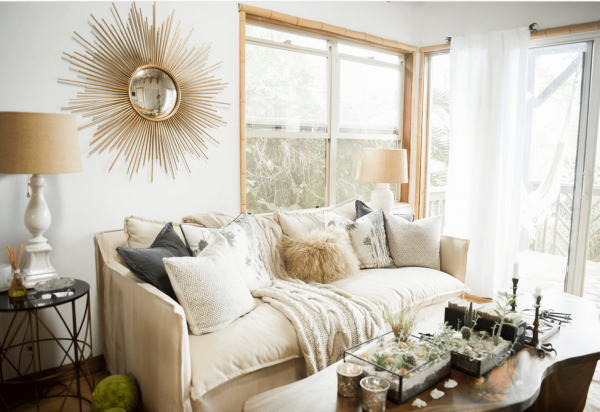 Image Source
Simple structures are a thoughtful approach towards sustainability. The idea is to cut out anything you don't need and make a place look spacious in the process. Soft, warm neutrals are the best way to go here as they are easy to put together and will lend a calm vibe to your interiors.
2. Pops of blue
Image Source
Classic blue, the Pantone colour of the year, is making its way to stardom in home decor trends. It's fresh, bold and will add the pop of colour your home needs. Splashes of blue can add a contemporary and chic charm to your interiors. From kitchen cabinets, table runners, paintings in the living room, to accent walls in the bedroom, blue is the coolest colour to welcome summer.
Related: Here's How To Use The Pantone Colour Of The Year In The Most Unique Ways
3. Greener spaces
Concrete planters from Dexterous Art
More than just a decor trend, adding plants to your living space and balconies is just a better way to live. They give your home a calming vibe, and they benefit your health and lifestyle. It is another great way to move towards a more sustainable and eco-friendly life, and these concrete planters from Dexterous Art are the perfect way to do it with some style.
Related: 18 Small Balcony Decor Ideas That Will Liven Up Your Home
4. Abstract patterns
Image Source
Abstract patterns and prints can really make a space stand out and be a reflection of your personality. You can add abstract pieces in places you need to make a statement. From wallpapers to cushions and cutlery, the abstract style is bold, fresh, and totally on point.
5. Accent pieces
Image Source
Vintage accent pieces are making a huge comeback this year. It's all about adding an aesthetic vibe by bringing in a few accent pieces that stand out and bring out the charm of the living space. If you don't want to go vintage, try accent pieces in bold colours.
6. A tropical touch
Image Source
Soft, muted tropical and floral prints bring a light, airy and summery vibe to any space. They bring in a serene and uplifting element of nature and make a home look vibrant and fun. Try colours in tones of mustard, green, soft pinks, and blues for a tropical theme in your home decor.
7. Contrasting decor
Image Source
Sharp and clean contrasts is one of the hottest home decor trends this season. If you love a modern and contemporary home decor, you will love this home decor idea. Adding high contrast colours and pieces subtly breaks the monotony of neutral colours. Statement pieces like rugs, dining chairs, wall art, and flower vases can add that extra oomph to contrasting decor.
8. Wooden interiors
Image Source
Wooden designs are timeless staples in home decor. If you love a rustic look, try different styles and types of wood to enhance the warmth of a space. This year, wooden panels and furniture in different styles are being embraced by interior designers across the world.
9. Different shapes of furniture
Image Source
The most popular and unique trend that has come up this year is furniture and home fixtures in all shapes and styles. From adding a curved sofa to your living room, to circular kitchen tables, home decor in 2020 is all about trying unique pieces to get a modern and eclectic vibe.
10. An open kitchen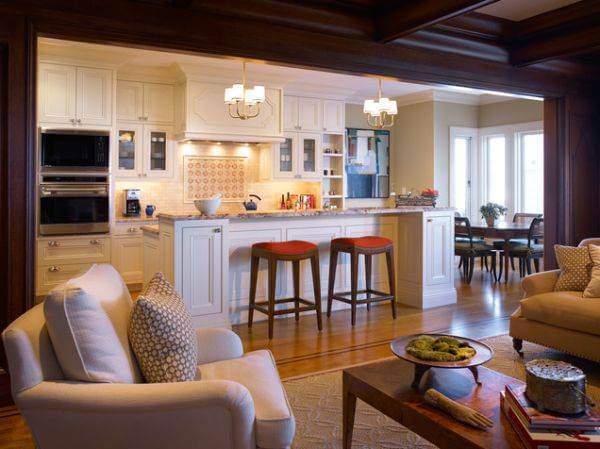 Image Source
The kitchen is one of the most important places when it comes to styling your home. This summer, open kitchens are all the rage and for good reason. An open kitchen, with a dining table or kitchen counter with chairs, really embraces the idea of open and vibrant living. It is fresh, interesting, minimal and contemporary. Open kitchens are also great for people who love hosting, so the host is never away from the action.
Loved these ideas? Check out these minimalist home styling ideas that will always be on trend.