It's officially time to hit the pool. Swimming is one of the best workouts you can do in the summer. It's relaxing, therapeutic, fun, and intense. While swimming has numerous benefits for your health, chlorine-laden water can wreak havoc on your hair and skin. Excessive chlorine can damage your hair, especially if you go swimming daily. So, if you are one who enjoys swimming on a regular basis, it is vital to protect your hair from damage. Here are a few hair care tips to keep in mind when you go swimming.
Pre-swimming care
1. Oil your hair
Using coconut oil before you jump into the pool ensures your hair is protected. Since oil repels water, oiling your hair will help repel the chlorine water from the pool and will prevent a chemical build-up on the scalp. Oil will make your hair waterproof, so put a little coconut oil on your hair before a swim.
Related: Amp Up Your Champi Sessions: Best Essential Oils For Hair
2. Take a quick shower
It is always a good idea to take a quick shower before a swim. Rinse your hair thoroughly as wet hair will absorb less water from the pool. Since your hair is already wet, it won't absorb as much chlorine water as dry hair.
Related: Dodging Your Daily Bath? Here's How Long You Can Go Without A Shower In The Cold Winter
3. Apply a conditioner
A thick coat of conditioner before a swim moisturises your hair and forms a protective layer. It nourishes your hair follicles and acts as protection from the chemicals in the pool.
4. Spritz some hairspray
You use sunscreen for your face and skin, but your hair needs sun protection as well. A hairspray with sun protectants will prevent the fading of hair colour and protect your hair from the sun.
5. Wear a swimming cap
It is always advisable to wear a swimming cap in the pool to protect your hair from chlorine water. Use a silicone cap as it is waterproof and make sure the cap fits you well enough to protect your hair.
Post-swimming care
1. Rinse your hair
Immediately after a swim, get in the shower and rinse your hair thoroughly. This is to remove any chlorine residue from building up on your hair. It is ideal to rinse your hair with warm water and then finish it off with cold water.
2. Shampoo your hair
Whether you are swimming in a pool with chlorinated water or taking a dip in the saltwater of the ocean, it will make your hair dry and frizzy. And a pool will almost always lead to a chlorine build-up. So, to remove all the build-up from your hair and scalp, rinse your tresses with an anti-chlorine shampoo. It will also have the additional benefit of hydrating your hair.
Related: Washing Hair Without Shampoo: All You Need To Know About Co-Washing And Its Benefits
3. Apply a deep conditioner
A conditioner is a must after a swim. That's because a deep conditioner will help fight the dryness and add moisture to your hair. A leave-in conditioner can also do wonders for your hair.
4. Comb your hair
Use a wide-toothed comb on your hair post a swim and shower. Avoid hairbrushes. A wide-toothed comb will help you to easily detangle the hair and minimise breakage.
5. Don't wash more than once
Avoid washing your hair more than once a day. Over-washing will strip your hair of its natural oils and will dry it out.
Related: To Wash Or Not To Wash: How Often Should You Be Washing Your Hair In The Winter?
6. Skip the heat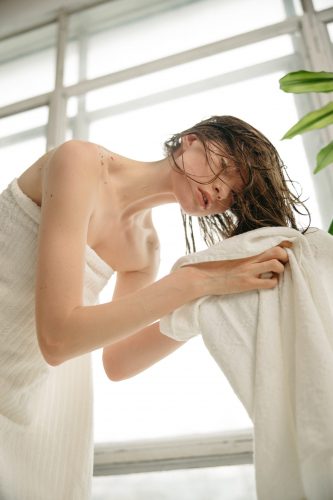 After a swim, avoid blow-drying your hair or doing any heat treatments on it. Using heat will further dry out the hair which is the last thing you want. Instead, dry your hair gently with a towel and then let it be.
Images Source
Featured Image Source